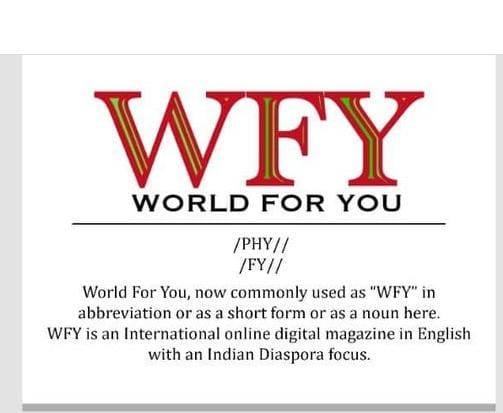 WFY
WFY Stands for World For You now commonly used as "WFY" in abbreviation or as a short form or as a noun here.WFY is an international online digital magazine in English with an Indian Diaspora focus.The magazine will be featuring amazing lives and stories from the Indian Diaspora communities spread across the Globe. Besides the regular features the magazine will have articles, interviews, infotainment etc.
Currently, we do not charge for subscriptions. The WFY is free media well supported and contributed by the Indian Diaspora. To keep it live, we seek your generous support.
At The WFY, we take immense pride in connecting the global Indian diaspora with their roots, culture, and community. Our mission is to provide a vibrant platform for all members of the Indian diaspora to share their stories, experiences, and aspirations. Unfortunately, running a media platform requires significant financial resources, and we rely on the support of generous patrons like you to keep The WFY alive.
We understand the importance of representing diverse voices within the Indian diaspora, and with your support, we can continue to bring these narratives to the forefront. By supporting The WFY, you directly contribute to the sustainability and growth of our media outlet, ensuring that the Indian diaspora community remains connected and informed, no matter where they reside.
To our Indian diaspora patrons, we humbly request your support in preserving our platform. Your contribution helps us produce high-quality content, expand our coverage, and enhance our technological infrastructure. The WFY strives to be a reliable and accessible source of news, cultural insights, and community engagement for the Indian diaspora, and with your support, we can continue to achieve these goals.
Join us in our mission to keep the Indian diaspora media alive by becoming a patron of The WFY today. Your generosity not only helps sustain our platform but also strengthens the bonds within the global Indian community. Together, let's ensure that the voices of the Indian diaspora are heard, celebrated, and empowered for generations to come.
You can support us by giving us any amount you feel comfortable with to keep us going.
In case you are unable to see the pay option in your browser, click the button below to pay.