We're Looking For Freelance Writer's, Designers And Marketing Professionals.Kindly Sending Your Resume With Details Of Your Work And Experience To wfymagazine@gmail.com
Job Opportunities
Indian Diaspora Reporter
The WFY is looking for reporters with or without prior experience, residing in any part of the world. The candidate must be able to report the news or current affairs from their respective region promptly. The reporting has to be done in English. This arrangement is part-time or freelance. The reporter will have accreditation from The WFY as a press reporter. The arrangement is pro-bono in terms of contribution. In the case of experienced journalists, there will be remuneration as per their credentials.
Besides, the reporter should be able to quickly grasp the subject of the developments in terms of news, and judge whether they can yield a story on that day, and if so, should be able to quickly write a brief story summing up the developments and their reasoning. The reporter must be able to report them promptly as well. Familiarity with the reporting and presentation of stories is expected. Overall, he or she should be able to complete editorially-assigned writing tasks within stipulated deadlines and make necessary improvements, if suggested. Besides, the reporter should be able to build good rapport with the community around them as well as law enforcement, policy makers, eminent personalities, and social activists residing in their region and elsewhere in the country or world. The reporter should have a nose for news. The reporter should also be able to interview people with respect to a story in the making and also write human interest stories, if required.
Assistant Editor
The AE who we are looking for should be able to generate story ideas on a daily basis by reading as many newspapers and websites as possible. In particular, he or she should be able to identify off-the-radar stories with the potential to develop into headline news in the coming days. The story ideas should be such that The WFY team should be able to work on them and complete them within a specified time limit. A case may be made out if a story requires a longer duration for the team to work and bring it to fruition. The AE should actively assist the Editor in planning and contributing to the stories; interact with the rest of the team; and ensure a constant stream of stories according to the schedule agreed to with the Editor.  The copies submitted for uploading must be thoroughly checked for compliance with our style guidelines, besides ensuring readability, consistency, and universal journalistic principles. The AE should also be able to rewrite the stories in an uploadable format within time constraints, edit the copies, and be in touch with the authors for clarifications, approvals, etc. before sending them for uploading. The AE should ideally be a graduate, proficient in the English language, have considerable work experience, and preferably a degree in journalism, but others with a keen interest in Indian Diaspora content and journalism, even if they are from other disciplines, with excellent writing and editing skills may be considered. Knowledge of WordPress, SEO, and social media management is highly preferred.
Interested candidates may email their resumes to wfymagazine@gmail.com.
Executive – Digital Marketing
The WFY is looking for Digital Marketing Executives. The ideal candidate should have experience working either in the Indian Diaspora content, socio-cultural, public policy, or media sectors. He/she should be able to understand the editorial ethos of The WFY and drive the digital marketing strategy accordingly.
The candidate should be familiar with WordPress and will be responsible for uploading all articles on The WFY website.
The candidate should be familiar with Adobe InDesign, Adobe Photoshop, Canva or other designing software/platforms for designing posters for The WFY's social media channels.
The candidate should be familiar with using video editing tools for producing and editing videos and/or podcasts that The WFY may produce.
The candidates should be familiar with using all major social media channels – Twitter, LinkedIn, Facebook, Instagram, and YouTube. The candidate should be able to pick key 'marketable' sections from within important articles and break them down into a series of tweets, Instagram carousel sliders etc., and should generally strategise on improving outreach and following. He/she should also have experience in sponsored posts and ads across various platforms.
The candidate should be familiar with using email marketing tools, such as Zoho Campaigns, MailChimp, etc., and should be able to design The WFY's daily bulletin and send it out at a scheduled time.
The candidates must also prepare a periodical analytics report for the WFY's social media and email marketing performance.
To apply, please write to wfymagazine@gmail.com.
Internships
If you are looking to enrich your experience on an online publication platform, then The WFY is the right place for you. We want to help young and budding writers, social media content creators, communication experts, and graphic designers hone their skills. Interning at The WFY will be an engaging experience in pitching ideas, writing extensively, and creating innovative content, including video content.
To work with us, please Email us your resume, a writing sample, and a cover letter at wfymagazine@thewfy.com.
Make sure to mention "Internship Application, month/duration and your name" in the subject of your email. Do note that only shortlisted candidates will be contacted. Please note that the internship is considered to be a full-time undertaking and we expect the interns to be available during work hours throughout the duration of the internship. We will be providing only online/work-from-home internships. Do familiarise yourself with our internship policy to understand the internship experience better. (Link to The WFY internship policy)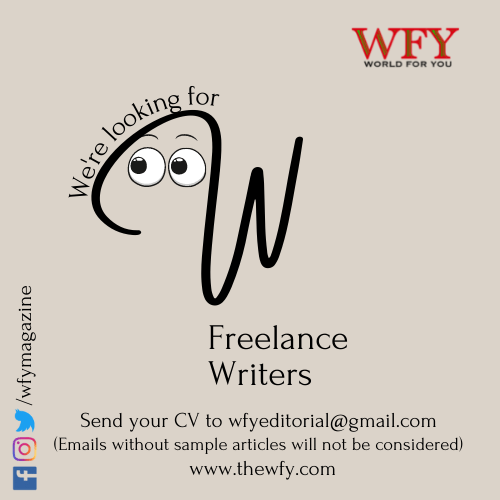 Looking for freelance writers with good literary skills in English. Send your CV along with sample articles to wfyeditorial@gmail.com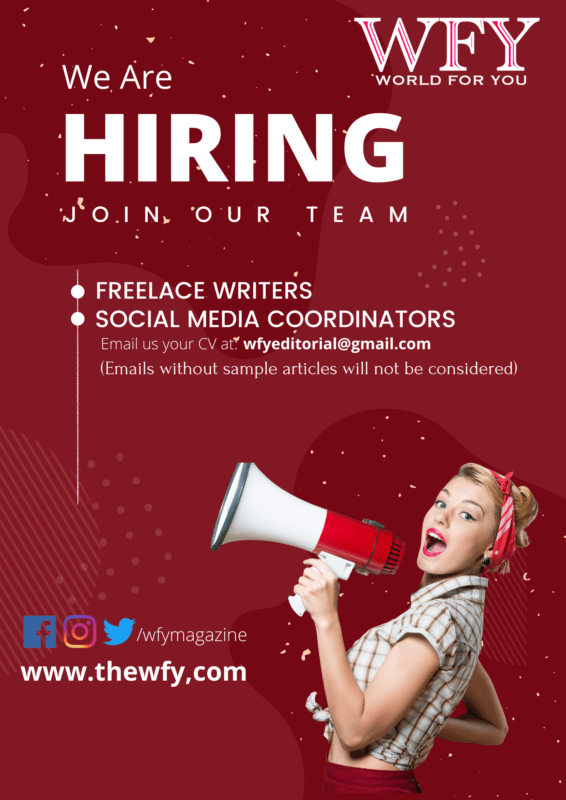 Looking For Freelance Writer's, Designers And Marketing Professionals. Kindly Sending Your Resume With Details Of Your Work And Experience To wfymagazine@gmail.com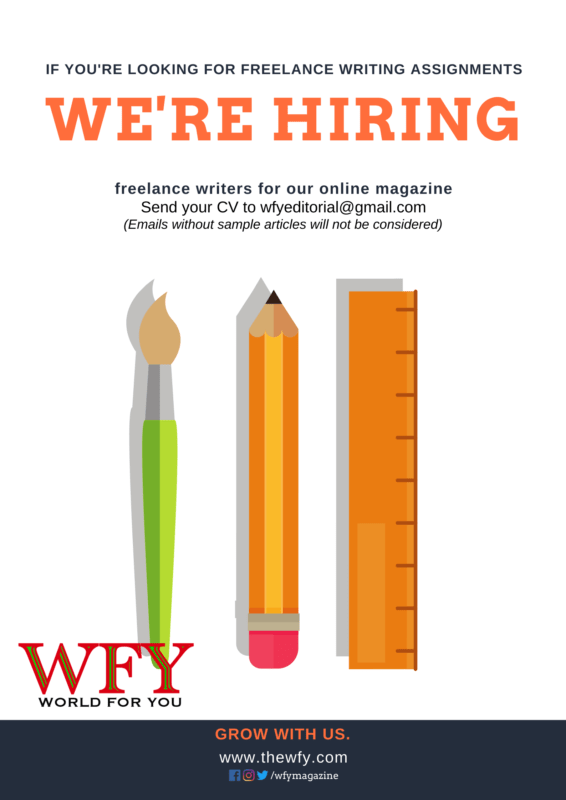 Looking For Freelance Writer's, Designers And Marketing Professionals. Kindly Sending Your Resume With Details Of Your Work And Experience To wfymagazine@gmail.com
Looking For Freelance Writer's, Designers And Marketing Professionals. Kindly Sending Your Resume With Details Of Your Work And Experience To wfymagazine@gmail.com