Taking an image, freezing a moment, reveals how rich reality truly is. Of course, there's nothing better than to capture a moment, a photograph of something truly special and for the same we, the Indian Diaspora Global Movement have brought a platform for photographers like you to display your work with our latest competition the "WFY Photography Contest".
Theme: "Indian Diaspora"
Photographs depicting, showcasing the lives, the struggles, the joy, the achievement, the will and resilience, the harmony and brotherhood, the spirit of Indianness etc. can be the pointers towards the theme.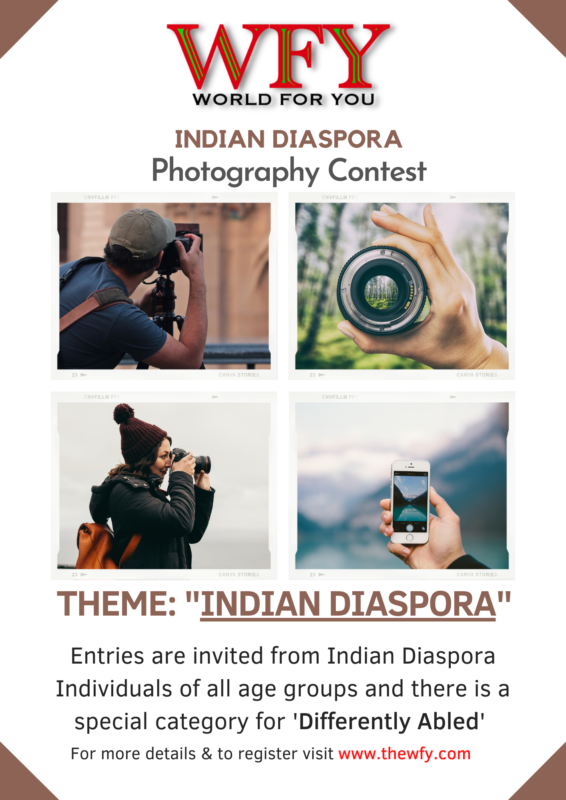 Rules & Regulations of the WFY Photography Contest.
The contest is open only to Indian Diaspora individuals from all age groups.
There will be a separate section for "differently abled" open to specially challenged or abled Indian Diaspora individuals.
One can submit only one entry per person and a maximum of three photographs in one entry.
All formats and devices (from mobile phones to professional cameras) are acceptable.
If you are not an Indian Diaspora member yet, kindly click here to become one.
The Indian Diaspora membership ID is required for applying to the contest.
The participant must be an Indian Diaspora (PIOs and OCIs also welcome) individual, residing anywhere in the world.
The photograph should depict the theme "Indian Diaspora".
The photograph must be original, unedited and no watermark of any kind should be on the photograph.
Photographs that have been digitally altered beyond standard optimization (removal of dust, cropping, reasonable adjustments to exposure, colour and contrast, etc.) will be disqualified.
Participants may submit colour and/or black and white photographs taken up to five years before the start of the competition.
The photograph must be of the highest resolution possible.
It can either be in landscape or portrait mode.
Adult content of any kind will not be entertained and the contestant would be disqualified immediately.
A caption must be given to the photograph.
WFY reserves the right to use the photographs submitted by you, credits of which will be given.