The Is The Painful Story Of An Indian Man's Mammoth Struggle To Return Home
Dinesh Mavoor, an Indian expatriate, had been in the Kingdom of Bahrain since June 16, 1981, which makes his total stay in Bahrain 41+ years. Though he was employed during his initial stay in Bahrain, he started an art-related business in the 1990s and continued it until 2000. His family, which includes his wife and two children, has been in Bahrain since 1995. The introduction of computer-aided techniques to art affected his career and was the start of his business downfall. With great difficulty, he managed his children's education, but he couldn't afford to keep his family with him in Bahrain and had to send them back to India for good in 2014.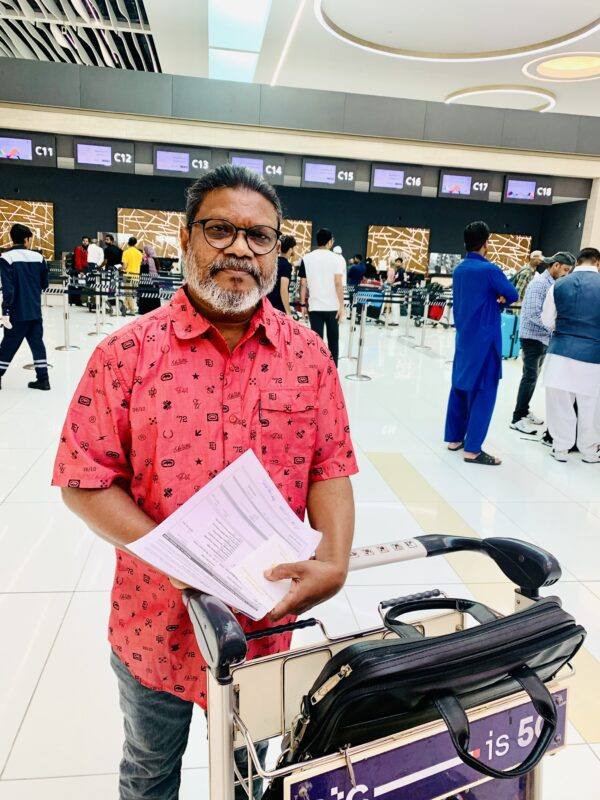 In the year 2011, he made his last trip to India. Since then, he has not been able to go.
He had realised that the long separation from his family had made him mentally weak. In addition, his growing age and other factors were further contributing to his deteriorating health. He wished to reunite with my family at the earliest possible time and would like to spend the rest of my life with them.
A travel ban had been imposed on him, which restricted him from travelling back to India as there were more than eight cases against him. Dinesh approached Mr. Sudheer Thirunilath, country head of Pravasi Legal Cell Bahrain, in March 2022, and he took up the matter with the Embassy of Bahrain with the help of the Indian Embassy, and Adv. Tariq Ibrahim Al Aun approached the Honorable Court of Bahrain and explained his situation later to remove the travel ban against him. The Embassy issued an emergency certificate for travel, and Bahrain Kerala Samajam arranged his tickets to India. M. Dinesh extended his gratitude to the Honorable Indian Ambassador, HE. Piyush Srivastava, and all Embassy officials, the Immigration Authorities, Adv. Tariq, the Pravasi Legal Cell, and Bahrain Keraleeya Samajam for the timely help.
Finally, Dinesh Mavoor flew back to Kannur, India, yesterday on an Air India flight and is currently with his family.