The Queen is Dead, Long Live the King
I have a confession to make. I am an Anglophile and my sense of Anglophilism, if I may call it that, has just been further immensely strengthened after watching the pomp and show of the farewell ceremonies for the Dear Departed Queen Elizabeth II.
I sat mesmerized before my TV as the funeral cortege passed through the streets of London and people stood in solemn silence and watched it go by. What amazed me was the perfection with which the ceremony unfolded. Not a flaw anywhere to be seen, except, of course, the occasional irritation of the new Bonny King Charles III as his pen leaked. But such irritability is understandable for a prince who had just ascended the throne after 70 years of waiting. Ugg… a leaking pen.
The grandeur and solemnity of the occasion were striking. As the cortege carrying the Queen's body passed in solemn cadence across London, try as I might, I could see nothing amiss anywhere in that majestic event. Only the new King's irritation with his leaking pen stood out. And my solemn suspicion is that the coffin we all saw being carried along was empty. A nagging doubt that the Queen's remains were somewhere else, certainly not in that coffin.
But to the point I am making….
I don't think there is another country in the world that could have conducted a funeral of this nature with such perfection. No other country could have infused the occasion with such solemn grandeur, such mesmerizing coordination, and such soulful poise as the British did. Not a step, not a beat was amiss anywhere. As the cortege moved along the City's roads and thence from Westminster Abbey to Windsor Castle, not a detail was amiss. The music, the people, the soldiers, the royalty, the cameras, even us millions all over the world watching on our televisions, everybody and about everything was in full sync. It was as if a collective intelligence had taken control of all our minds. Only the horses appeared a wee bit miffed at times, but they too soon sensed the solemnity of the occasion and fully invested themselves back in its dignity and grandeur.
The music that played as the slow procession moved along, was something else. It played upon our senses. It was soulful. It was mournful. There was a slow cadence in the drum beats, rhythm, sorrow, soul and majesty. Hollywood – and I am not even speaking of Bollywood – could not have come up with anything quite as appropriate.
It was mesmerizing to see the naval ratings, and the Old Man, New King Charles III, his ageing sister Princess Anne and his two brothers' step along in unison, never a step amiss. When the cameras focussed on the marching soldiers, their heads and torsos swaying from left to right and from right to left and back again, in absolute unison they seemed as though they were a single entity, an augmented reality, a precisely coordinated automated intelligence.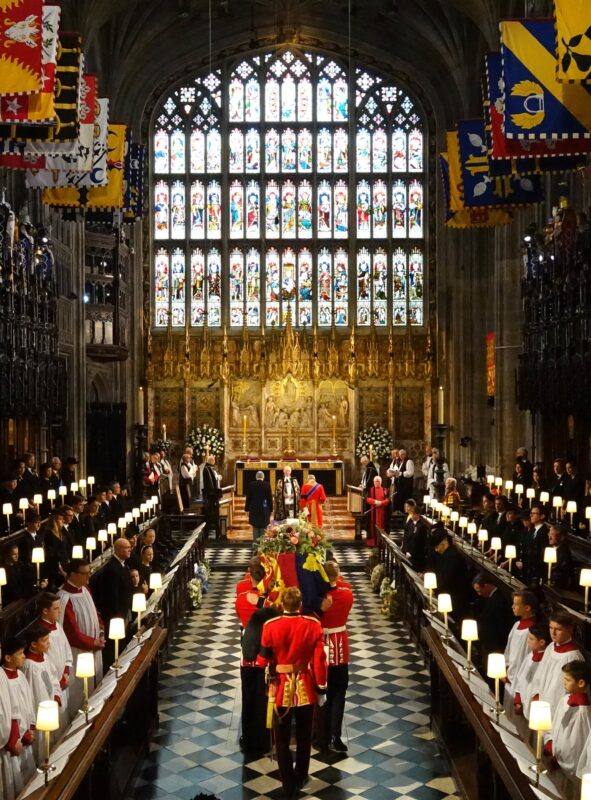 .
There is something about the English that makes their sense of pomp and ceremony and perfection an art that's admirable and worthy of emulation.
Imagine such a state funeral in India. It would have been chaotic here. There would be crying and grieving and gnashing of teeth and pulling of hair, running and shouting and sloganeering, and a couple of police baton charges.
But nothing of that sort in yonder British Isles. We have a lesson to learn from all that. The Indian diaspora across the world will know that it is this focus on perfection and getting it right, planning for it and practicing it and practising it again and making it pluperfect, makes an occasion great. Not sloganeering.
Unfortunately, we also seem to be taking the weakness of our systems and behaviour to these countries. I lower my head in shame, seeing how we have exported the subcontinent's communal riots to Birmingham and Leicester and other places in the UK.
What a tragedy.