A Memorable Trip to Jeddah
My husband and I travel a lot to different destinations every year. We love vacationing. But the last 3 years have brought our travels to a complete halt due to COVID.

Now that the skies have opened up, post-COVID scenario, we decided to explore a bit of Saudi. I have been living in Al Khobar, an eastern city in Saudi Arabia, for the last 11 years. It is now time for us to return to our roots: Chennai, the capital of Tamilnadu, a southern state of India.
So we set out to explore Riyadh and Jeddah, the two major Saudi cities.

Our short trip to Riyadh, the capital city, a couple of months ago was a perfect holiday.

And our next trip to Jeddah, a Saudi Arabian port city on the Red Sea, was equally awesome. Jeddah is a modern commercial hub and gateway for pilgrimages to the Islamic holy cities of Mecca and Medina.

We booked our tickets and hotel accommodations and prepared our own itinerary.

It is a 2-hour flight from Dammam (Al Khobar airport) to Jeddah. Our hotel was on the new Corniche Road in Jeddah, and the view of the Red Sea from our room on the 10th floor was just too good. We also had the good fortune of enjoying the sunset from the comfort of our room.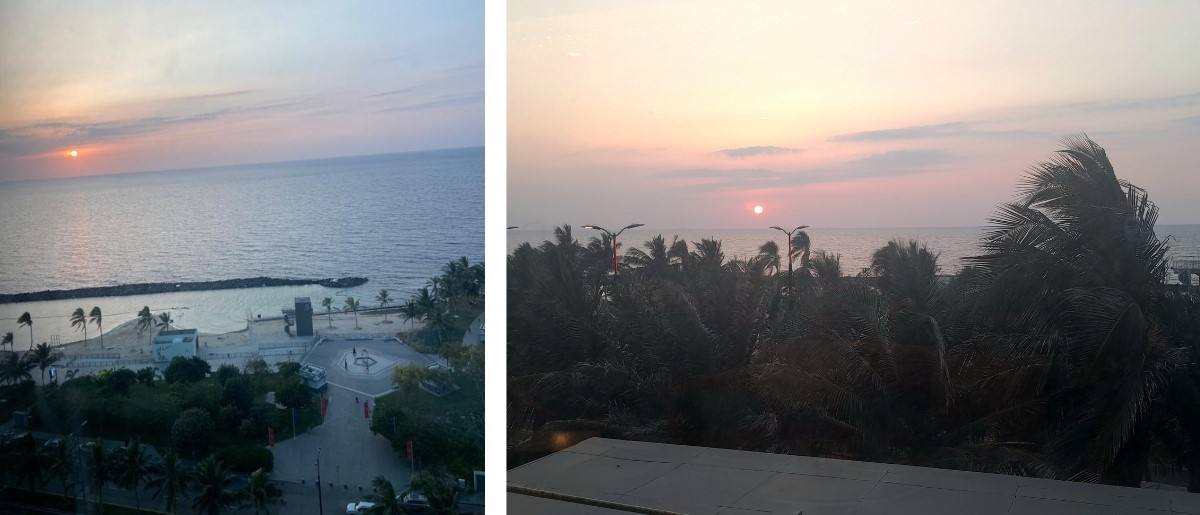 The joy of seeing the vast Red Sea and the setting sun is inexplicable. We thanked the lady at the reception for giving us such an awesome room. A room with an amazing view.

On the evening of our first day, we went to the Al Rahma floating mosque. This floating mosque was built in 1985 on a water surface with bases planted below the surface of the sea. It is an idyllic location for pictures, with an awesome sunset as a backdrop. It is next to the F1 race track and the Jeddah Yacht Club Marina.

When we booked the Uber cab to go to this floating mosque, little did we know that the driver would be not just a driver but a guide and a very considerate person. As there were road blocks along the way, the driver dropped us at a spot from where we had to walk down for about half a km to the mosque.

But the drop-off spot was dark and deserted, and to our surprise, the driver volunteered not just to wait for us but also to accompany us to the mosque. What more could we ask for? We were more than happy.

And along with this good Samaritan, after our visit to the mosque, we proceeded to King Fahad's fountain at the Jeddah Corniche.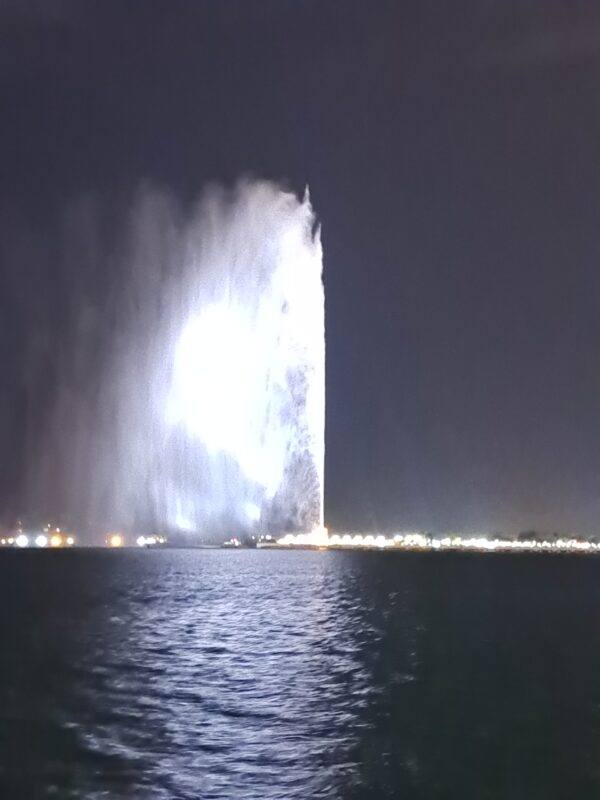 He parked his cab at a place from which we could see the fountain in all its glory. It was a delight to see the tallest fountain in the world. It jets water to a maximum height of 260 metres!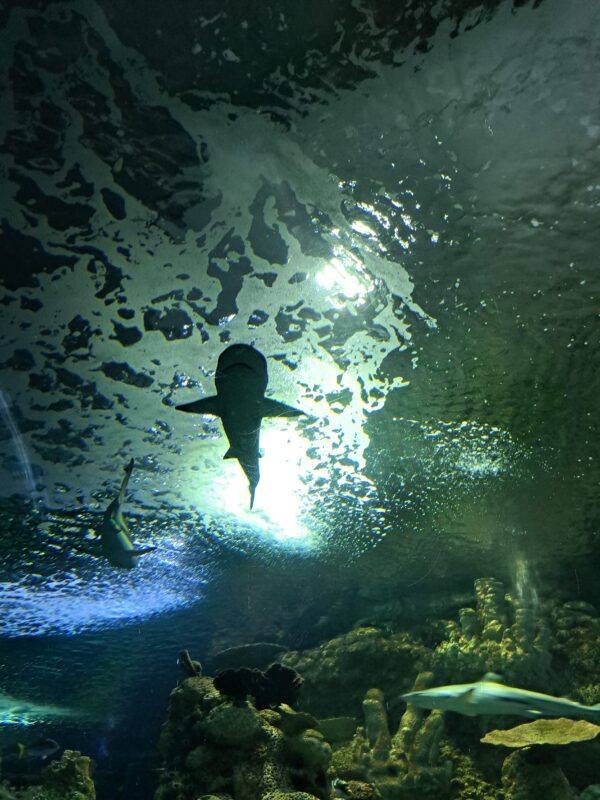 After a brief halt at the fountain, we drove down in the same cab to the Fakieh Aquarium. As it was our last stop for the day, we thanked our driver profusely, paid him handsomely, and blessed him wholeheartedly. And we felt blessed to have gotten such a considerate taxi driver.


The Aquarium showcases the beautiful marine life of diverse aquatic dwellers, many of whom are native to the Red Sea.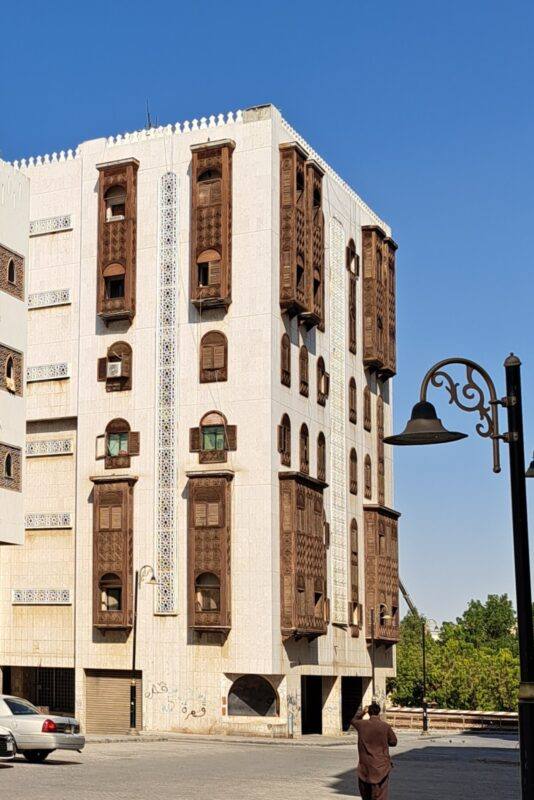 The next morning, we planned to go to Old Jeddah Al Balad, a UNESCO World Heritage Site. As it is a large area with many gates, we had no idea about the drop-off point for the Uber taxi booking. So we decided to check with our hotel help desk. The lady on duty was kind enough to put us on to a colleague of hers, named Mr. Badr, who, to our good fortune, was a budding tourist guide and happily offered to take us to the heritage site. He drove us in his car, gave us information about important places along the route, and dropped us off at a point from which we could continue ourselves. We thanked him wholeheartedly, counted our blessings, and started our exploration of this heritage site.
Al-Balad was founded in the 7th century and historically served as the centre of Jeddah. This place still maintains its old world souq charm with old buildings showcasing beautiful windows, intertwining alleys, cobbled stone pathways, historical gates, etc. We did a bit of shop-hopping, picking up fridge magnets, spices, and ouds (perfumes). It is a must-see place for all tourists. We had a wonderful time and returned to our hotel room in the afternoon.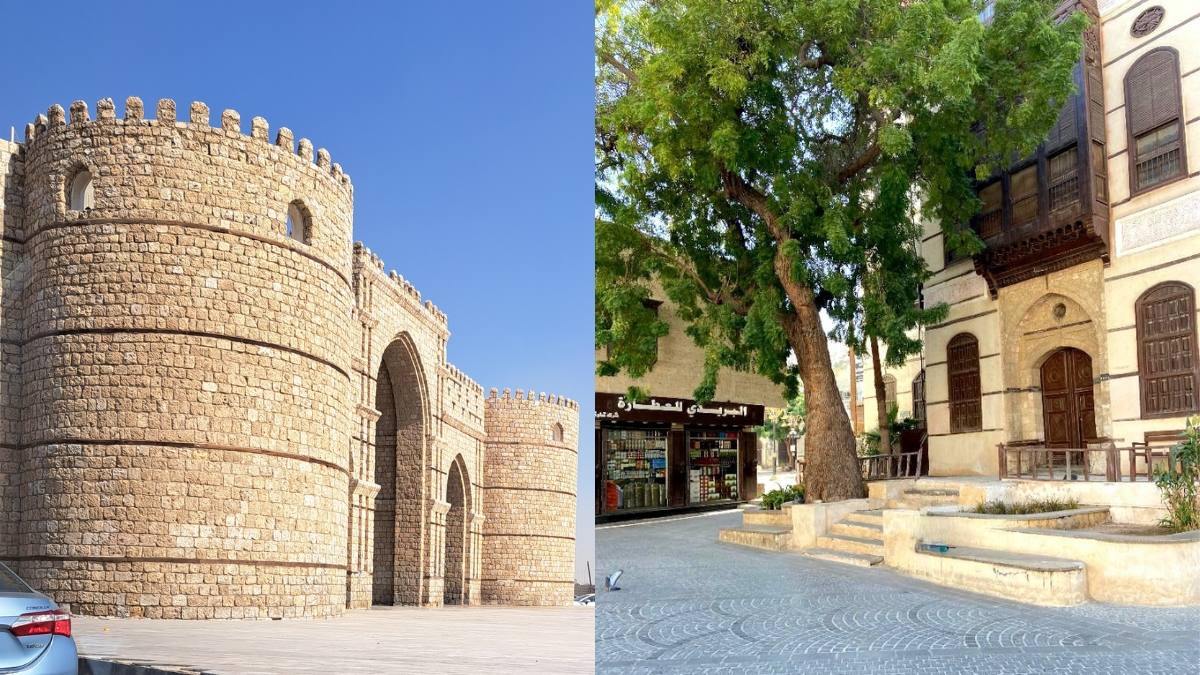 After a short rest, we went to the Al Tayebat International City Museum.
With several floors of in-depth exhibits, the museum offers a living history lesson on the foundations of Jeddah and the wider Arabian Peninsula. There is also an entire floor dedicated to the city's rich Islamic heritage.
It also offers excellent spots for photos.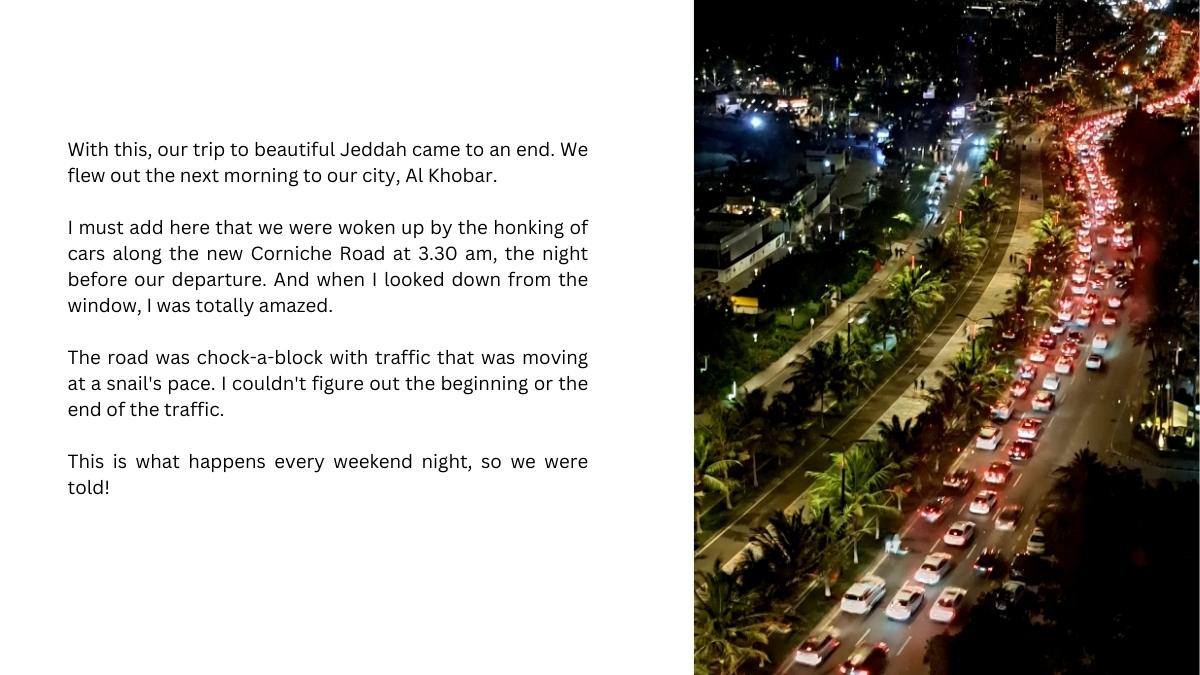 It was, indeed, a wonderful trip to Jeddah. We met some kindhearted and helpful people, saw some amazing places, travelled within the city comfortably, and stayed at a hotel with an awesome view.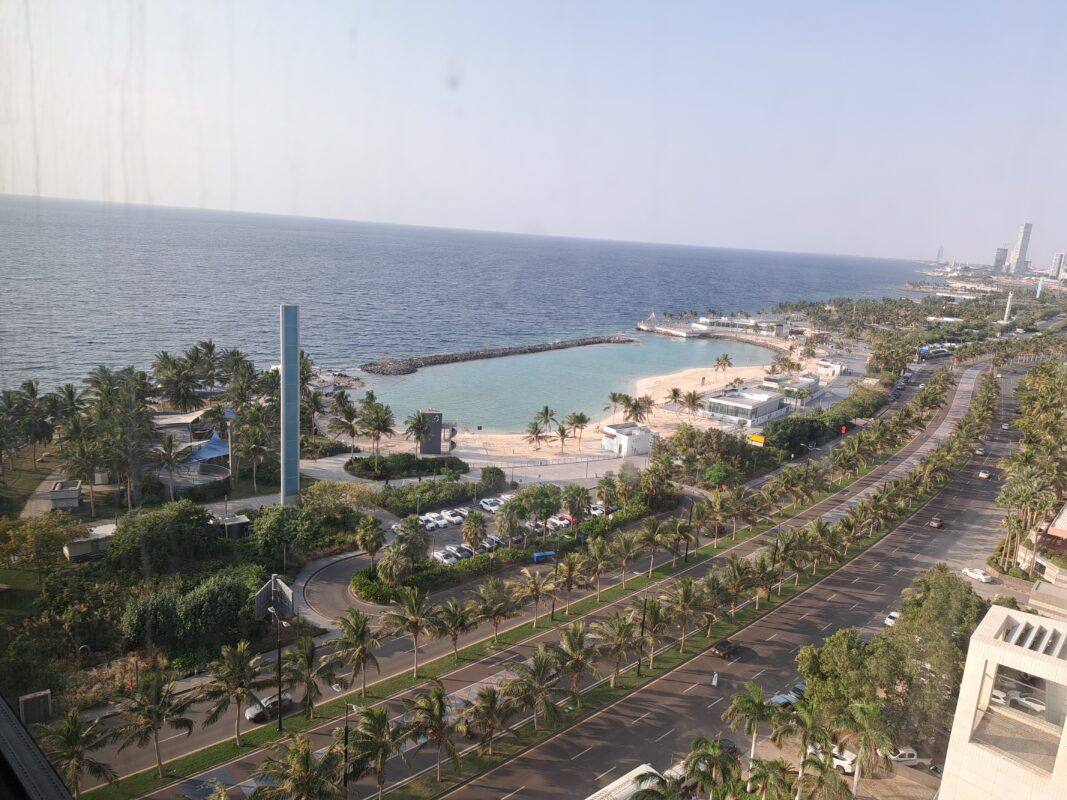 I had never thought that I would visit Jeddah someday. But I am glad that we did. It was a great trip.