Kamala Harris: The Inspiring Face Of The Indian Diaspora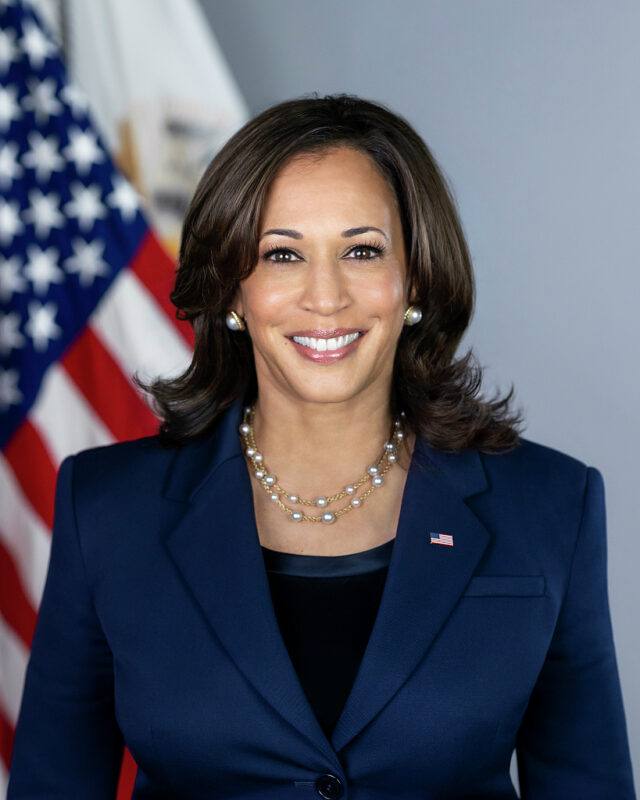 Kamala Devi Harris is the 49th Vice President of the United States, serving in President Joe Biden's Democratic administration. She is the first female Vice President, the highest-ranking female official in American history, as well as the first Indian American and African American Vice President. She previously served in the United States Senate (2017-21) and as California Attorney General (2011–17).
In 2020, Kamala Harris ran for the Democratic presidential nomination. Joe Biden secured the nomination by selecting Harris as his running mate.
The whole idea of the "American Dream" has attained a new milestone. The significant political events in recent US history have seen individuals from the migrant population naturalised in the US playing a vital role in US politics through the likes of Barack Obama, Kamala Harris, etc. We have seen this emerging trend in almost all parts of the world, most recently with Rishi Sunak becoming the Prime Minister of the UK.
Indian Origin American women like Kalpana Chawla, Sunita Williams, and Kamala Harris are poster girls, or rather role models, for many in India. The Indian Diaspora is shining vibrantly in almost all parts of the world. They are the new game changers, from politics to technology to business to academics to science. You name it, and they are there.
Let's look into the life of Kamal Harris, who has risen to a height that no one of Indian origin has attained so far. She truly is a lotus with many virtues and the true daughter of Indian culture and aptitude. Indians are very proud of her and her achievements.
Kamala Harris was born on October 20, 1964, in Oakland, California, to parents who immigrated from India and Jamaica. Donald J. Harris, her father, is Jamaican, and Shyamala Gopalan, her mother, is Indian. Her Jamaican father was a Stanford University professor, and her mother, the daughter of an Indian diplomat, was a cancer researcher. Her mother, Shyamala Gopalan, was a breast cancer researcher and pioneer in her own right. Harris was born the same year she earned her PhD.
Kamala Harris grew up in a diverse community with a large extended family.
Kamala and her younger sister moved from California to Montreal with their mother, Shyamala Gopalan, after Gopalan accepted a teaching position at McGill University; Harris attended middle and high school in Montreal as a result. Maya, her younger sister, went on to become a public policy advocate. Kamala earned a law degree from Hastings College in 1989 after studying political science and economics at Howard University (B.A., 1986).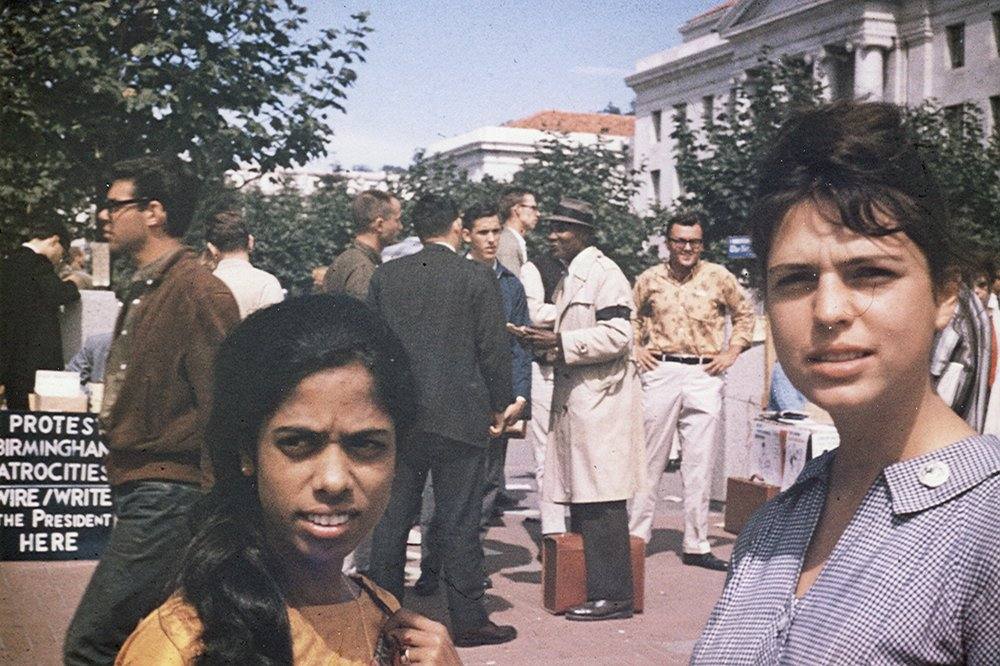 Kamala Harris was raised by activist parents, who instilled in her a strong sense of justice. They took her to civil rights rallies and introduced her to role models such as Supreme Court Justice Thurgood Marshall and civil rights leader Constance Baker Motley, whose work inspired her to become a prosecutor.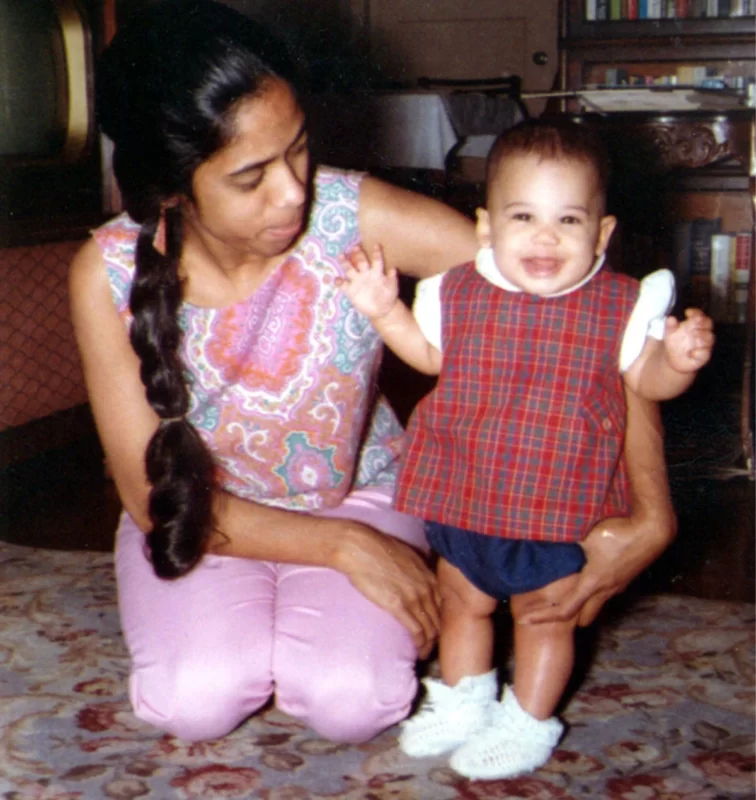 Vice President Harris with her mother, Shyamala
"My mother would look at me and she'd say, 'Kamala, you may be the first to do many things, but make sure you are not the last.'"KAMALA HARRIS, JANUARY 28, 2019
Kamala is an Afro-Indian American Baptist who attends the Third Baptist Church of San Francisco, an American Baptist Churches USA congregation. She belongs to The Links.
Harris and her husband, Second Gentleman Doug Emhoff, in the Vice President's office in 2021.
She married Douglas Emhoff in 2014. Ella and Cole, their children, are part of a large blended family. Kamala met her husband, attorney Doug Emhoff, on a blind date set up by a mutual friend in 2013. Emhoff was an entertainment lawyer who rose to become the managing partner of Venable LLP's Los Angeles office.
On August 22, 2014, Kamala and Doug were married in Santa Barbara, California. Emhoff's two children from his previous marriage to film producer Kerstin Emhoff, Cole and Ella, are raised by Kamala.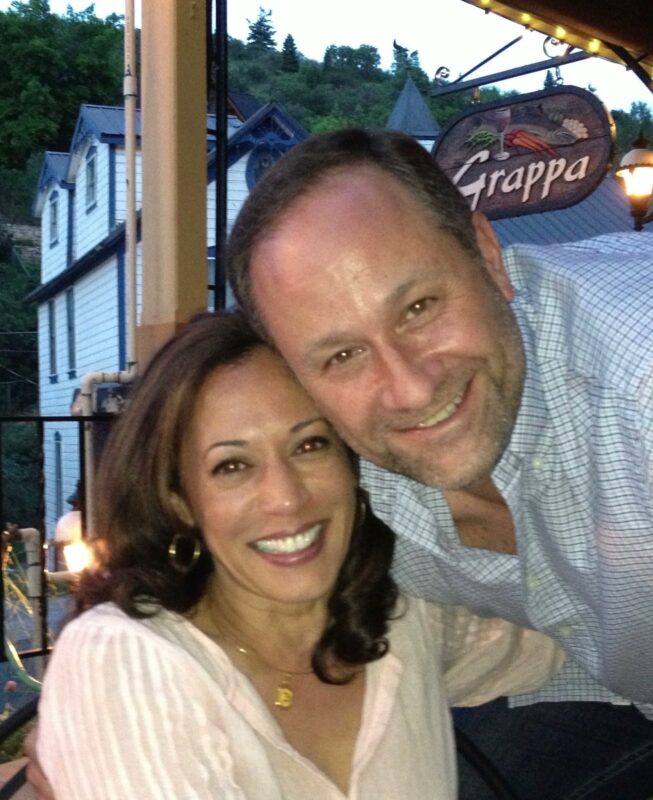 Her facebook post says; (pic)
The morning after our first date, Doug emailed me a list of his available dates for the next couple of months. He said, "I want to see if we can make this work." We've been making it work ever since.

Dougie, happy birthday. I could not imagine anyone else I'd rather be with on this journey.
Maya, Kamala's sister, is a lawyer and MSNBC political analyst; Tony West, her brother-in-law, is Uber's general counsel and a former US Department of Justice senior official. Meena, her niece, is the founder of the Phenomenal Women Action Campaign and a former Uber head of strategy and leadership.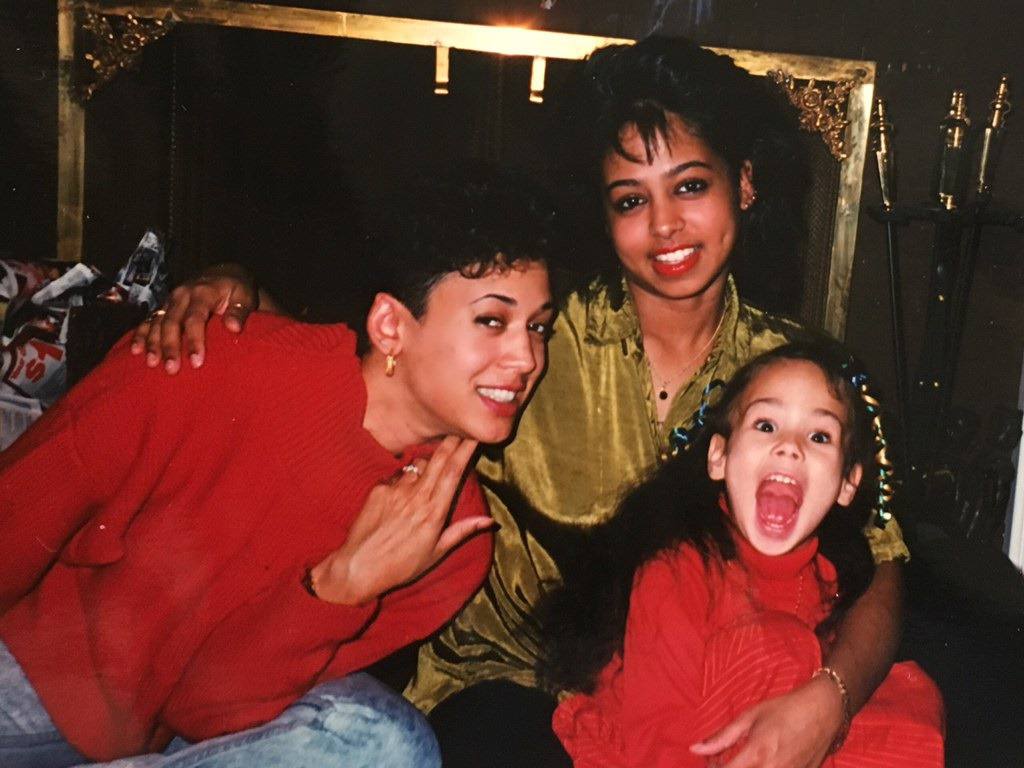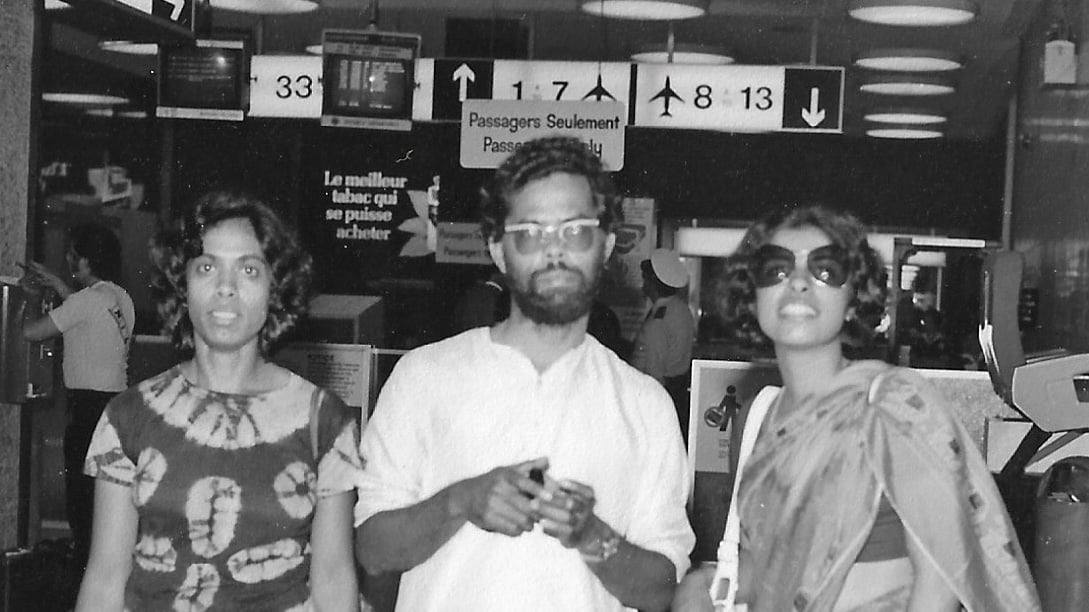 Kamala Harris is well-known for her distinctive pearl necklace style. Although speculation arose during the 2020 presidential campaign that she began wearing them as a tribute to her Howard University sorority, or even to Supreme Court Associate Justice Ruth Bader Ginsburg, who is known for wearing a distinctive collar when issuing a dissent in court, Harris explained in her 2019 biography The Truths We Hold that she began doing so after receiving a pearl necklace as a gift from her mother's mentor.
Kamala Harris joined the Alameda County District Attorney's Office in 1990. She later worked as a deputy district attorney in Oakland from 1990 to 1998, earning a reputation for toughness as she prosecuted gang violence, drug trafficking, and sexual abuse cases, particularly child sexual assault cases. She later worked as a managing attorney in the San Francisco District Attorney's Office and as the chief of the City Attorney's Office's Division on Children and Families.
She was elected District Attorney of San Francisco in 2003. In that capacity, Kamala Harris established a ground-breaking programme that allows first-time drug offenders to earn a high school diploma and find work. The United States Department of Justice designated the programme as a national model of law enforcement innovation.
Kamala Harris was elected as California's first female and Indian American attorney general in 2010. Her Republican opponent, Steve Cooley, declared victory on election night, only to concede three weeks later after all ballots were counted, revealing that Harris had won by less than 1%.
She was in charge of the largest state justice department in the country. She established the state's first Bureau of Children's Justice and implemented several ground breaking reforms to ensure greater transparency and accountability in the criminal justice system.
She demonstrated political independence by refusing, for example, pressure from President Barack Obama's administration to settle a nationwide lawsuit against mortgage lenders for unfair practises. Instead, she pressed California's case and won a five-fold increase in the initial offer in 2012. Her refusal to defend Proposition 8 (2008), which prohibited same-sex marriage in the state, contributed to its repeal in 2013. Smart on Crime (2009; co-written with Joan O'C. Hamilton) was regarded as a model for addressing the issue of criminal recidivism.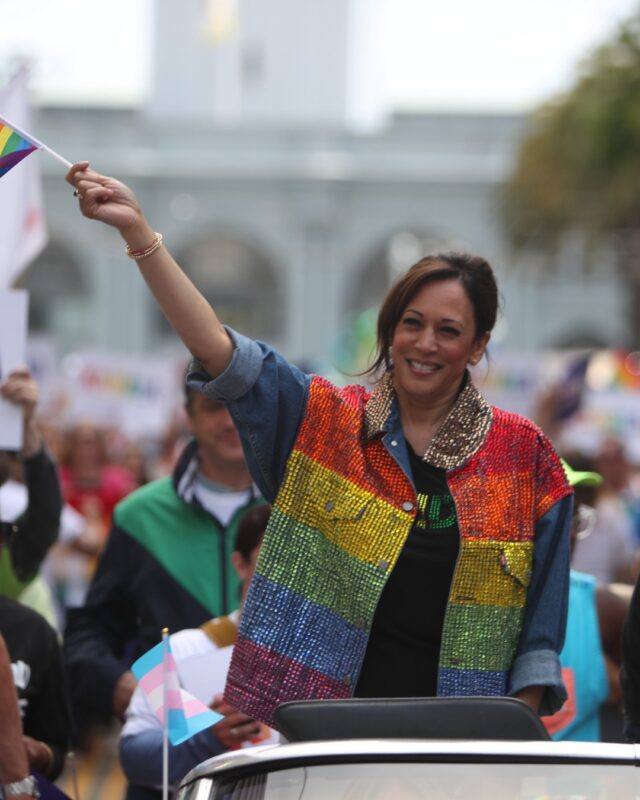 As Attorney General, Kamala Harris obtained a $20 billion settlement for Californians whose homes were foreclosed on, as well as a $1.1 billion settlement for students and veterans who were exploited by a for-profit education company. She fought in court to defend the Affordable Care Act, enforced environmental laws, and was a national leader in the marriage equality movement.
Kamala gave a memorable speech at the Democratic National Convention in 2012, raising her national profile. She married attorney Douglas Emhoff two years later. She was recruited to run for the U.S. Senate seat held by Barbara Boxer, who was retiring. She was widely regarded as a rising star within the party. Harris declared her candidature in early 2015, and while campaigning, she advocated for immigration and criminal-justice reforms, increases in the minimum wage, and protection of women's reproductive rights. She easily won the presidential election in 2016.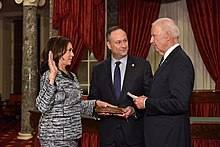 Kamala Harris was sworn into the United States Senate in 2017. Harris became the Senate's first Indian American and only the second black woman. In her first speech, she advocated for immigrants and refugees. As a member of the Senate Homeland Security and Governmental Affairs Committee, she fought for better protections for DREAMers and advocated for increased oversight of detention facilities with substandard conditions.
Among other things, she began serving on the Select Committee on Intelligence and the Judiciary Committee. She worked with members of both parties on the Senate Select Committee on Intelligence to keep Americans safe from foreign threats and drafted bipartisan legislation to help secure American elections. She had travelled to Iraq, Jordan, and Afghanistan to meet with service members and assess the situation. She also served as a member of the Senate Judiciary Committee. She attended hearings for two Supreme Court nominees during her time on the committee.
As a member of the Senate Committee on Environment and Public Works, Kamala Harris championed legislation to combat hunger, provide rent relief, improve maternal health care, and address the climate crisis. In 2018, her bipartisan anti-lynching bill was passed by the Senate. Her legislation to preserve historically black colleges and universities, as well as her efforts to inject much-needed capital into low-income communities during the COVID-19 pandemic, were both signed into law.
Her prosecutorial style of questioning witnesses during hearings drew criticism—and occasional interruptions—from Republican senators. She drew special attention to her questions to U.S. Attorney General Jeff Sessions, who was testifying before the intelligence committee about alleged Russian interference in the 2016 presidential election; she had previously called for his resignation. The Truths We Hold: An American Journey, Harris's memoir, was released in January 2019.
Shortly after, Harris declared her candidature for the Democratic presidential nomination in 2020. She was regarded as one of the front-runners from the start, and she drew particular attention when, during a primary debate, she clashed with fellow candidate Joe Biden over his opposition to school busing in the 1970s and 1980s, among other race-related issues. Although Harris's popularity grew initially, her campaign was in serious trouble by September 2019, and she dropped out of the race in December. She maintained a high profile, most notably as a leading advocate for social-justice reform following the May 2020 death of George Floyd, an African American in police custody.
Her efforts silenced some critics of her tenure as attorney general, who claimed she failed to investigate allegations of police misconduct, including questionable shootings. Others, on the other hand, thought her embrace of reform was a political ploy to capitalise on social change's growing public popularity. As racial injustice became a major issue in the United States, many Democrats urged Joe Biden, the party's presumptive nominee, to pick an African American woman as his running mate, a demographic seen as critical to his election chances.
Biden chose Harris in August, making her the first black woman to appear on a major party's national ticket. She was elected Vice President of the United States for the first time in November.
Kamala Harris accepted President Joe Biden's invitation to become his running mate and help unite the country on August 11, 2020. She is the first woman, first black American, and first South Asian American to be elected Vice President, as she has been to other positions. She, on the other hand, is determined not to be the last.
In the weeks that followed, Trump and other Republicans challenged the election results, claiming voter fraud. Despite the fact that a number of lawsuits were filed, no evidence to support the allegations was provided, and the vast majority of the cases were dismissed. During this time, Harris and Biden began the process of transitioning to a new administration, announcing an agenda and hiring staff. All states had certified the election results by early December, and the process then moved to Congress for final approval. Against the backdrop of Trump's repeated calls for Republicans to overturn the election, a group of congressional members, led by Senators Josh Hawley (Missouri) and Ted Cruz (Texas), announced that they would challenge the electors of various states.
A mob of Trump supporters stormed the Capitol shortly after the proceedings began on January 6, 2021. Although it took several hours to secure the building, Biden and Harris were eventually declared the winners. She later called the siege, which many blamed on Trump, a "assault on America's democracy." She formally resigned from the Senate on January 18. Harris was sworn in as Vice President two days later, amid a massive security presence.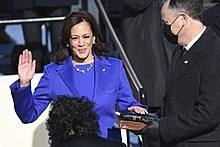 On January 20, 2021, Kamala Harris was sworn in as Vice President of the United States in President Joe Biden's Democratic administration. As Vice President, Kamala Harris collaborated with President Joe Biden to get America vaccinated, rebuild its economy, reduce child poverty, and pass an infrastructure bill that could lift up underserved communities.
She has led the administration's efforts to build broad coalitions to defend voting rights, expand workers' rights to organise and bargain collectively, and advocate for women's rights, including supporting women in our workforce, addressing the maternal health crisis, and defending reproductive rights. She has also been instrumental in engaging world leaders and strengthening the country's alliances and partnerships. In everything she does, she keeps the citizens of the country and their collective future in mind.
..
Few Facts about Kamala Harris
Also Known As Kamala Devi Harris
Born: October 20, 1964 (age 58) Oakland, California.
Title / Office:
Vice President of the United States of America (2021-), United States
United States Senate (2017-2021), United States
Political Affiliation: Democratic Party
Family Members:
Daughter of Donald Harris
Daughter of Shyamala Gopalan
Married to Douglas Emhoff (2014–present)
Stepmother of Ella Emhoff
Stepmother of Cole Emhoff
Sister of Maya Harris
Education:
Westmount High School (Westmount, Quebec, Canada)
Howard University (B.A., 1986), where she studied political science and economics.
University of California Hastings College of the Law (J.D., 1989), where she graduated with a law degree.
Published Works:
"The Truths We Hold: An American Journey" (2019)
"Superheroes Are Everywhere" (2019)
"Smart on Crime" (2009; with Joan O'C. Hamilton)
Awards and Honours: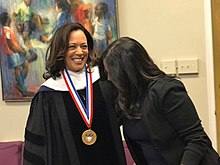 In 2005, the National Black Prosecutors Association awarded Harris the Thurgood Marshall Award.
That year, she was included in a Newsweek report profiling "20 of America's Most Powerful Women".
A 2008 New York Times article published later that year also identified her as a woman with potential to become president of the United States, highlighting her reputation as a "tough fighter".
In 2013, 2020, and 2021, Time included Harris on the Time 100, Time's annual list of the 100 most influential people in the world.
In 2016, the 20/20 Bipartisan Justice Center awarded Harris the Bipartisan Justice Award along with Senator Tim Scott.
Biden and Harris were jointly named Time Person of the Year for 2020.
Harris was selected for the inaugural 2021 Forbes 50 Over 50; made up of entrepreneurs, leaders, scientists and creators who are over the age of 50.
Honorary degrees
University of Southern California – Doctor of Laws (LL.D.)
Howard University – Doctor of Humane Letters (DHL)
Published Works:
Harris has written two non-fiction books and one children's book.
Harris, Kamala; O'C Hamilton, Joan (2009). Smart on Crime: A Career Prosecutor's Plan to Make Us Safer. San Francisco, CA: Chronicle Books. ISBN 978-0-8118-6528-9.
Harris, Kamala (2019). Superheroes Are Everywhere. London: Penguin Young Readers Group. ISBN 978-1-984837-49-3.
Harris, Kamala (2019). The Truths We Hold: An American Journey. London: Penguin. ISBN 978-1-984886-22-4.
She is truly a role model for many in India. May there be many Kamlas from India blooming in numerous nations across the globe.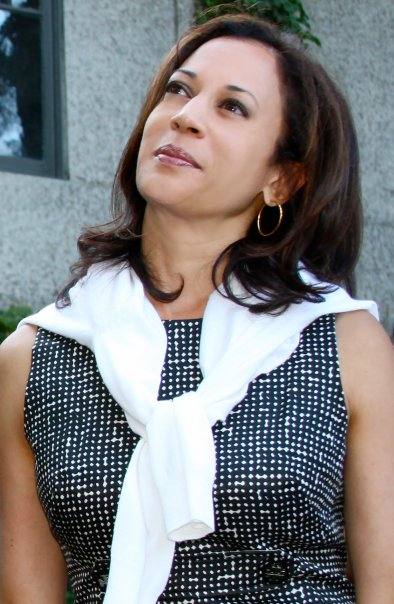 References:
https://www.whitehouse.gov/administration/vice-president-harris/
https://joebiden.com/
https://www.facebook.com/joebiden
https://en.wikipedia.org/wiki/Kamala_Harris
https://www.britannica.com/biography/Kamala-Harris
https://linksinc.org/members/
https://www.britannica.com/facts/Kamala-Harris
Also the images and information used are credited to the websites above mentioned as well as Kamala Harris's social medias.