Let's Chat! Sarmistha Dey in Conversation with Usha Chari
Introduction
Usha Chari has a 20+ year track record of success in technology management and hands-on development, specialising in data management, software development, and best practise methodologies in various B2B and B2C organizations.
As a developer and architect, Ms. Chari has focused on data models, database systems and applications, and analytics. As a senior IT leader, Ms. Chari has successfully led several critical data initiatives in multiple organizations.
She lives with her husband and two daughters in Southern California.
Apart from her professional career, she is a huge Carnatic music enthusiast and was the President of the South Indian Music Academy, a prestigious music organisation in Los Angeles. She was instrumental in the growth of the organisation for the last 4 years, both financially and from the standpoint of community engagement.
Educational Qualification
Bachelors in Computer Science (Chennai)
Masters in Computer Science (Pune)
How was your journey from India to the US?
I moved to the US in 1994, which was also the year I got married to Sampath, who was already there for his higher education. On the one hand, I was very excited to move to a new country and start a new life. I was fortunate to have one of my sisters already in the US. I was also a little sad to leave the rest of my family and friends in India.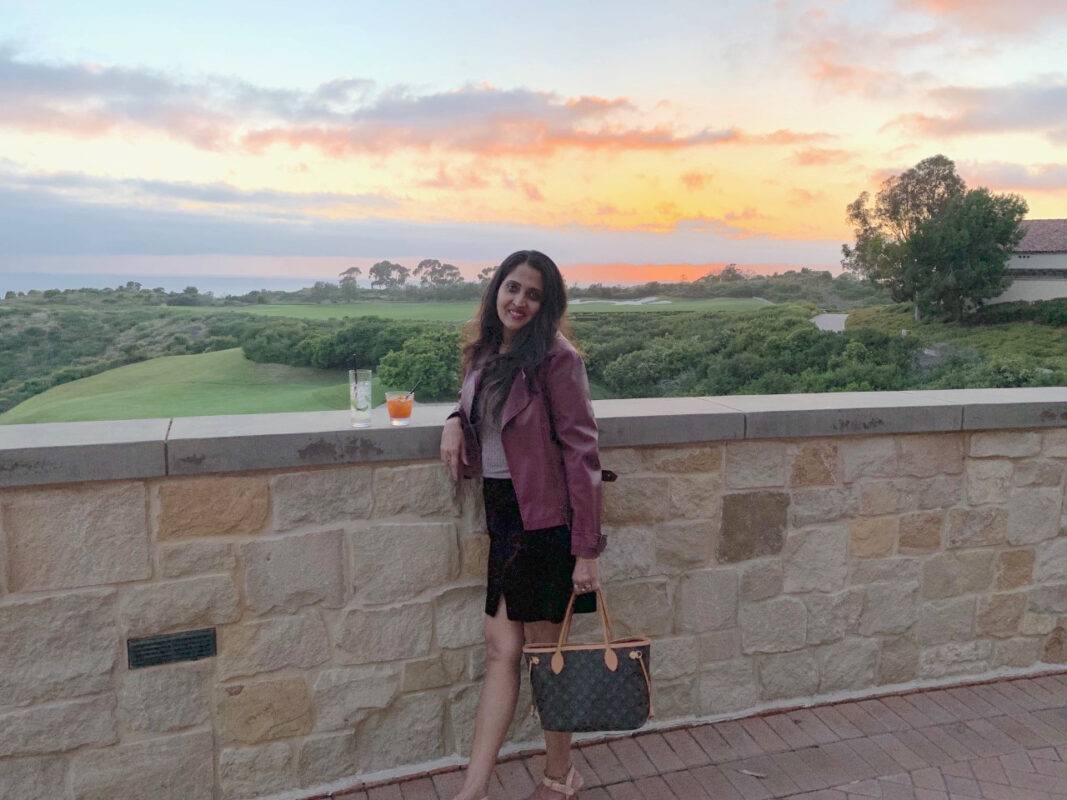 I was able to adjust quickly, though I kept thinking about what it all meant to be in a different country—my education, my family, my friends, and what it meant for a career. After a year in Minnesota, I moved to New York in 1995 and started my first job at Consumer Reports (a publishing company)—and ended up working there for close to 20 years before we moved west to California.

The US is a fascinating country, and living in multicultural places like New York and California has enabled me to embrace American values while staying true to my Indian heritage.

How would you like to introduce your family?
Sampath and I have two daughters (Sanchitha and Saadhvi). Sampath is a risk management professional, and my daughters are in college: Sanchitha is doing her Masters at the University of Southern California (USC), and Saadhvi is in her second year of her Bachelors at the University of California in Los Angeles (UCLA).
As a family, we love to travel together to see new places and try out new foods. We have been lucky to travel to several countries around the world. We also try to visit India each year, typically in December, for the music season in Chennai.
Can you give a brief idea about your professional life?
I am an IT professional with close to 30 years of experience in different industries. I have been both an individual contributor (software developer) and a leader/manager of teams (in the US and India).


I currently work for CoreLogic, a leading provider of data, analytics, and platforms for real estate and housing. My title is Principal, Big Data Solutions.

I have also tried to pass on my experience to the next generation. I have been periodically invited to speak to local high school kids about information technology, its future, what could motivate high school kids to take up STEM, etc. I really enjoy this every year and answering the thoughtful questions from the younger generation!


What are your hobbies?
Music has always been one of my biggest passions, right from when I was a kid. I learned music (carnatic vocal) as a child in Chennai. I enjoyed singing at several school events, but after a point, I got more engaged with my education and career. But the thirst for music was always there in me.

My husband and I were (and still are) avid music listeners, primarily Carnatic but also some Western pop or rock music and a significant amount of Indian cinema music, particularly Tamil and Hindi.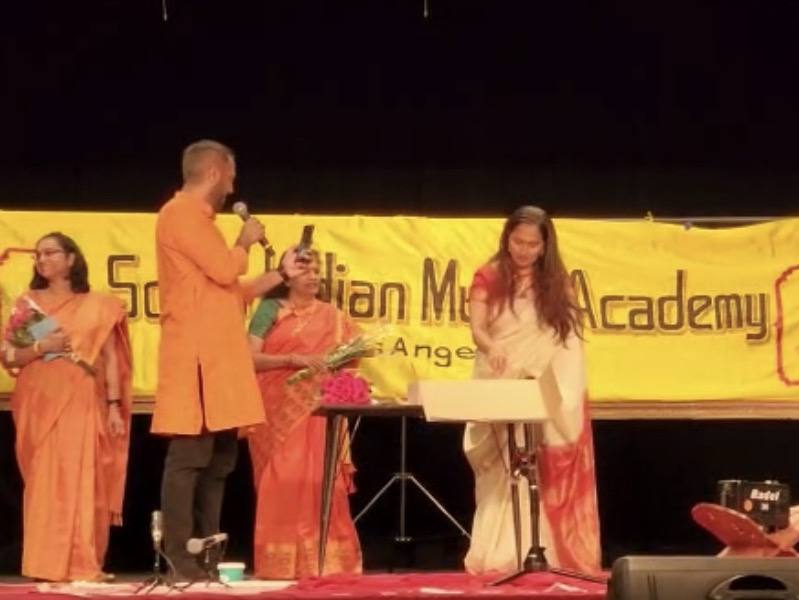 I kept thinking in my mid-20s about not being able to pursue more Carnatic music, and it so happened that, a few years after my first daughter Sanchitha was born, I was introduced to a local Carnatic teacher. This rekindled my passion for learning again, and I got into listening to music more seriously. I used to live in New York, and my teacher was in Connecticut, but I would drive an hour each way once a week (usually on a weekday after work). I enjoyed it so much that the drive did not bother me, as I always had music for company no matter how long the drives were.
In parallel, I started helping organise music events—in my local community with a few other ladies and for our local temple. This art had given me so much "listening" pleasure by that point, and I was always fascinated by the depth of ragas and scales, and where creativity could take a simple "rasika" like me—that I felt compelled to help the art and artists, and to be involved in spreading the art wherever I could in the United States.
As a result of this, I met (and hosted) many professional Carnatic musicians and was astounded by their lives—how they constantly think about and breathe music.It drew me more and more to this art, and it made me more open to managing events as an individual.
When Sanchitha was about 5, I would take her along to learn from my teacher; we would have back-to-back classes. And Saadhvi, who was about 4, joined us, so this became a fun family event and a great mom-daughter bonding opportunity, and we had so many songs that we tried singing together or exploring the details behind them.
I feel fortunate that both my daughters have continued learning Carnatic vocal for the past 15+ years, moving on to learning from a professional musician from Chennai. They have performed more than 50 full-length concerts to date, including at the prestigious Chennai music season in December. I am not sure whether they will take up music full-time, even though they certainly have the talent and mindset for it, but even if not, I am confident music will give them peace of mind and joy in their lives, just like it has for me.
 
After moving from New York to California in 2014, I was excited to find an active music community. In 2019, I was elected President of the South Indian Music Academy (SIMA). SIMA is one of the premier music organisations in Southern California and has been providing a platform for musicians for several decades.
 
As SIMA President, I was able to grow the organization's membership by nearly 30% and its cash balance by more than 110 percent while successfully navigating COVID-19 and transitioning from in-person to online concerts in 2020–21. It was challenging to do this on top of work and home commitments, but I am glad I was able to help our local community by leading SIMA.
 
After recently completing my stint as SIMA president, I plan to continue supporting the arts, especially Carnatic music, in different ways: by organising concerts, providing financial support, etc. My dream is for Indian classical music to have the same patronage and audience as more popular art forms like Indian film music and western music.
 Apart from this I also spend time during local elections volunteering and campaigning for the US Democratic Party!  This was something new for me but learnt so much about what it takes to keep our local communities strong with our beliefs and core values, for the betterment of this community as well as this country!
 
What are your other plans, and what are you focused on?
I love my job and the impact I have on my organization. I hope to continue to grow professionally over the next few years and also want to pursue my music learning however far I can take it. And, as usual, there will be a lot of travel with my family and helping my daughters see what the future holds for them.
 
How supportive was your family?
My husband has always supported me in everything I have wished to do at home and at work. It is a big part of how I have been able to juggle a full-time career with the demands of being a parent and a wife for the past several years.
 
My daughters are the same, and they have been more of a friend than a child, especially recently. I can talk to them about anything, and I am glad they share all the details of their lives with me.
 
In addition, I can always rely on my extended family, especially my three sisters, two of whom live in the US as well.
 
What opinion do you have regarding Indian kids brought up in India vs. abroad?
I think there used to be a more significant difference 15-20 years ago, where Indian kids brought up in India used to primarily focus on education, while US kids were encouraged to explore different things outside of the standard engineering and medical fields.
 
More recently, kids both in India and the US seem more similar in terms of what they study and end up doing later in life. Kids are more open to exploring different careers and usually have at least one other talent, like talent in sports, music, or the arts, in addition to their primary area of specialty. I also find that Western culture has a much stronger hold on Indian kids—clothing, music interests, dating, etc.
 
Personally, I am very proud of my daughters for being very closely involved with the Indian arts and trying to keep it up amidst several other commitments and cultural differences.
 
Her Sisters
What message you can give to current-generation Indians?
As I said before, it is good to see the next generation exploring different things and taking more risks. Especially when kids are in their 20s, I feel they should do this before deciding what they are most passionate about pursuing long-term. It is unnecessary to confine them to one or two professions simply because that is what their parents and ancestors did. The world is a big playground.