Mammoth Celebrations Of The International Day Of Yoga: All You Need To Know
June 21, 2023: The ninth International Day of Yoga was celebrated today across India and various countries around the world, with the overarching theme of 'Vasudhaiva Kutumbakam' — yoga for the welfare of all in the form of 'One World, One Family.' This special day served as a platform to raise awareness about the manifold benefits of yoga and its holistic approach to promoting mental, physical, and spiritual well-being.
To commemorate the occasion, numerous cabinet ministers and Indian Army personnel were witnessed engaging in yoga asanas at various locations throughout the country. Their participation highlighted the importance of yoga for fostering a healthy lifestyle and promoting inner harmony.
Prime Minister Narendra Modi, during his address at the 69th session of the UN General Assembly on September 27, 2014, introduced the concept of Yoga Day to the global community. Responding positively to the idea, all 193 member states of the United Nations unanimously agreed to observe June 21st as the International Day of Yoga on December 11, 2014. Since then, this day has been celebrated annually with great fervour and enthusiasm.
The International Day of Yoga serves as a powerful reminder of the significance of this ancient practise in today's fast-paced world. Yoga provides a comprehensive approach to nurturing physical fitness, mental clarity, and spiritual growth. It promotes a sense of unity and interconnectedness among individuals, emphasising the concept of 'Vasudhaiva Kutumbakam', the belief that the entire world is one large family.
Yoga enthusiasts worldwide actively participated in various events and activities organised to celebrate the day. From mass yoga sessions in public parks to virtual gatherings and online workshops, individuals of all ages and backgrounds have embraced yoga's transformative power. This year, the focus remained on propagating the message of universal well-being, emphasising that yoga is accessible to everyone, regardless of their geographical location or cultural background.
The International Day of Yoga holds special significance as it highlights India's rich cultural heritage and its contribution to the world through yoga. The country's efforts to promote yoga on a global scale have yielded remarkable results, with millions of people embracing this ancient discipline as a means to achieve physical vitality and inner peace.
As the world continues to face numerous challenges, the International Day of Yoga serves as a gentle reminder of the importance of nurturing our well-being and finding balance amidst the chaos. It encourages individuals to adopt yoga as a way of life, not just on this special day but throughout the year, reaping the profound benefits it offers. As the day unfolds, let us take inspiration from the countless individuals and communities celebrating yoga worldwide, united in their pursuit of holistic well-being. Through yoga, we can foster a healthier, more harmonious world where the principles of 'Vasudhaiva Kutumbakam' guide our actions and relationships.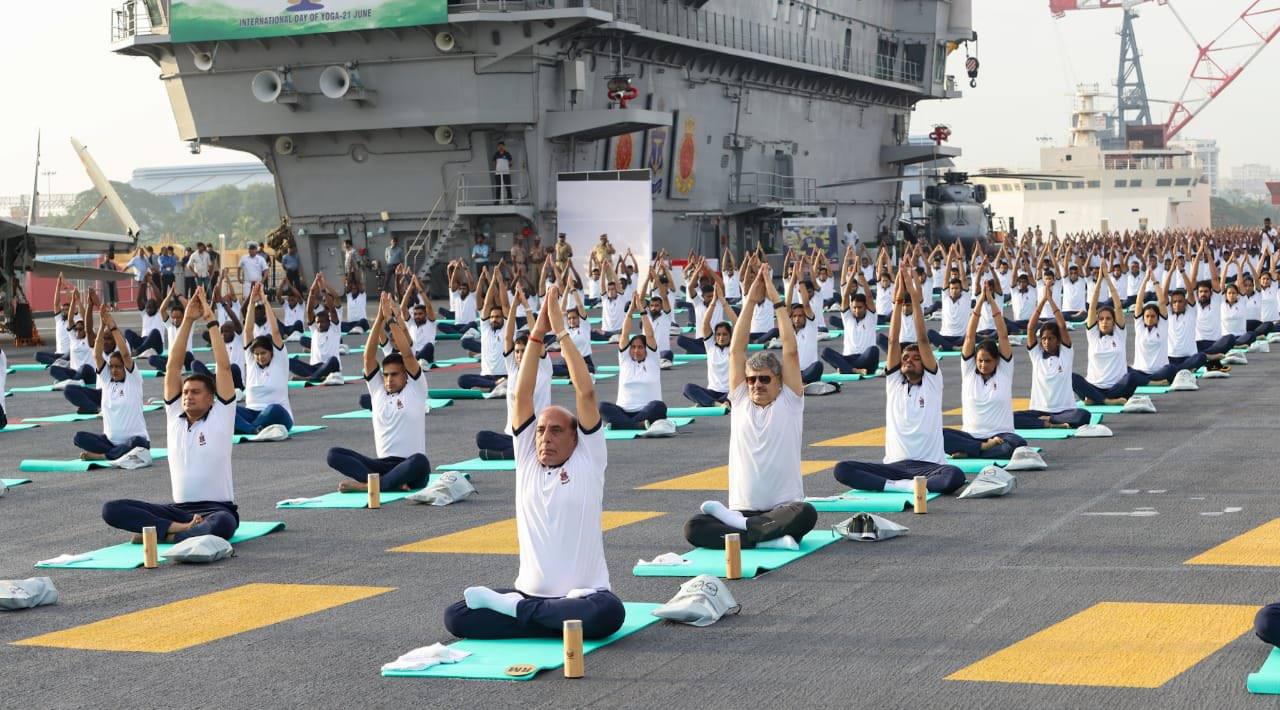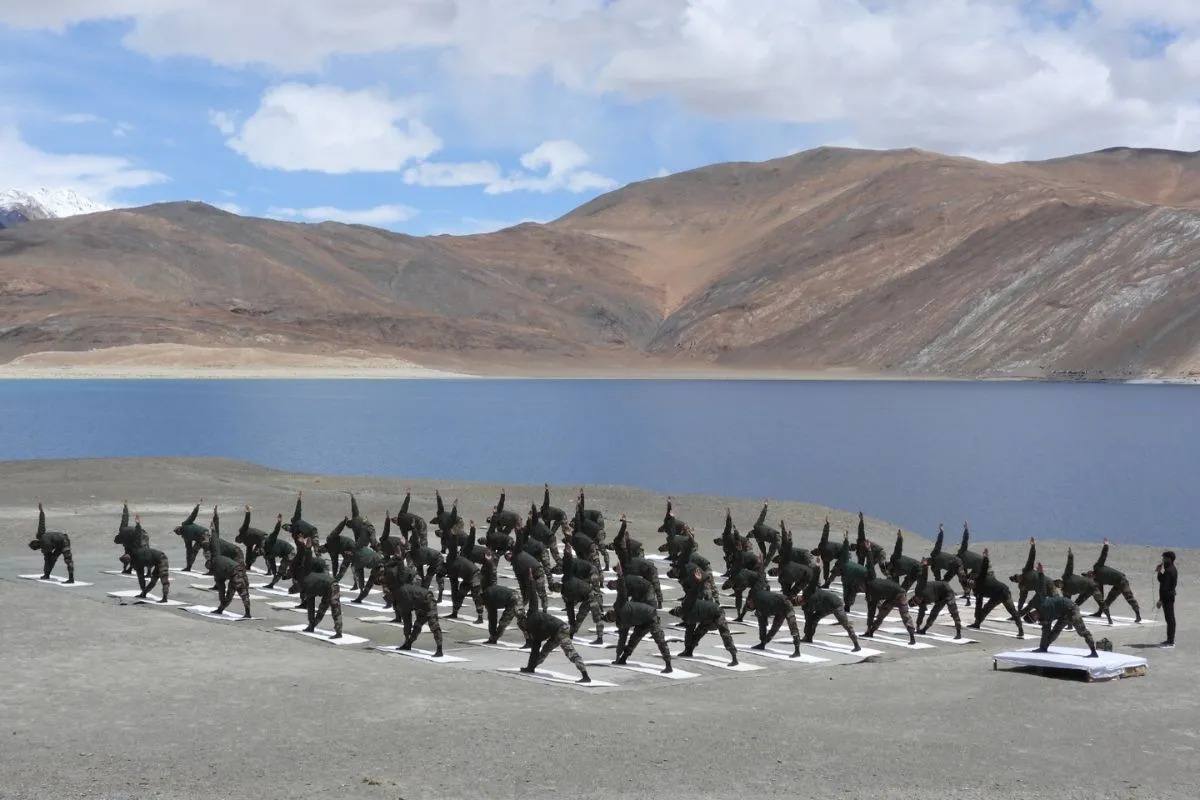 Our Bahrain correspondent Sarmistha Dey reports:
In celebration of the International Day of Yoga, the Managing Committee of the Shreenathji Shree Krishna Hindu Temple in Bahrain organised a special 'Yoga for Stress Relief' session on Friday, June 16, 2023. The event took place at the THMC Auditorium, situated within the serene premises of the temple.
The session was led by esteemed Bahrain-based Yoga practitioners, Jyoti and Nilesh Bhatia, both renowned for their expertise and dedication to the practise of yoga. As ardent believers in the transformative power of yoga, they guided participants through a series of postures, breathing exercises, and meditation techniques, focusing specifically on stress relief.
People of all ages and backgrounds flocked to the THMC Auditorium, eager to experience the holistic benefits of yoga and commemorate the International Day of Yoga. The event served as a platform to encourage individuals to integrate yoga into their busy lifestyles, recognising its potential to alleviate stress and promote overall well-being.
Jyoti Bhatia, a seasoned yoga practitioner, expressed the profound impact of yoga on her own life, stating, "Yoga has been a source of strength and tranquilly for me, especially in today's fast-paced world. It is incredible to witness the positive changes it brings to both the body and mind."
Nilesh Bhatia, another dedicated yoga practitioner, emphasised the importance of stress relief through yoga, saying, "In today's hectic lifestyle, stress has become a common concern. Yoga offers practical tools to manage stress effectively, promoting inner balance and peace."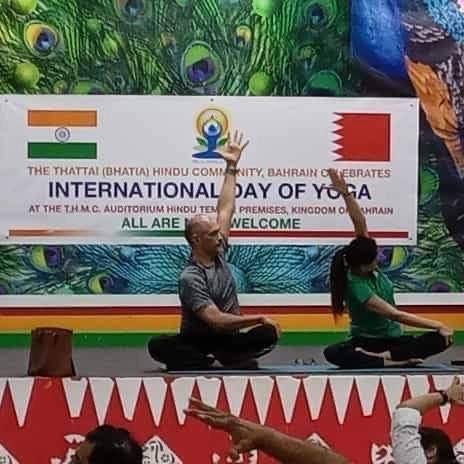 The 'Yoga for Stress Relief' session conducted by Jyoti and Nilesh Bhatia was met with overwhelming enthusiasm and participation from attendees. Through their expert guidance, participants discovered the power of yoga to relax the mind, rejuvenate the body, and cultivate a sense of inner harmony.
The Shreenathji Shree Krishna Hindu Temple, known for promoting cultural and spiritual activities, showcased its commitment to holistic well-being by organising this event. By providing a platform for individuals to experience the profound benefits of yoga, the temple reaffirmed its dedication to the well-being of the community.
As the International Day of Yoga continues to gain global recognition, Bahrain stands at the forefront of promoting this ancient practise, enabling individuals to explore its transformative potential. Through events like the 'Yoga for Stress Relief' session, Bahrain reinforces its commitment to offering its residents diverse avenues to nurture physical, mental, and spiritual health.
As the participants of the session left the THMC Auditorium, their faces radiated a sense of calm and rejuvenation. The 'Yoga for Stress Relief' session served as a gentle reminder of the power of yoga to restore balance and tranquillity in the midst of life's challenges. With Bahrain's continued efforts to embrace yoga, it is evident that this ancient discipline will continue to flourish, positively impacting the lives of individuals, families, and communities across the nation.
Know Yoga: A Journey of Inner Transformation
Introduction:
Yoga, a timeless practise originating in ancient India, has transcended borders and cultural boundaries to become a global phenomenon. Today, on International Yoga Day, we celebrate the profound impact of yoga worldwide and the pivotal role India has played in promoting this transformative discipline. Let us delve into the origins, history, and universal embrace of yoga.
The Origins and Evolution of Yoga
The origins of yoga can be traced back over 5,000 years to the Indus Valley civilization in ancient India. It evolved as a holistic system that encompasses physical postures (asanas), breath control (pranayama), meditation (dhyana), and ethical principles for harmonious living (yamas and niyamas).
Yoga's Journey to the World
Over the centuries, yoga has remained a cherished practise in India, passed down through generations. However, it was in the late 19th and early 20th centuries that yoga pioneers like Swami Vivekananda and Paramahansa Yogananda introduced yoga to the Western world. Their teachings ignited curiosity and sparked a profound interest in the transformative power of yoga.
In the 20th century, renowned yoga masters such as B.K.S. Iyengar, Pattabhi Jois, and Indra Devi further popularised yoga through their dedicated efforts, spreading its wisdom to different corners of the globe. As yoga gained recognition for its physical, mental, and spiritual benefits, it became an integral part of many individuals' lives, transcending cultural, religious, and geographical boundaries.
The Global Celebration of International Yoga Day:
In recognition of yoga's immense impact on human well-being, the United Nations proclaimed June 21st as International Yoga Day in 2014. This historic declaration came as a testament to the universal significance of yoga in promoting harmony, peace, and holistic health.
Since then, International Yoga Day has been celebrated with great enthusiasm worldwide, symbolising the unity of mind, body, and spirit. From bustling city squares to serene parks, millions of people gather to practise yoga, participate in mass yoga sessions, and honour the ancient wisdom that yoga offers.
India's Role in Promoting Yoga
India, as the birthplace of yoga, has been at the forefront of promoting this ancient practise globally. The government of India, recognising the immense value of yoga, has taken significant steps to propagate its teachings and benefits. The Ministry of AYUSH (Ayurveda, Yoga & Naturopathy, Unani, Siddha, and Homoeopathy) actively promotes yoga through various initiatives, including organising events, conducting research, and fostering collaborations with international yoga communities.
The International Day of Yoga serves as a platform for India to showcase its rich yoga heritage and engage with the global community. The iconic event held in New Delhi, attended by dignitaries and yoga enthusiasts from around the world, exemplifies India's commitment to nurturing a culture of wellness and mindfulness.
The Transformative Power of Yoga
Yoga offers numerous benefits that extend beyond physical fitness. Regular practise cultivates strength, flexibility, and balance in the body while also calming the mind and reducing stress. It enhances self-awareness, promotes mental clarity, and fosters a deeper connection with oneself and others.
Moreover, yoga serves as a path to spiritual growth, offering individuals an opportunity to explore their inner realms and awaken their true potential. It teaches us to embrace the present moment, cultivate mindfulness, and live a more conscious and fulfilling life.
As we celebrate International Yoga Day, let us acknowledge the profound impact of yoga on individuals, communities, and the world at large. From its humble beginnings in ancient India to its global recognition today, yoga continues to transcend boundaries, fostering unity and well-being. India's role in promoting yoga.