Maximizing Opportunities: A Closer Look At India-Egypt Economic Ties
In the light of Egypt's severe economic crisis, Egyptian President Abdel Fattah El-Sisi, who was the main guest at the Republic Day parade on Thursday, has approached India for investments and participation in massive infrastructure projects in his country.
According to sources, this was one of the recurring topics of conversation between the Egyptian side and Indian leadership over the past two days, including Prime Minister Narendra Modi. At a time when China's economic ties to Egypt have grown over time, these discussions took place.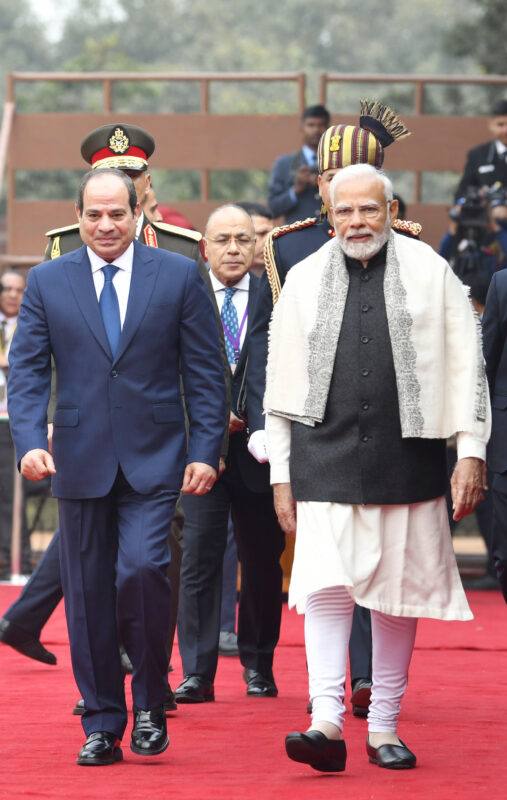 This push was also reflected in the joint statement that was issued by both sides. In it, both leaders said that they were pleased with the expansion of Indian investments in Egypt, which currently amount to more than $3.15 billion. It stated that they had agreed to encourage businesses from each country to investigate emerging economic and investment opportunities in the other.
"Egypt pledges to offer incentives and facilities in accordance with relevant frameworks and rules, and welcomes the influx of additional Indian investments. India, on the other hand, emphasizes its support for this strategy by encouraging its companies with the potential to invest abroad to take advantage of Egypt's investment opportunities, it stated.
According to sources, Sisi emphasized Egypt's eagerness to develop economic and trade cooperation with Indian companies as well as joint investments during meetings in Delhi with Indian leaders like President Droupadi Murmu and External Affairs Minister S Jaishankar.
Sources say that the Egyptian president said that mega projects in Egypt offer a variety of investment opportunities.
The Suez Canal economic zone, the second channel of the Suez Canal, and a new administrative capital in the suburbs of Cairo are among the major projects that were highlighted, even though Egypt has not requested budgetary support.
They stated that one of the most important aspects that was emphasized was the development of the Suez Canal region, which includes a number of significant industrial and logistics zones. According to the joint statement, The Indian side is able to arrange for the master plan, and the Egyptian side is considering the possibility of allocating a special area of land for Indian industries in the Suez Canal Economic Zone (SCEZ).
Sources say that Sisi told businesspeople in Delhi at a meeting that Indian companies can benefit from Egypt's strategic location as a center for production and re-export to many countries linked by free trade agreements, especially in the Arab world and Africa. Senior representatives from the ministries of Commerce, Finance, and External Affairs also attended this meeting.
More than fifty Indian companies currently have investments in Egypt worth more than $3.15 billion. Egypt, on the other hand, has only about $37 million invested in India. India's trade with Egypt has increased to $7.26 billion in 2021 and 2022, up from $4.5 billion in 2018-19.
In spite of the difficulties posed by the pandemic, the two leaders were content with the level of bilateral trade, according to the joint statement. According to the report, "they expressed confidence that by diversifying the trade basket and focusing on value addition, both countries could achieve a bilateral trade target of US$ 12 billion within the next five years."
Additionally, Sisi has visited China seven times in the past eight years, including for the 2022 Winter Olympics in Beijing. At the moment, the value of bilateral trade between China and Egypt is $15 billion.
However, Egypt is experiencing a spike in inflation that has reached a five-year high of 21%, resulting in high prices for necessities like eggs, milk, and basic food.
In addition, the value of the national currency has decreased by nearly half in less than a year, reaching a record low near the 30 Egyptian pound-to-dollar mark. Additionally, the nation has requested a bailout from the IMF for the fourth time in six years, receiving $3 billion over four years.
In addition, their tourism-dependent economy was impacted by the pandemic and the Russia-Ukraine war, which had an effect on Egypt's forex reserves and food grain supply—almost 80% of Egypt's food grains came from Russia and Ukraine.
Egypt's forex reserves once stood at $20 billion, but they are now $34 billion. They have sought financial assistance from Saudi Arabia and the United Arab Emirates, receiving approximately $8 billion thus far. In May of last year, 61,500 metric tons of wheat were allowed to reach Egypt from India, which had banned the export of wheat.
According to sources, Sisi informed his interlocutors in Delhi that Egypt is prepared to achieve "industrial integration with Indian companies" and encourage the growth of Indian businesses through partnerships.
According to sources, businesses in India and Egypt will investigate ways to maximize cooperation in the pharmaceutical, communications, information technology, and defense sectors. Infrastructure, petroleum and natural gas, new and renewable electricity, energy, and agricultural products are also on the radar.
Strong ties with Egypt, which occupies a significant geostrategic location, are essential for India. Egypt is a significant political player in both west Asia and north Africa, and the Suez Canal accounts for 12% of all global trade. Additionally, it is the most populous nation in west Asia, making it a significant market and entry point to Europe and Africa. Egypt also has bilateral trade agreements with prominent African and Arab nations.
"With China nearby," the sources say, "there are strong geoeconomic and geostrategic reasons for India to have a significant foothold in Egypt."