The Remarkable Olympian Abdul Rahman Memorial Rolling Trophy To Be Played In October This Year At Al Thael Stadium, Bahrain.
Kozhikode Jilla Pravasi Forum ( KPF) Olympian Abdul Rahman Memorial Rolling Trophy Football Match, on October 20th and 21st  9:30 PM to 1 AM both days  Press Meet & Captains Meeting.
Since the day it was formed, the Kozhikode Jilla Pravasi Forum (KPF) has given priority to charity work, and during the massive flood in Kerala in 2019 and later during the pandemic, it was able to provide help in the form of cooked food and food grain kits to the common workers. As part of the charity activities, the organisation was able to provide air tickets to the Kozhikode airport free of charge and arrange chartered flights for the expatriates, including sick and pregnant women, to return home urgently when air traffic was stopped during the COVID-19 pandemic.
During the press meet today, KPF shared the details of the football matches to be played during the "Olympian Abdulrahman Memorial Rolling Trophy" to be held by Kozhikode Jilla Pravasi Forum in collaboration with IMAC-BMC on October 20th and 21st at Al Thael Stadium near Bahrain Gosi Complex.
Kozhikode sports star Abdul Rahman, the sports star who raised the status of Kozhikode in the world of football, and who played brilliantly in the defence of the Indian team that played till the semi-finals of the 1956 Melbourne Olympics. Perhaps the best name to remember in the football history of Kozhikode is his.
Eight A-side knockout matches are envisaged. The eight teams that are registered with the Bahrain Kerala Football Association will compete against each other in the tournament.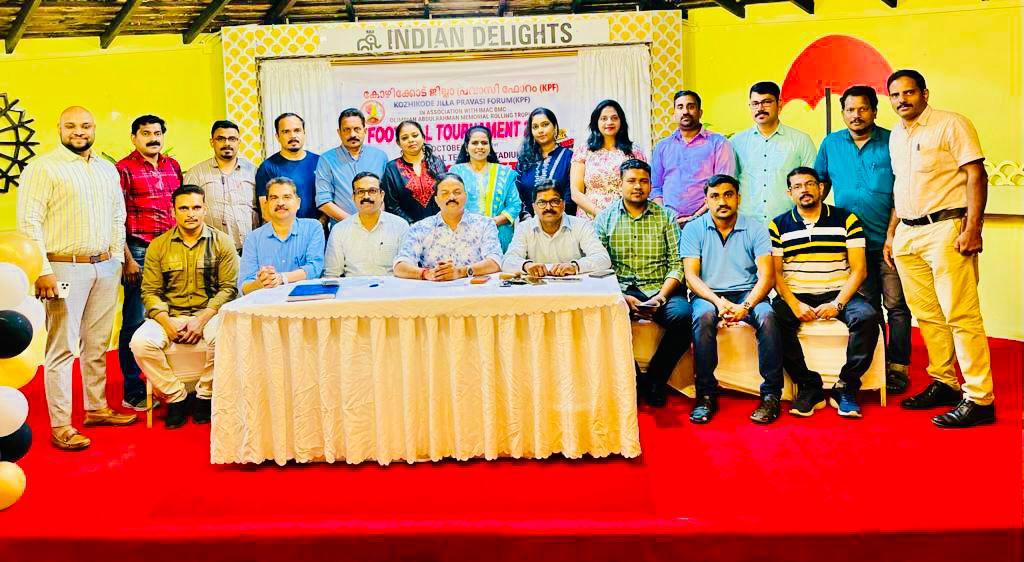 During the press conference, the captains of all the participating teams were present along with the KPF President, Sudheer Thirunilath, General Secretary Jayesh VK, Treasurer Sujith Soman, Patron KT Salim, U.K. Balan Football Tournament Convener Savinesh, Joint Coordinator Shashi Akkaral, ladies wing and other KPF Executive Members, and Football Tournament Coordinator Jerry Joy.
Teams are as follows;
1. AL KERALAWI FC 
2. FC GRO
3. ISF FC
4.  KMCC FC
5. MARINA FC
6. MJD SALCETE
7. SHOWSTOPPERS FC
8. YUVA KERALA