Why Celebrating The Famous World Gorilla Day Is Important?
The 24th of September is celebrated as the world gorilla day.

World Gorilla Day brings people from all over the world together to celebrate gorillas and, more importantly, to take action to protect gorillas in the wild. 

World Gorilla Day was first celebrated in 2017 and also to mark the 50th anniversary of the Dian Fossey Gorilla Fund's Karisoke Research Center. Karisoke, founded by Dian Fossey, is Africa's longest-running gorilla field study site, dedicated to the conservation, protection, and study of gorillas and their habitats. There are many wonderful organisations and individuals fighting for gorilla survival, but greater awareness and investment are required to make progress.
World Gorilla Day aims to serve as a rallying point for increasing appreciation and action for these endangered species. 
The strong mountain gorilla is now endangered, with only about 880 left in the wild. 

They live in high-altitude mountain and bamboo forests, sometimes at elevations of 4,000 m, and eat mostly leaves, shoots, and stems.
Dian Fossey has done path-breaking work for the conservation of gorillas. You can find Dian Fossey's biography at https://gorillafund.org/who-we-are/dian-fossey/dian-fossey-bio/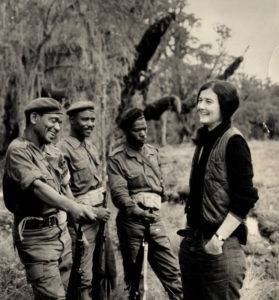 The WWF also has extensive programs. You may check it out here https://www.wwf.org.uk/get-involved/schools/calendar/world-gorilla-day