ANURADHAPURA: A Serene Slice of Sri Lanka's History
The majestic ruins of this ancient cradle of Buddhism are a must-visit for all visitors to the island.
Serenity is the buzzword here, with not a trace of the tension and conflict that Sri Lanka had been witness to just a few months ago. "It's all in the past now," reiterates a fellow visitor to Anuradhapura, an ancient city in the Pearl of the Indian Ocean. In fact, as news reports state, Sri Lanka is set to welcome over 1.5 million tourists in the coming year and double this number in 2024. Indeed, it's not difficult to see why.
It's a beautiful, pleasant morning, and the majestic ruins of Anuradhapura—the first capital of the country—look inviting, ready to unfold their secrets to tourists, visitors, and, of course, devotees, most of whom come attired in white-hued outfits.
These imposing edifices, as our guide Marcus Fernando tells us, enjoy the distinct honour of being one of the eight UNESCO World Heritage sites in Sri Lanka. and the raison d'être for most tourists visiting it.
History states that Anuradhapura was attacked and most of its monuments destroyed by invaders, and the capital was moved to Polonnaruwa. Other than the beautiful (living) structures that we shall be talking about, there are likely to be many more. "They should be unearthed by and by," says a Buddhist devotee who is here on a visit with his family.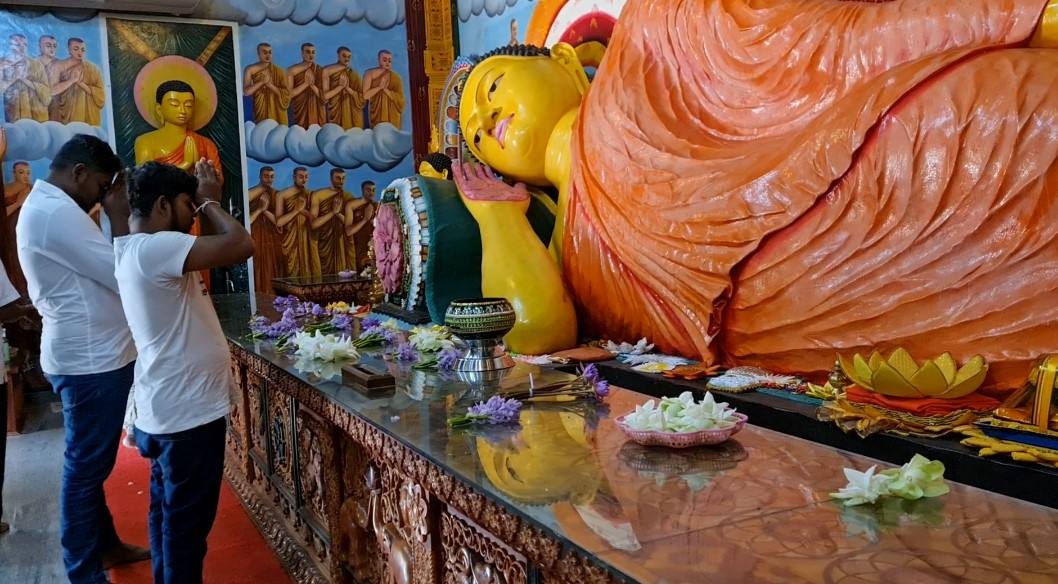 For those wondering how Anuradhapura became the "cradle of Buddhism," the answer is simple: soon after Emperor Ashoka (268–232 BC) converted to Buddhism, he wanted people across the world to experience the joys of this gospel of peace and non-violence.
So, he sent his sons, Arahant (a Buddhist monk) and Mahinda (we know him as Mahendra), to Sri Lanka. As the Sri Lankan chronicles state, Mahinda arrived in Anuradhapura and met the then-King Devanampiya Tissa, who soon converted to Buddhism.
Although Buddhism was introduced here in the 3rd century, the ancient site is also believed to have been earlier associated with King Ravana, the anti-hero of the epic Ramayana.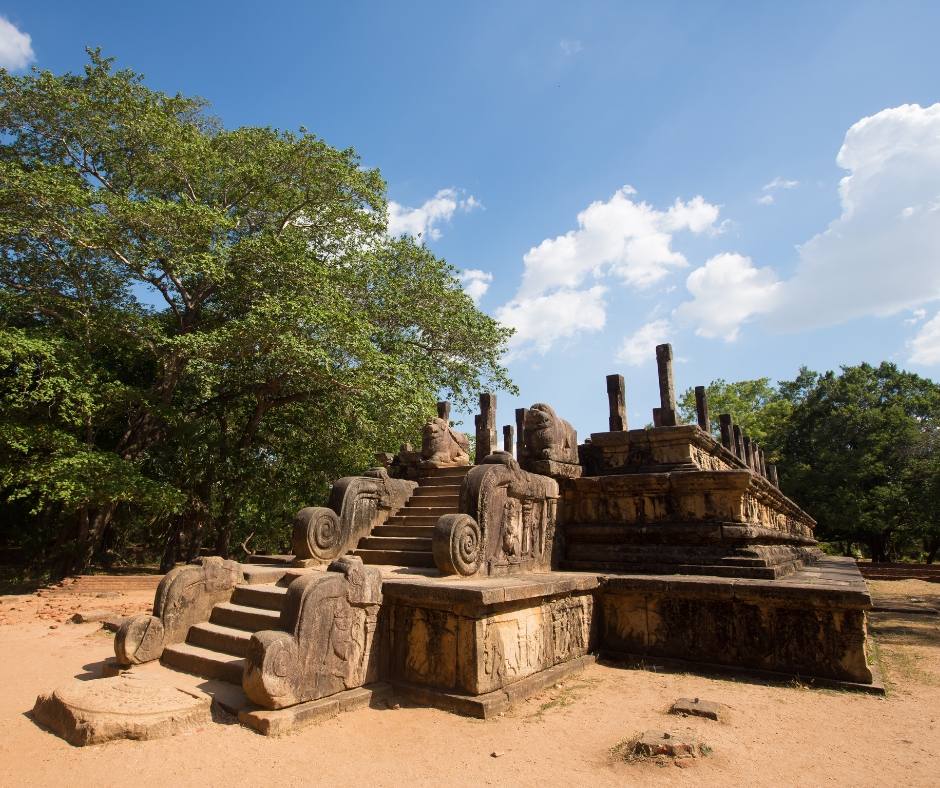 What visitors to Anuradhapura need to keep in mind, as Marcus also warns us in advance, is that it falls in the dry zone. So, they are advised to wear light (preferably white-hued) clothing that covers their shoulders and knees, keep their heads covered with a hat or scarf, carry water, and be prepared to walk barefoot over sand and stone surfaces that can become hot, courtesy of the hot sun.
A short walk from the car parking area takes us to the Ruwanwelisaya Stupa, which dates back to the year 140 BC. But we first stop at a streetside stall near the parking area for some tea and "roti," a traditional snack that is an interesting mix of a patty and a samosa.
As we eat, Marcus talks about the time when the men of Buddhist King Dutugemunu found this site suitable for a massive stupa he wanted to build. But a tall tree that was being protected by a lady called Ratnamali put an end to this idea, as she was completely averse to its being cut. So, the king hit upon a plan. He promised Ratnamali that the stupa, which would be the tallest in the area, would be named after her. And that's how this beautiful stupa got its name—Ruwanwelisaya.
We take our shoes off and move towards this massive, white-painted edifice that, against a clear blue sky, presents a stunning picture. We light incense sticks before climbing the stone steps that take us toward the stupa that's believed to house a number of Buddhist relics.
Because entry is not permitted inside, devotees pray from the outside. Besides statues of hundreds of elephants that seem to be supporting the massive dome, there are smaller stupas and a museum-like area housing beautiful statues, including that of a reclining Buddha.
All around the stupa, white prayer flags are tied at designated places, and colourful lotus, lily, and jasmine flowers are placed on tables by devotees. Many of them sit facing the stupa, praying silently.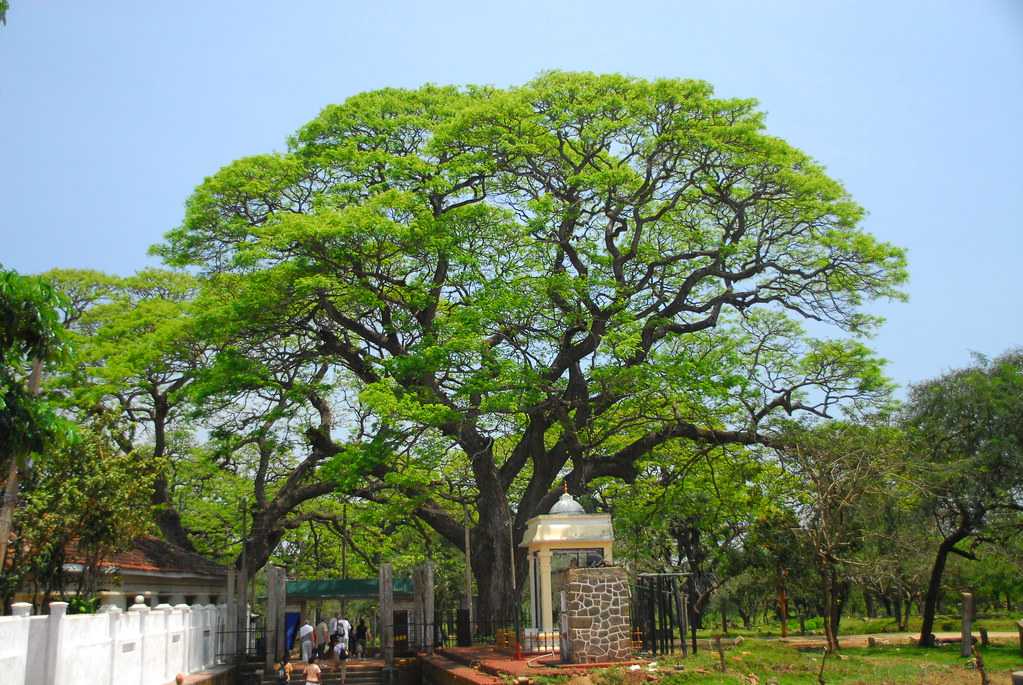 About half a kilometer's walk ahead lies one of Sri Lanka's greatest living marvels—the Maha Bodhi Tree, believed to have been planted here in the 3rd century.
Going back more than 2,500 years, it's supposed to be the oldest tree planted by a human. And its history too dates back to the time when Mahinda came here at the behest of his father to introduce Buddhism to Sri Lanka. Accompanying him was his sister Sanghamitra, who had carried a sapling of the Bodhi Tree, the same tree under which the Buddha had attained enlightenment in Bodh Gaya.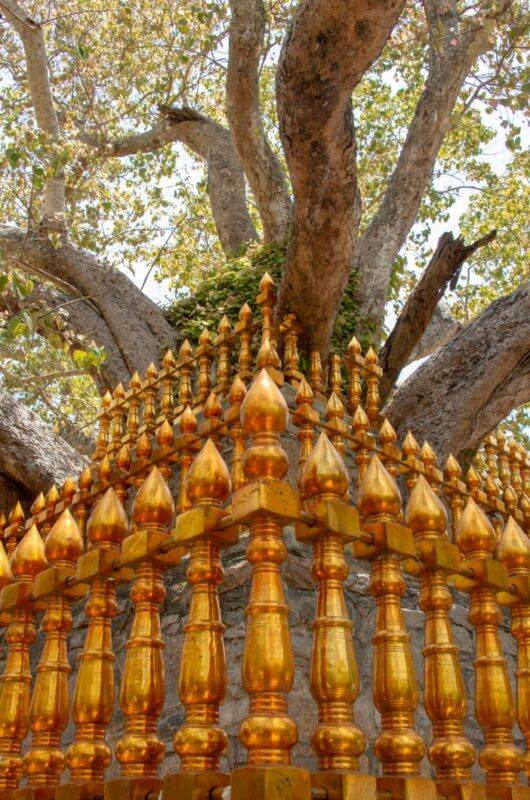 The tree in Anuradhapura remains cordoned off by a gold-coloured barricade and is always under heavy security. The reason for this was that it had been "attacked" by Tamil separatists in 1985. While many devotees were killed, the tree remained unscathed.
Among the thousands of pilgrims who come here are expectant mothers seeking the Buddha's blessings. After childbirth, they come back again and offer a coconut to the tree. I meet an enthusiastic 13-year-old Shakuni carrying a basket of flowers towards the sacred site. "Being a Buddhist, I love coming here as this place is so beautiful and gives everyone immense solace," she smiles as her parents look on.
We also visited the 245-foot-high Abhayagiri dagoba (stupa), or "Fearless Hill," built in the 1st century BC. This massive structure is believed to have once housed over 500 monks at a time.
Records say that the intrepid Chinese traveller Fa-Hien also visited this monastery and spent about two years there. Besides making copies of Buddhist texts to take back home, he also wrote about his time spent at Abhayagiri.
Here you are likely to find a beautiful idol of the Buddha in samadhi pose, his footprint, a sundial (that has now been shifted to the museum close by), a kitchen, and twin pools where monks used to bathe. This stupa also houses a section called the Lankarama, which was believed to be a nunnery.
A recurring motif found at Abhayagiri and many other Buddhist sites is that of the moonstone. Carved near the entrance of a staircase or religious sites, it is believed to have served as a doormat. But, on a closer look, as Marcus tells us, you see that it is divided into different sections, each having carvings of four different animals—an elephant, a horse, a lion, and a bull—that represent the four stages of human life. The concentric circles of the moonstone also have patterns of flames that represent fire, birds, and floral patterns that represent life force—to help understand the journey to nirvana.