Elon Musk finally meets his "online" friend from India.
Pune-based Pranay Pathole tweeted a photo of Musk taken at the Gigafactory in Texas. The joy of finally meeting the person he admired was visible on his face.
If you follow Tesla CEO Elon Musk on Twitter, you've probably noticed that he has a Twitter pal from India. Musk occasionally mentions the account tag of Pune-based techie Pranay Pathole, and many believe the two are close friends. Pathole has now shared a post about his meeting with Musk in Texas, and desi netizens cannot remain silent.
Pathole shared a photo he took with Musk at the Gigafactory Texas on Twitter. The joy of finally meeting the person he admired was visible on his face.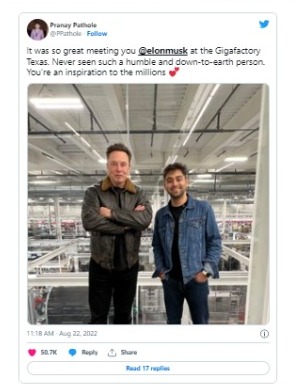 "It was a pleasure to meet you, @elonmusk at the Gigafactory Texas." I've never met anyone so humble and down-to-earth. Pathole wrote in the caption, "You're an inspiration to millions."
The post has received over 32,000 likes and numerous comments. People were thrilled to see Pathole finally meet his idol. Many people commented on Musk's humility in making time for his Twitter pal. 
Pranay Pathole, who highlighted a problem in the windscreen wiper design made by Tesla, has since relished having open conversations with Elon Musk on Twitter.
All these began when Pathole tweeted and Musk responded to his tweet
Pathole tweeted at Musk in January 2018, while studying software engineering at a university in Pune, India, asking him to fix some bugs in Tesla's latest model. Musk responded to the tweet, sparking an online friendship between the two.
Since then, Musk has responded to every comment made by Pathole on his posts. Pathole was frequently seen supporting Musk on contentious issues.