Know About The Famous Indian Origin Dutch Footballer, Luciano Narsingh.
Few people would have heard of Luciano Narsingh. Fewer know that the Dutch footballer of Indian origin, who represented the Netherlands in the Euro Championships and the World Cup, missed playing for India by a whisker.
Narsingh's class and pedigree can be gauged from the fact that he has scored goals against world powers like England and Belgium. Unfortunately, an injury cut his career short.
The 32-year-old Naringh, who was born in Amsterdam and generally plays on the right flank but can also play on the left, joined Dutch giants PSV Eindhoven as a 12-year-old prodigy for a staggering €4 million transfer.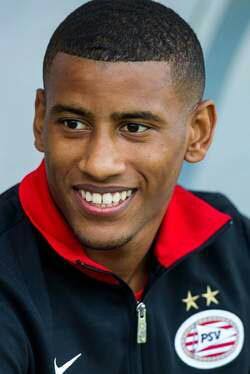 Narisingh's grandparents were from Andhra Pradesh and settled down in Surinam, a Dutch colony in South America. He was born in Amsterdam in 1990 and started playing football at a very young age. He has an elder brother, Furdjel Narsingh. Both siblings were quite talented, and it was only a matter of time before both were snapped up by FC Eridivise, one of the leading clubs in the Netherlands, for their junior side.
Thereafter, it was Narsingh who caught everyone's eye with his exceptional skills. As a 12-year old, he displayed enough amazing skills to be seen as something of a standout player. In fact, many of the scouters for the Dutch big clubs were hovering around him in order to access his talent and also get him drafted into their respective clubs.
Such was Narsingh's talent that the reputed Dutch coach, Ron Jans, waxed eloquently about the prodigy. Speaking on Dutch media, he said, "Narsingh is one of the quickest players ever to have played in Holland. His speed is simply phenomenal, and his ability to spot the openings in the rival defence was incredible." Such high words of praise go to show the type of rare talent Narsingh had.
Things were looking very bright and rosy as he was touted as the next big thing in the future of Dutch football. His biggest moment at the junior level came shortly after this, when PSV Eindhoven bought him from FC Eridivise for a record 4 million Euro deal. At that time, Dick Advocaat, who coached the Dutch team twice in the 1992 and 2002 World Cups, was a big fan of his and it seemed that Narsingh would make his debut in the national side anytime.
But in 2013, misfortune stuck with Narsingh. He suffered a freak knee injury and had to sit out of action for almost a year. This proved to be a big whammy in more than one way, as not only did he lose out on precious experience, but this period also coincided with Advocaat leaving the club to be replaced by Phillip Cocu, who didn't "seem" to be impressed with Narsingh. His return to action proved to be a sedate affair, as he was kept out of PSV's important league matches.
There is an adage that form is temporary but class is permanent. Narsingh waited for his "moment," which arrived when he was selected to play against Dutch champions Ajax. Ajax were the Dutch champions for the last four years, and Narsingh showed his class when he scored a brilliant header that enabled PSV to stun Ajax. That goal was to give his career a new boost and propel him to fame, as it was the first time Ajax had been defeated in a domestic match in four years.
Narsingh's brightest moments came when he was part of the Netherlands team for the 2012 Euro Championships, and he played a very active role in ensuring that the Netherlands qualified for the 2014 World Cup in Brazil. He scored a goal against Switzerland and was involved in four more assists as the Dutch qualified for the World Cup. However, bad luck once again surfaced when he suffered a hamstring injury a month before the tournament and had to miss a golden chance to represent the Netherlands. To this day, his inability to play in the World Cup remains his biggest disappointment.
Almost represented India
During the period in which Narsingh was actively involved in Dutch football, he was contacted by certain Indian football officials in 2012–2013. It is understood that Narsingh had expressed his desire to play for India. He had Dutch citizenship and, as per FIFA rules, could play for India without renunciating his Dutch citizenship. However, the Indian government made it mandatory for any sportsperson representing the country to hold an Indian passport. Narsingh, whose career was taking off at that time, could not afford the risk of losing his Dutch passport—and that prompted him to stick on to his Dutch citizenship.