Sudha Murty: The Power Of Being A Complete Woman
Sudha Murty is a complete woman personified in all dignity and wisdom. She has been the driving force behind many initiatives, and her guidance and unconditional support ensure success is attained.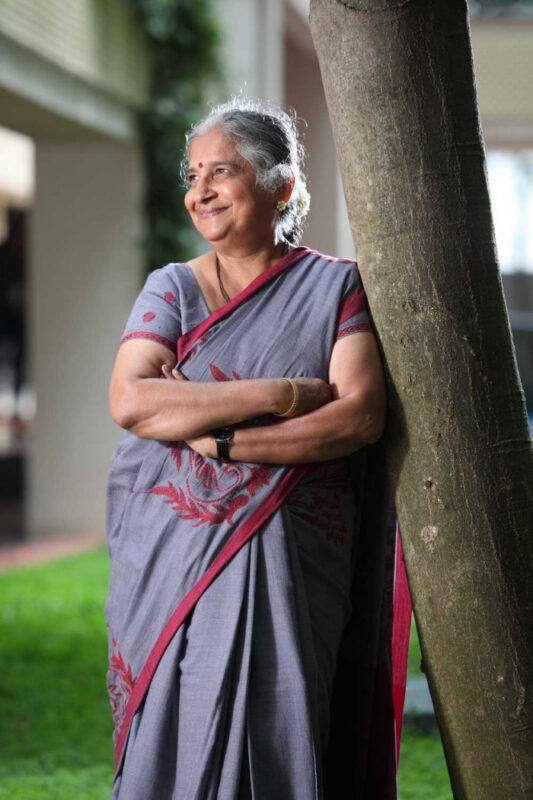 Let us find out who the real Sudha Murty is. Today she is known to be an author, engineer, teacher, philanthropist, true pioneer, wife, mother, and lately a very renowned mother-in-law as well.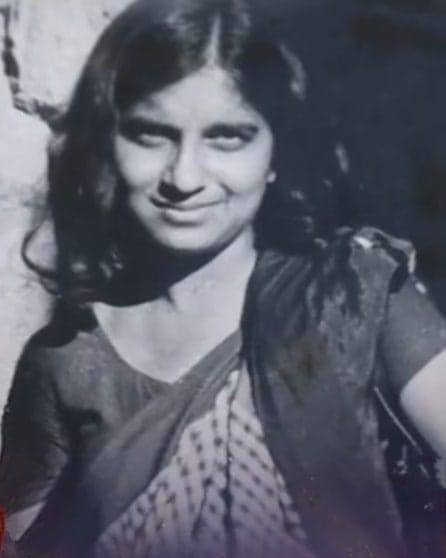 Among 599 male engineering students in 1968, Sudha, then 18 years old, was the only girl. Later, she would become TELCO's (now Tata Motors) first female engineer. She now has a net worth of more than Rs. 775 crore.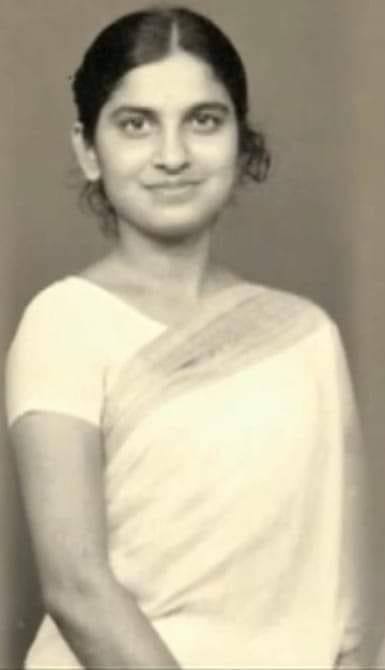 Let us look back on her journey.
Sudha Kulkarni was born on 19th August, 1951, into a Kannada-speaking Deshastha Madhva Brahmin family in Shiggaon, Haveri in Karnataka, India. She is the daughter of R. H. Kulkarni, a surgeon, and Vimala Kulkarni, a school teacher.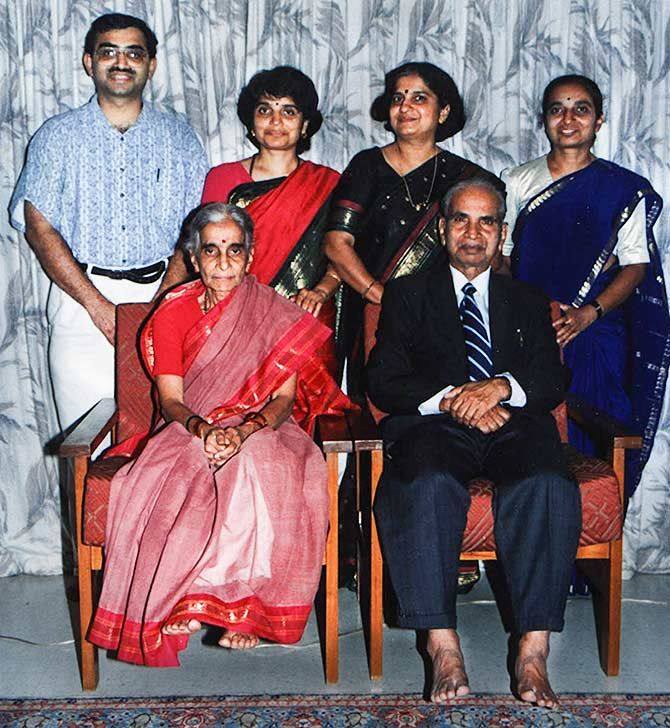 A young girl, Sudha, decides to become an engineer! Her whole family was against her becoming one.
Back then, women weren't thought to be good candidates for engineering. But she made the decision to defy expectations and follow her heart.
She thus gained admission to BVB College of Engineering on her merits, but she was "allowed" to attend college with three restrictions:
Stay away from the college canteen, where boys hang out.
She should only wear a sari as attire.
She should not talk to any of the boys.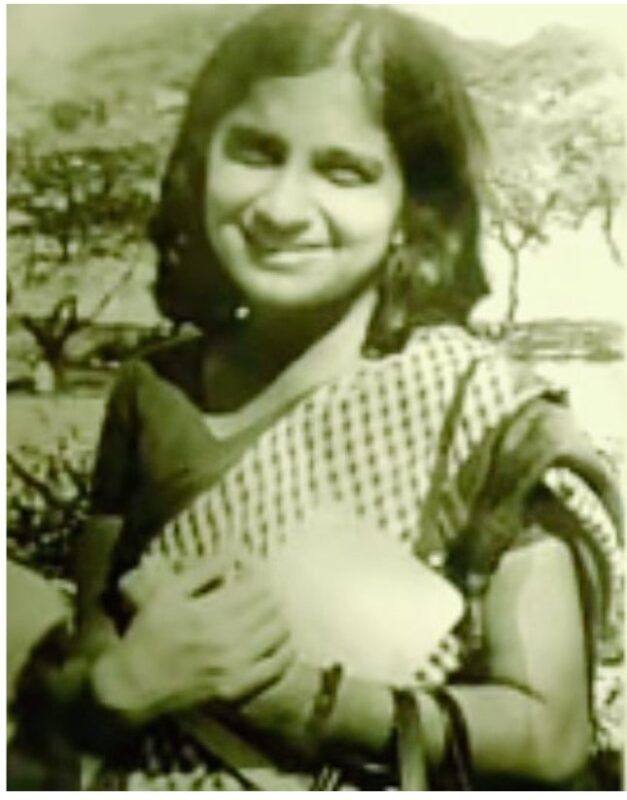 She faced a lot of difficulties; one of them was that there were no toilets for women in the entire college. What can you expect in the 1960s?
The male students mocked her and urged her to drop out of college. Her grade would be posted on the bulletin board, and they anticipated her failing.
She shocked everyone by topping the university one year later. The same boys who used to make fun of her began requesting that she guide them.
She even received a gold medal from the then chief minister of Karnataka for receiving the highest engineering scores in the entire state!
She later received a scholarship and attended IISc Bangalore for her master's degree.
She was completing her master's degree and getting ready to pursue her doctorate abroad when she noticed a TELCO job posting. There was a tiny notice that read, "Female candidates need not apply."
She felt bad, took it on her ego, and wrote a letter to JRD Tata.
And much to her surprise, she was invited for the interview and was even selected. Tata sponsored her trip. After the interview, she was selected, becoming the first female engineer at TELCO (now Tata Motors).
She had successfully fought against discrimination with great determination.
She met Narayan Murthy at TELCO! In 1978, they got married and also shared the wedding expenditure of Rs. 800, each paying Rs. 400.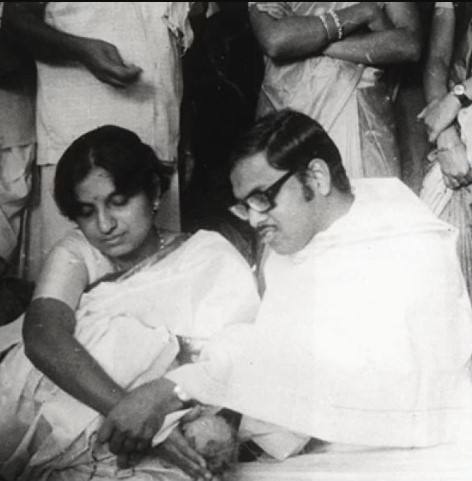 The couple have two children, Rohan Murty and Akshata Murty, who is a fashion designer and is married to the current British Prime Minister, Rishi Sunak.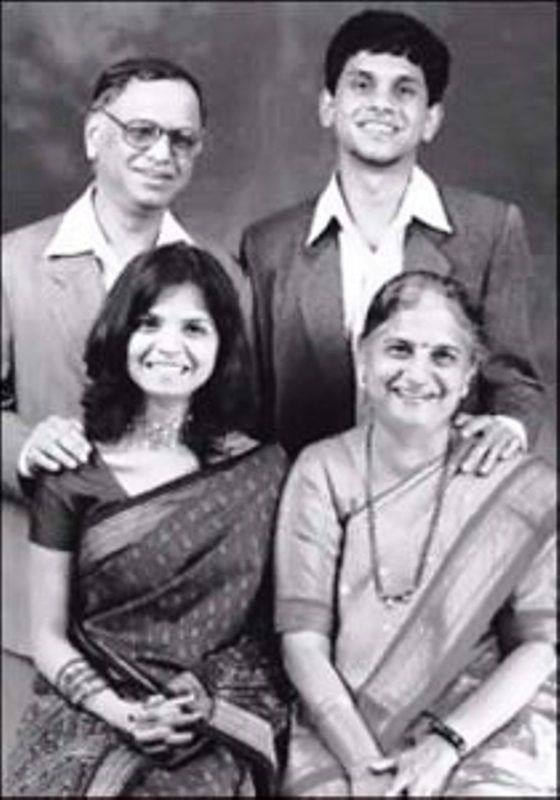 Her siblings include Caltech astrophysicist Shrinivas Kulkarni and Jaishree Deshpande (wife of Gururaj Deshpande), who co-founded the Deshpande Centre for Technological Innovation at MIT.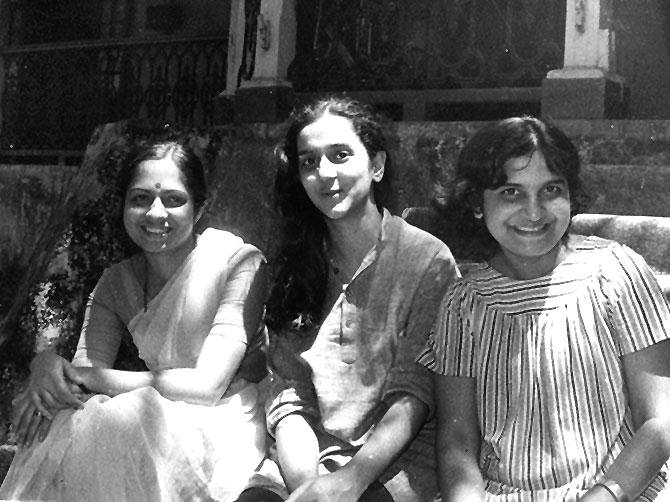 In 1982, when Narayan Murty founded Infosys, all he had was a great vision but no money.
Sudha had savings of Rs 10250 kept aside for emergencies. She gave Rs 10,000 from these savings to Narayan. She believed that it was better that Narayan tried and failed rather than live with the regret of never trying.
Today, Infosys has more than 3 lakh employees and a revenue of over $16 billion.
The organisation has approximately 247 offices spread throughout 54 countries.
Narayan credits Sudha for her initial encouragement and drive to get the business to this point!
She was part of Infosys, but later they didn't want a husband-wife duo in the company. She understood that one had to give 100% focus to the company. Narayan would happily quit if she wanted to stay. So she left Infosys to take care of their children.
Once, their son wanted to throw a lavish birthday party, but she explained how valuable money is to be spent on things like this. Instead, he could donate that money so some underprivileged children can afford to go to school.
Once, Sudha was in an argument with their 16-year-old daughter about social work, who said to her, "Amma, when an educated person, like you, does not help poor people, don't expect anyone else to do it." "Is it not your duty to give back to those unfortunate people?"
This made Sudha remember her humble childhood. Akshata woke her up from a deep sleep!
So in 1996, she started the Infosys Foundation and has since built:
– 2300+ houses for the people affected by floods
– 16000+ toilets throughout rural India
– 60000+ school libraries in rural India
She is the chairperson of the Infosys Foundation and a member of the public health care initiatives of the Gates Foundation. She has founded several orphanages, participated in rural development efforts, supported the movement to provide all Karnataka government schools with computer and library facilities, and established the Murty Classical Library of India at Harvard University.
She encourages kids to read as much as possible. She learned this from her grandfather, who introduced her to the world of books. Today, she is also one of the best writers in India.
She started writing in childhood because her mother made her write essays of 25 lines daily or she wouldn't get dinner!
Her writing habit has helped her author more than 30 books.
Her book, "How I Taught My Grandmother to Read," has sold over 1 lakh copies!
Murty is best known for her philanthropy and her contribution to literature in Kannada and English. Dollar Bahu (lit. 'Dollar Daughter-in-Law'), a novel originally authored by her in Kannada and later translated into English as Dollar Bahu, was adapted as a televised dramatic series by Zee TV in 2001. Runa (lit. 'Debt'), a story by Sudha Murty, was adapted as a Marathi film, Pitruroon, by director Nitish Bhardwaj. Sudha Murthy has also acted in the film as well as the Kannada film Prarthana.
She also loves movies and once completed a dare to watch 365 movies in 365 days. She has a collection of over 500 DVDs in her home and never gets tired of cinema!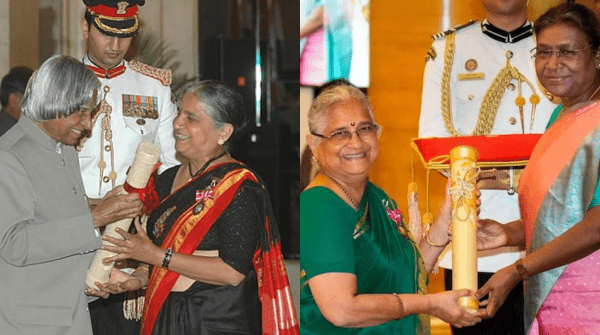 She received the Padma Shri award in 2006 and recently received the Padma Bhushan.
She has been a strong advocate for women's rights ever since the letter to JRD Tata. She believes "women are naturally gifted with management skills".
And she has played an important role in implementing initiatives like "The Mahila Samakhya Programme" to promote women's equality.
She believes in the FORGIVE, FORGET, and MOVE ON philosophy.
"If you're in a relationship and dealing with a problem, always FORGIVE your partner; try to FORGET about their mistake, and the best thing is to MOVE on."
She says, "The way I use this in my life is – Talk, Forgive, Forget, and Move On.
Talk to them.
Forgive them.
Forget about the issue.
Move on from the issue."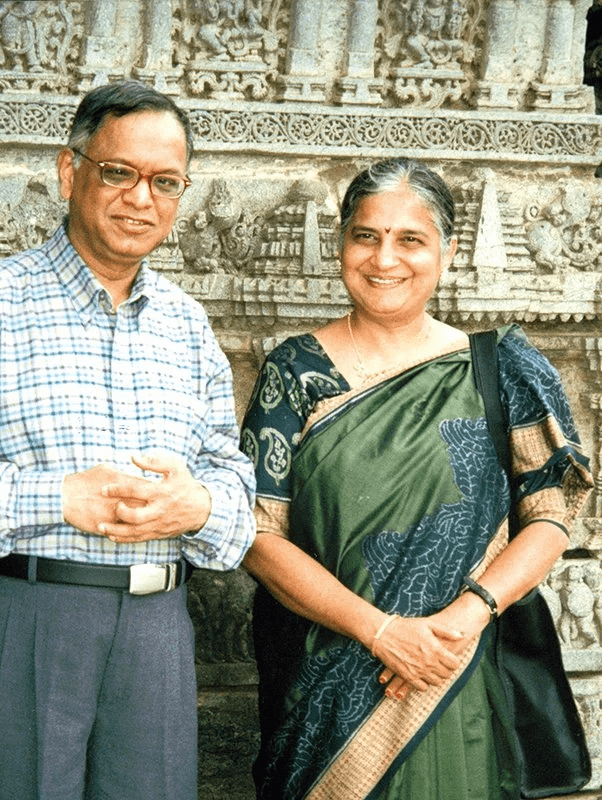 Sudha Murty is the ideal example of a strong lady. She claims, "Life is hard, but hard doesn't mean bad."
Awards and Recognitions
2004: Raja-Lakshmi Award by the Sri Raja-Lakshmi Foundation in Chennai
2006: President A.P.J. Abdul Kalam presents the Padma Shri Award to Dr. Sudha Murty, India's fourth-highest civilian award.
2006: She also received the R.K. Narayana's Award for Literature.
2010: Daana Chintamani Attimabbe Award by the Karnataka Government.
2011: Murthy was conferred honorary LL.D. (Doctor of Laws) degrees for contributions to promoting formal legal education and scholarship in India.
2013: The Basava Shree-2013 Award was presented to Narayan Murthy and Sudha Murthy for their contributions to society.
2018: Murthy received the Crossword Book Award in the popular (non-fiction) category.
2019: IIT Kanpur awarded her an honorary degree (Honoris Causa) of Doctor of Science.
National Award from the Public Relations Society of India for Outstanding Social Service to the Society
Award for Excellent Social Service by Rotary South-Hubli
"Millenium Mahila Shiromani" award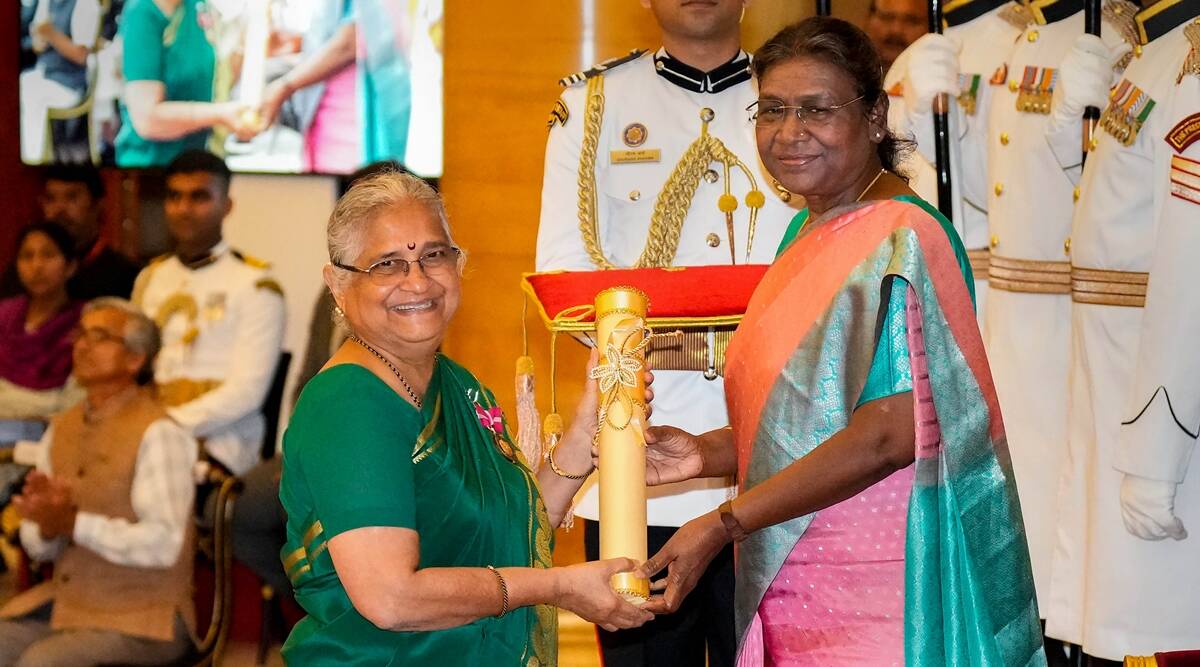 2023: Murthy has been conferred with India's third-highest civilian award, the Padma Bhushan, by the President of India.
After receiving the Padma Bhushan, Sudha Murty said, "I owe this award to the people of India. I hope my recognition today inspires the younger generation to take up social welfare as a vocation. It is needed for the continuous development of our great nation. I always feel that the generosity of a few is hope for a million."
I hope that her example will continue to motivate people to make contributions to worthy causes all throughout the world. We have to acknowledge Sudha Murty's life and the roles she has played for our community. Only then will we see more men and women perform exceptional feats and contribute to social change. Make the world around us a better place for all of us to dwell in harmony.