The Growth Engine, India's Changemaking Techwoman
Kirthiga Reddy – Optimist. Technologist. Adventurer.
In Indian mythology we have often seen women being depicted as goddesses with many hands and multi-tasking. Indian women now are not different. They perfectly play out different roles simultaneously and excel in that too. They balance between the house and work to parenting to strategizing success from politics to business alike. Indian women has ventured out and now the world is their playground and karmabhoomi.
Krithiga Reddy by no means an ordinary woman. Her achievements touches the sky but you can find her grounded to the core and that too at ease.
Kirthiga Reddy is a growth-stage investor, technology executive, and board member. She is President, Athena Technology II, the third in a series of all-female-led SPACs. She is Founding Investment Partner of F7 seed fund. Previously, she was SoftBank Investment Adviser's, that too the first female Investment Partner. Her focus is frontier, enterprise and health tech investments. In a career spanning about three decades, she was Managing Director, Facebook India and South Asia for over six years, starting as their first employee in India. , Reddy's initial role in pushing the social media giant's operations from base level to humungous success is marked. Her subsequent experiences at Facebook focused on emerging and high-growth markets including Mexico, Brazil, Indonesia, South Africa and the Middle East. She has also served as Chair, Stanford Business School Management Board.
Personal Life and evolving through life lessons.
Reddy was born to middle-class parents, in Nagpur, the younger of two daughters and grew up in many parts of India. Her father was the oldest son, born seven years after her grandparents' wedding and after many pilgrimages. When her older sister was born, there was some disappointment amongst my grandparents that it wasn't a boy but the dominant sentiment was that of happiness at the birth of their first grandchild. When her mother was pregnant with her, the whole family was convinced that it would be a boy and had chosen the name 'Karthik' after Lord Karthikgayen, a family deity. When she was born, her grandparents refused to come to the hospital to see her because it wasn't a boy. As her mother wept, her dad consoled her saying, 'If we have a third child, I want it to be a girl, and we will name her Kanchana.' Her parents raised both the girls no differently than they would have raised two sons.
Her father was a government employee. Reddy spent her formative years in various cities and small towns, thanks to her father's transferable government job. Her father moved cities every few years as part of his several decades-long tenure at Lloyds Steel, and the family moved with him. The Reddys lived in large metros like Chennai and Mumbai, mid-sized cities like Nashik, Nagpur and Tarapur, and small towns like Dandeli and Nanded.
From her dad, she picked up his strong work ethic, the value of 'planning the work and working the plan', and the spirit of making the most of opportunities given to you. My sister and I fought cats and dogs growing up, like most siblings, and became best friends as we grew older, especially during our college years. "My mother gave me spirituality, the ability to see cheer no matter what the situation was, and a can-do attitude," Reddy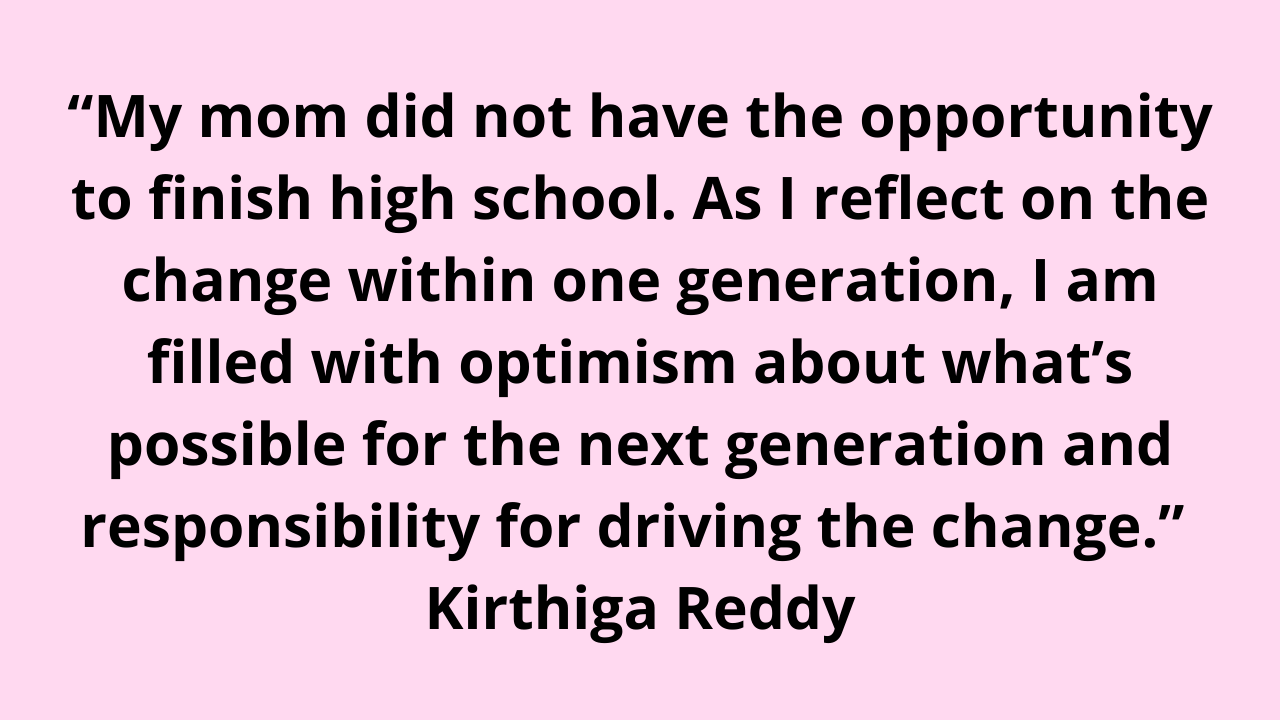 "My parents believed that, if there was a school in the neighbourhood, that's where I would go. That made me learn to make the most of any situation," she shared. This approach is perhaps what empowered her to juggle between her responsibilities as a mother and a job that required frequent travel.
Her introduction to technology was initially driven by societal pressures in India about medicine and engineering being aspirational career paths to pursue. While that may have been her entry, she quickly fell in love with STEM (science, technology, engineering and mathematics). She is grateful to have found a female role models like Padmasree Warrior, formerly CTO Motorola, and now CEO, Fable, and Sheryl Sandberg, COO, Facebook.
The Indian societal norm of following a career path in engineering or medicine led her to choose the former. Reddy did not have the domicile needed to apply to state colleges and hence went to a small private college called MGMCEN in Nanded, which offered her full scholarship. She graduated second in the university with the 'Jewel in the Crown' award from the college for all-round excellence.
Her father's work took them to Nagpur right after her graduation. It was here that she got her first job with Yashawant Kanetkar, author of the book Let Us C—still a bible in many engineering colleges. He developed anti-virus software, delivered training courses, and Reddy also had the opportunity to partner with him on the software featured in subsequent books like Exploring C++ and published articles.
She wanted to do a master's degree and hesitantly spoke to her parents about her desire to do it in the US. Her father was thrilled that she would be the first one in the family to go abroad. But her mother said, 'Go for it! But just get married before you go.' The search for the perfect groom began. She was engaged to Devanand Reddy four days after she first met him and married him a year later. The couple has two daughters, Ashna and Ariya.
At the workplace, Reddy has looked up to the likes of Sheryl Sandberg, COO, Facebook, as her mentor; at home, it's her mother. "My mom has not finished high school, because when she was in sixth or seventh grade, her parents said, 'you know enough math to do your laundry and grocery bills, you don't need to study further.' Then she has two girls—both with postgraduate degrees and successful careers. It is hugely inspiring to see what she has done," she revealed at an event.
Career
Reddy has worked with established companies such as Silicon Graphics and Motorola. During her tenure at Silicon Graphics, she was the youngest director of engineering and the only woman at that level in her team. In 2008, Reddy moved back to India and started working with the US-based Phoenix Technologies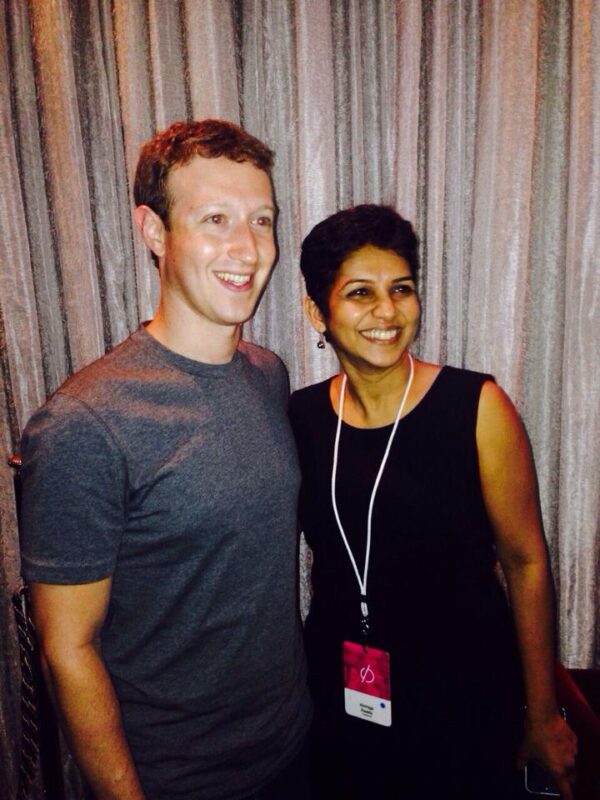 In July 2010, Reddy Joined Facebook. As the first employee of the company in the country, not only did she start the India operations from scratch but also had to actually open the office shutters on day one. Under her leadership, Facebook India has managed to not only grow its user base but also made significant contribution to its global business through ad sales with major tie-ups like Coca–Cola India and Yepme.
A day after shutting down 'Free Basics' scheme in India, Reddy announced her decision to step down from her post and relocate to the United States in six to twelve months
"In risks will come your biggest opportunities. Be realistic and be prepared for any outcome while giving your best at whatever you do", says Reddy
Talking about her mantra for success, in an article she wrote, "There is a great African proverb: If you want to go quickly, go alone. If you want to go far, go together. This has been a guiding principle in my life."
"In the journey of life, you will have people walking in front of you, beside you, and behind you. From those in front, seek inspiration. From those beside you, seek companionship. For those behind, seek to be a path-maker and lend a helping hand. This is true no matter what stage of life or career one is at." Kirthiga Reddy
Her career story in her own words
After completing my master's degree in computer engineering from Syracuse University, Upstate New York, I moved to the San Francisco Bay Area, California—the place to be for technology roles. I accepted a job with Silicon Graphics, then a two-billion-dollar worth, 9,000-employees strong, high performance computing company known for great technology and exceptional people. One of the best pieces of advice I received early on in my career was from my manager, Betsy Zeller, who said, 'Kirthiga, focus on the success of your clients, your organization and your team. Your success is but a by-product.' This was liberating. Job descriptions became largely irrelevant. It really became about doing whatever it took to make our clients, organization and team successful. One often wonders how much to push a certain cause and this framework gave me the conviction to be persistent about things that mattered because the goal became clearer. This philosophy was key to my success, and I soon became the youngest Director of Engineering in my organization. I was twenty-eight years old.
As Director of Engineering, I began to get more and more involved in business decisions and it was a world that fascinated me. I decided I wanted to get an MBA as a way to hone these skills further. It wasn't an easy decision to make—it would involve leaving a job I had worked hard to get. I spent several sleepless nights wondering if I should do a full-time MBA, a part-time MBA or an executive MBA. But Dev was firm in his support and conviction. 'It's better to look back and regret having done something than looking back and regretting not having done it. What's two years in a several decades-long career?' he said. I will always look back on my decision to apply for the programme as one of the best decisions I've made in my life. I had the privilege of studying at Stanford Business School and it gave me the foundation I have today.
After business school, I knew I wanted to work for a start-up in a growing space. While it is assumed that after graduating from one of the best business schools in the world, a title or a compensation raise is expected, I took a 40 per cent pay cut and went from being Director of Engineering at Silicon Graphics to being a Senior Product Manager at a mobile software start-up called Good Technology, which was a Kleiner Perkins, Benchmark Capital company. This was another hard decision to make. I sought the counsel of Jana Rich, managing director of Korn/Ferry International, on whether it would be detrimental to my career and whether it would be seen as a step-down. She asked me if it was a short or a long-term investment. If it was short-term, it was absolutely the wrong move. However, if I was looking to bet long-term on the success of the company, I would learn and grow quickly with the organization. Four years later, we were acquired by Motorola for half a billion US dollars. I was the Director of Product Management then and I had absolutely loved the journey of building, learning and growing with the company. The pay-off was also much higher than what I would have received had I chosen a role that was a more natural progression after business school with an associated compensation raise. Of course, this wasn't a given when we started. Hence, it is important to work with an organization where you can build skills and relationships that will stand you in good stead in the long run—even if the business itself fails.
The next phase of my career was an opportunity with Motorola to relocate to India and lead the cross-functional Good Technology division in a general management capacity. By this time, Dev and I had our two girls, Ashna and Ariya. With almost all our extended family based in India, it was a perfect opportunity to experience being back in India. However, while we had mentally considered this to be a temporary move, it rapidly transitioned to being a long-term decision as we found our professional and personal worlds coming together back here. I began to yearn for my early startup days – the pace, the environment of high growth, teams working cohesively and closely on a common mission and it was then that I was introduced to Sheryl Sandberg by a business school classmate. Facebook had become an integral part of my life after my move to India as it helped me stay connected to my life of fourteen years in the US and to reconnect with friends from India. It was at the top of my list of companies that I would be privileged to work with. At that time, Facebook did not have concrete plans to open an office in India but Sheryl and I decided to keep in touch.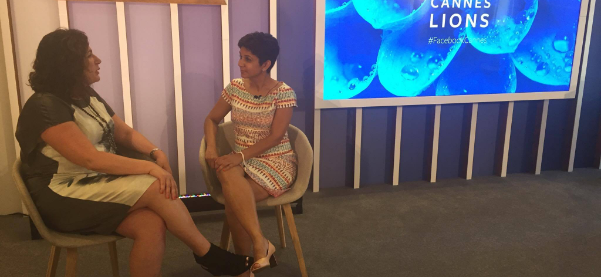 Instead, I joined a turnaround company, Phoenix Technology, driving P&L for their SaaS (Security as a Service)-based business unit and leading a global team located in the US, India, Japan, Korea and Taiwan. Just about the time the SaaS unit was sold, Facebook announced its intention to open an office in India. It almost seemed meant to be. A set of gruelling interview sessions and many months later, I was offered the position of Director and Head of Facebook India—an offer I was glad to accept. I hence became the first employee of Facebook India. 2014 marks my fifth year at Facebook, and each day continues to be the best day yet.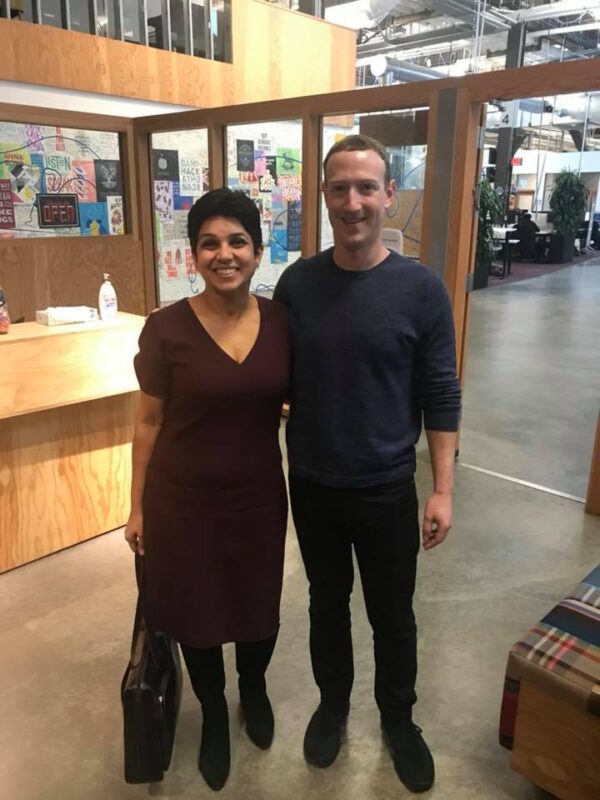 Recognitions
She has been recognized as Fortune India's "Most Powerful Women" and as Fast Company's "Most Creative People in Business" among other recognitions.
She became the first woman to be added to WeWork's 10-person board of directors.
Reddy has been counted among India's 25 most influential women and featured in the lists of the country's most powerful women.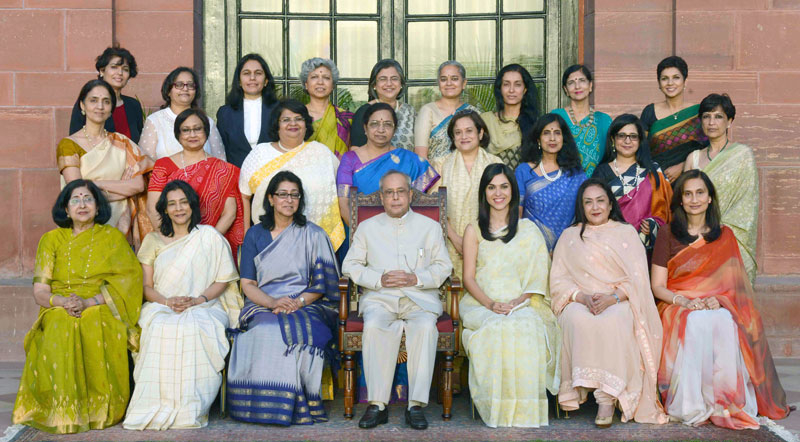 Her Idea of Leadership
"Being a leader is a privilege. A responsibility. Cherish it. Enjoy it. Deliver on the promise of being a leader to 'Change lives. Change organizations. Change the world.'—a tagline from Stanford Business School that is deeply ingrained in me." Kirthiga Reddy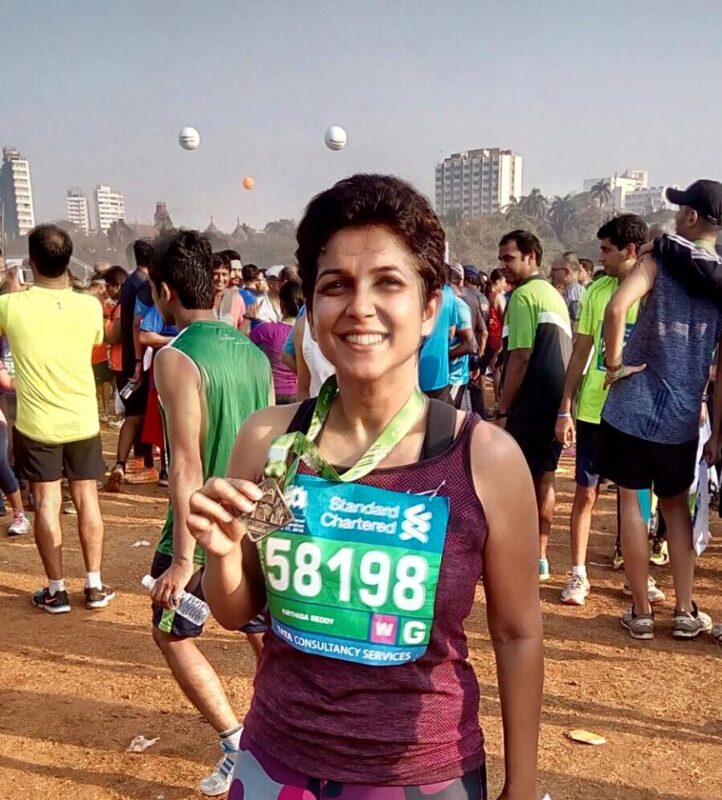 Striking a Work-Life Balance
"Make sure to leave enough energy to enjoy and appreciate the very things we work so hard for. Know what you want to invest in, know what to say no to, reserve time for the things that are most important to you and live life fully", Krithiga Reddy
Her advice on Key Takeaways
Focus on success of your clients, organization and team. Your success is a by-product.
Make your partner a true partner.
Power of AND versus the tyranny of OR.
Dream BIG.
Be aware of gender differences and consciously adjust.
Make the most of the opportunities given to you and create opportunities when possible.
Don't forget to enjoy the journey along the way!
Causes she supports
Education
Teach for India
Advisory Board, Teach for India US
Ballet & Beyond NYC
Board Member, 2017 – 2020
FEdream
Board of Directors
Entrepreneurship & Innovation
INK Global
Advisory Board Member
Women
Women in Tech India
Advisory Board Member
Champion Woman
Advisory Board Member
Neythri
Founding Circle
Like her parents, the Indian Diaspora is proud of her and her achievements. She has proved that daughter by no means is less but more as she adds the care quotient as well.
–By Melwyn
Reference material:kirthigareddy.com | census.gov | en.wikipedia.org |