THE SON OF SOIL – Sadhguru on a mission to 'Save Soil'
The land of monks, "Bharat", has given the world many philosophers, scholars who have shown a new direction to mankind. I recollect the famous speech by Swami Vivekanda in Chicago in 1893. His famous words "one infinite pure and holy—beyond thought beyond qualities I bow down to thee".
While the world had been talking and working on several climatic issues like Global Warming, Air & Water pollution, Arctic meltdown, here we have Bharat's new age guru, the "Sadhguru" campaigning for saving "Soil". In association with Conscious Planet which is aimed to raise 'human conscience' and bring a sense of inclusiveness such that multifarious activities of our society moved into a conscious mode, Sadhguru has been talking about 'Save Soil' for the last 24 years.
"Soil is our life, our very body, and if we forsake soil, in many ways we forsake the planet". A movement initiated from his homeland he has recently taken up to ride a solo motorcycle all the way from London ending his journey of around 100 days in Cauvery basin in India. At the age of 65, Sadhguru is making his efforts to unite all humanity who are connected with this one common cause which is saving soil irrespective of their nationality, religion, caste, creed etc. He will be travelling around 30,000 Km and crossing 26 countries. The journey started on 21st Mar 2022 and just the day before yesterday, 14th May'22 he was in Bahrain and made his public appearance on 15th May'22 and speech on the "Save Soil" campaign.
The ceremony was held at Bahrain National Museum in Manama, Bahrain. Sadhguru was warmly welcomed by the Honorable Indian Ambassador to Bahrain, HE. Piyush Srivastava and HE. Sheikha Hala Al Khalifa, Bahrain's Director General of the Culture and Arts. The ceremony was attended by around 5000 people consisting of Indian and other expatriates and many Bahraini delegates and nationals.
Sadhguru started his speech with his famous hymn.
Kalo Na Jaanaati thava jananam
Kalo Na Jaanaati tawa samapanam
Dhrishto maya tava Mahaakaaraha Yogeshwara!
Kaala Kaala!
which means….
Time does not know your origin
Time does not know your end
I have beheld your glorious form
O' Lord of Yoga!
The One beyond time
The usual Sadhguru way of taking subjects from one to another with his punches of honour and wits was mesmerising to listen to him live. He started with the essence of life of Lord Buddha, how human intelligence and inner conscience is making complexity in human lives and unless we learn to manage our pain we end up suffering. How human society has set up wrong examples of historical figures like Alexander who killed millions and continues to set examples to younger generations of how we adults deal with conflicts between relations, community & nations instead of maturity and peacefully dealing with them. He goes on to the main topic as how soil has life and how we humans have deteriorated the soil and as per studies and reports 52% of topsoil of the whole earth have already gone. And if we continue at this rate in the coming 30-40 years the top layer of earth, the soil which has life will be completely depleted and regenerating the soil will be impossible or extremely difficult. The associated problem will be scarcity of water, mass migration, civil wars and many worse things to imagine. Hence, it is important that the whole of humanity raise our voices to all the governments of the Nations so that at policy level decisions are taken to save the soil of our earth.
Sadhguru is not just riding the motorcycle through all these nations only to educate people on this subject, but he is also making governments commit to it by signing several MOU or agreements so that concrete steps are taken to save the dying soil of mother earth.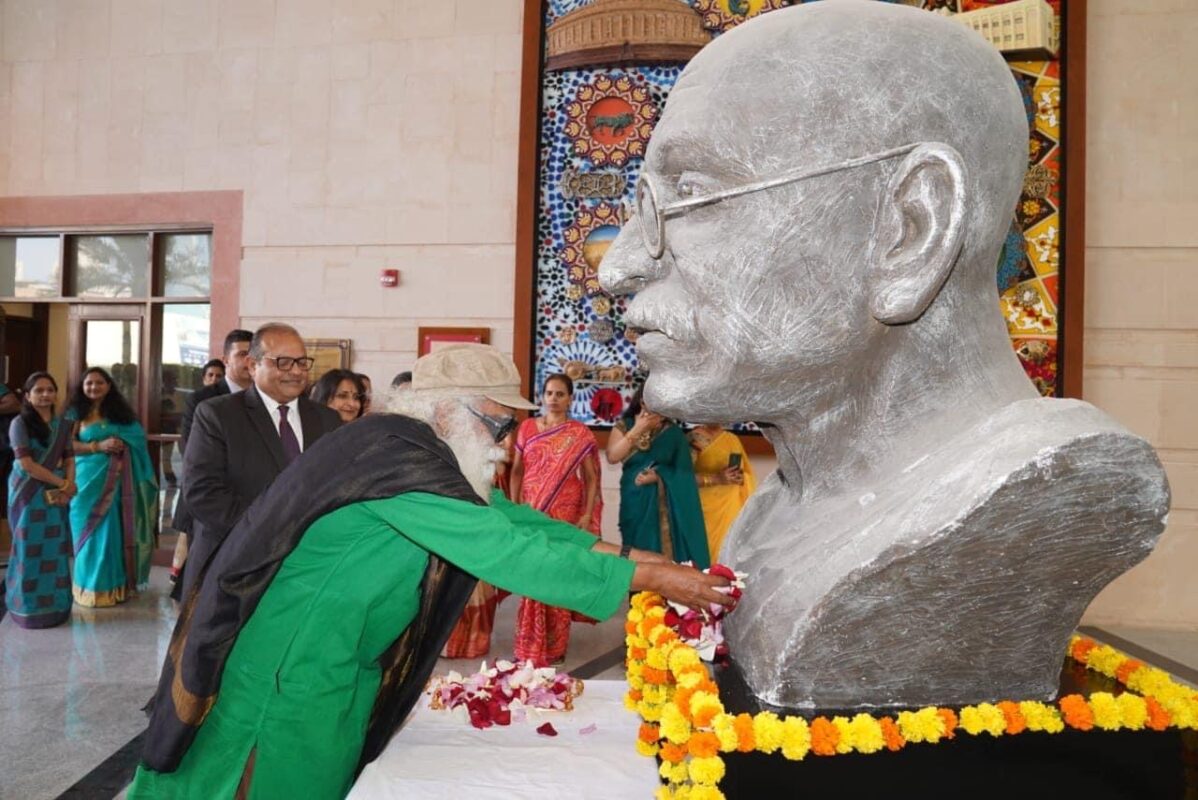 A day before he arrived in Bahrain he also attended a program in the Indian Embassy where he met several dignitaries and emphasized the importance of saving soil. He met 'divyang 'children from Sneha Recreation Center who presented gifts made by them to Sadhguru. He paid tribute to Mahatma Gandhi statue and planted a Neem tree at Embassy garden.
On 16th May'22 he left Bahrain to continue his trip to Dubai. Before concluding his speech he made a promise to the audience that if Bahrain will make the voice of Bahrain to the world for next 45 days for "Save Soil" he will be back in Bahrain within 18-20 months for a spiritual process to all.
"Let's make it happen"
Debjit Dey