Wherever there lives a Gujarati, there lives Gujarat forever!
Jyan Jyan vase ek Gujarati, tyan tyan vase sadakaal Gujarat!
જ્યા જ્ઞાન વસે એક ગુજરાતી, ત્યા ત્યાણ વસે સદકાલ ગુજરાત!
The official launch of the Canadian Gujarati Women Association (CGWA)
The tri-female powers officially launched The Canadian Gujarati Women Association (CGWA), representing our motherland, mother tongue, and mother culture. The inaugural event celebrated Gujarat Day on April 29, 2023, recognizing, and honoring seven outstanding Gujarati women.
An audience of 600 community members, the Consulate General of India Toronto, Canada, Ms. Apoorva Srivastava, MPP for Mississauga-Malton, Mr. Dipak Anand, and other influential individuals from the Greater Toronto Area attended the event held at a packed hall in Toronto.
The CGWA aims to recognize and empower Gujarati women in Canada for their unique cultural contributions and help them reach their full potential.
"Some senior women contribute quietly to the community and are true leaders deserving recognition. Acknowledging their efforts and contributions to society is essential, even if they do not seek attention or acclaim," claims Ms. Chintan Bhavsar, CGWA President.
"These senior women often have a wealth of knowledge and experience to share with others. In addition, they have dedicated their lives to serving their families, engaging in volunteer work, mentoring, or simply being a friend to those in need," added Ms. Supriya Chavda, CGWA Vice President.
"Their contributions are invaluable and profoundly impact the lives of those around them. Therefore, we must recognize their efforts and show appreciation for all they do," concludes Ms. Aruna Narola, CGWA Secretary.
"I ask everyone to thank the senior women in their lives for their contributions to the community. Let us celebrate their leadership and honor them for all they have done to improve the world," encouraged Mr. Tushar Unadkat, Honorary Director of Communications and the Master of the Ceremony.
The event celebrated the achievements of seven accomplished women, the majority of whom were doctors, researchers, academics, and the notable movers and shakers of the Gujarati community.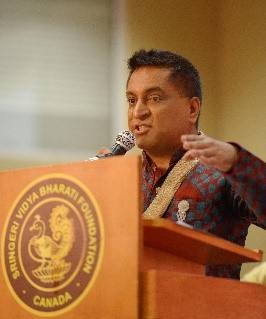 During the event, CGI Ms. Apoorva Srivastava expressed her support for the significance of CGWA and suggested granting more authority to the organization and empowering women.
Ms. Srivastava explained in her speech the vital reasons for recognizing Canadian Gujarati Women, especially in 2023.
It acknowledges your contributions to Canadian society. Your hard work and dedication have enriched our culture and economy countless times.
Recognizing you promotes diversity and inclusivity.
Celebrating your unique perspectives and experiences can help create a more welcoming and accepting society for all Canadians.
CGWA's vision is to create a world where Gujarati women in Canada are recognized for their unique cultural contributions and are empowered to reach their full potential. CGWA envisions a future where its members are leaders and change-makers in their communities, and the organization catalyzes positive social change. CGWA strives to create a supportive and inclusive environment that values diversity, promotes gender equality, and fosters lifelong learning. Through collective efforts, CGWA aspires to be a powerful force for transformation within the community and beyond. The vision is to inspire, connect, and empower Gujarati women in Canada to create a brighter future for themselves and the coming generations.
At the launch, Mr. Dipak Anand, Parliamentary Assistant to the Minister of Labour, Immigration, Training & Skills Development, delivered a message emphasizing the importance of creating such spaces to support and uplift marginalized communities.
He added, "It helps to break down stereotypes and prejudices by highlighting their achievements and successes. Recognizing Gujarati women is essential for building a stronger, more inclusive, and more equitable society. We must ensure they receive the recognition and respect they deserve."
ABOUT THE CANADIAN GUJARATI COMMUNITY
According to the 1996 census statistics of Canada, near about 45,180 Gujaratis lived in Canada at that time. The 2016 Canadian Census identified 275,015 people as having Gujarati ancestry in Canada. Currently, the Gujarati population in Canada is about a whopping 3,30,000.
Notable Gujarati Canadians include Naheed Nenshi (36th Mayor of Calgary), Bharat Masrani (CEO of TD Bank Group), Zain Verjee (CNN journalist), Ali Velshi (former CNN, current MSNBC journalist), Rizwan Manji (Canadian actor), Avan Jogia (Canadian actor [circular reference]), Richie Mehta (Canadian film director), Nazneen Contractor (Canadian actress), Ishu Patel (BAFTA-winning Animations director), Arif Virani (Member of Parliament for Parkdale-High Park), Rahim Jaffer (Member of Parliament for Edmonton-Strathcona), Omar Sachedina (CTV News anchor) and Prashant Pathak (Investor and Philanthropist) to name a few.
Toronto is one of the biggest hubs in Canada for Gujarati immigrants and is also home to the second-largest Gujarati community in North America after New York.
Gujarati women in Canada form a significant part of the Gujarati community, which is one of the largest South Asian communities in Canada. Most Gujarati women in Canada are immigrants who have come to Canada for better economic opportunities and a better quality of life.
Gujarati women in Canada have significantly contributed to Canadian society in various fields, including education, healthcare, business, and politics. In addition, they have played a vital role in maintaining and passing on their cultural heritage to the next generation by participating in cultural events and activities.
Gujarati women in Canada have achieved high educational attainment, with many holding degrees in medicine, law, engineering, and other professional fields. They have also contributed to the development of educational institutions in Canada by establishing schools and educational programs that promote Gujarati culture and language.
Gujarati women have played a significant role in the healthcare sector as doctors, nurses, and other healthcare professionals, providing quality healthcare services to Canadians. They have also participated in community-based healthcare initiatives that promote healthy living and prevent disease.
In business, Gujarati women have made significant contributions to the Canadian economy by establishing and running small and medium-sized enterprises. They have also been involved in international trade, importing and exporting goods between Canada and India.
Gujarati women have played a crucial role in shaping Canadian public policy by participating in political parties and running for public office. They have also participated in community organizations that advocate for the rights and welfare of Gujarati Canadians.
Overall, Gujarati women in Canada have made significant contributions to Canadian society and have played a crucial role in shaping the country's cultural, social, and economic fabric.
CGWA MISSION
Our mission is to create a supportive community for Gujarati women living in Canada. We aim to celebrate our unique cultural heritage while embracing our members' diversity. We strive to empower Gujarati women to achieve their personal and professional goals through networking, education, and advocacy. Our organization promotes gender equality, social justice, and community engagement. We believe in building strong relationships and fostering collaboration and inclusivity. Our goal is to create a vibrant and thriving community of Canadian Gujarati women who are empowered, connected, and inspired to impact the world positively.
The event was a resounding success, with attendees inspired and uplifted by the stories of the seven remarkable women honored. The CGWA looks forward to continuing to empower and celebrate Gujarati women in Canada and making this recognition ceremony an annual affair. To learn more about CGWA, visit www.cangujwomen.com.