A DEAD ONE IS NOT A DEAD ONE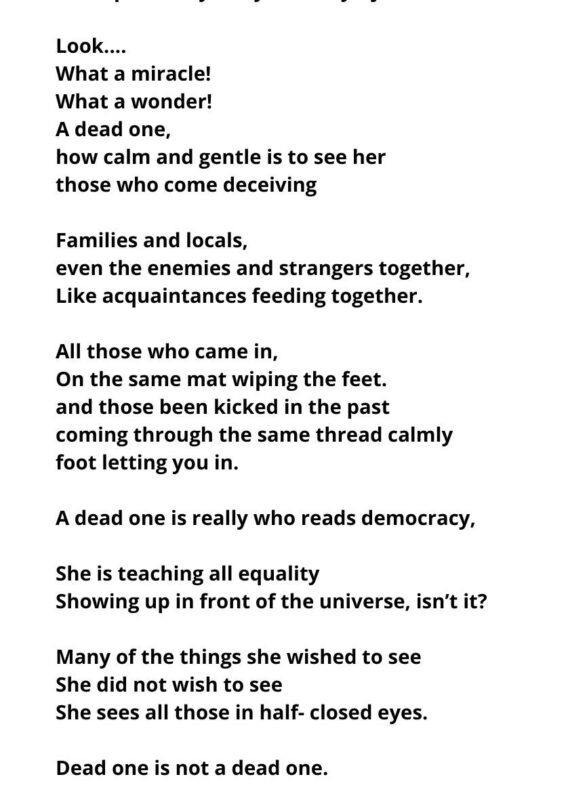 Woman who marry death
How many are there for the ceremonies
Bringing them closer to her.
Those who tasted their likes
and Dislikes have been stirred up
And those who mock at her
How many hearts are in
the magic of silence showing by her.
More than that…
From the map of their heart
Within a few minutes she may disappear
In the houses of the dead one.
How quickly the seasons are changing
It was spring yesterday in the blooming areas
It's a hot summer today.
Another one spring will come tomorrow.
She'll put today's in yesterday's jar of wine
Look….
What a miracle!
What a wonder!
A dead one,
how calm and gentle is to see her
those who come deceiving
Families and locals,
even the enemies and strangers together,
Like acquaintances feeding together.
All those who came in,
On the same mat wiping the feet.
and those been kicked in the past
coming through the same thread calmly
foot letting you in.
A dead one is really who reads democracy,
She is teaching all equality
Showing up in front of the universe, isn't it?
Many of the things she wished to see
She did not wish to see
She sees all those in half- closed eyes.
Dead one is not a dead one.
A poem by Sindhu Gatha