DAL MAKHANI – FROM THE KITCHENS OF INDIA
Dal Makhani or maa di dal, as it is popularly known in the Punjab. It is is a delicacy known for its smooth velvety texture and lovely flavour.
Preparation Time: 15 mins
Cooking Time: 40 mins
Makes 4 servings
Dal Makhani is traditionally cooked on a low flame overnight and allowed to thicken. Here we are using a pressure cooker to cook the dal. Usually Dal Makhani is served with hot Indian bread called naans.
Ingredients
Whole black gram (sabuturad) 1/2 cup
Red kidney beans (rajma) 2 tablespoons- Wash and soak urad dal &rajma overnight, drain
Oil 1 tablespoon
Butter 3 tablespoons
Salt to taste
Garam masala powder 1 teaspoon
Red chilli powder 1 teaspoon
Ginger chopped 2 inch pieces
Cumin seeds 1 teaspoon
25 mm stick cinnamon (dalchini)
3 cardamoms (elaichi)
2 cloves (laung / lavang)
Garlic chopped 6 cloves
Onion chopped 1 large
Green chillies slit 2
Tomatoes 2 medium- blended to paste
1/2 cup cream
2 tbsp chopped coriander (dhania)
1 tbsp fresh cream for the garnish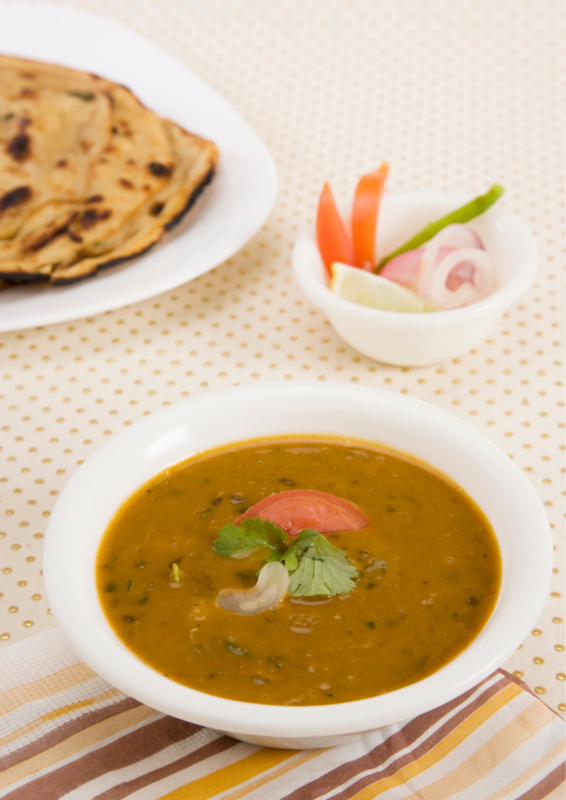 Process
First clean, wash and soak the whole urad and rajma overnight.
Boil sabuturad and rajma in three cups of water with salt and half the red chilli powder and half the ginger. Cook for three whistles in a pressure cooker or until the rajma is completely soft.
Whisk till the dal is almost mashed. Keep aside.
Heat butter and oil in a pan. Add cumin seeds. When they begin to change colour, add ginger, garlic and onion and sauté till golden brown.
Add slit green chillies, tomatoes puree and sauté on high heat. Add the remaining red chilli powder and sauté till the tomatoes are reduced to a pulp.
Add the cooked dal and rajma. Add some water if the mixture is too thick.
Add garam masala powder and adjust salt.
Simmer on low heat till the dals are totally soft and well blended.
Serve hot. Garnish with a swirl of cream and sprigs of fresh coriander.