Breast Cancer Awareness Month Advice: Know It All here
October holds a special significance as it is recognised worldwide as Breast Cancer Awareness Month. This annual campaign aims to shed light on the importance of early detection, prevention, and treatment of breast cancer, a disease that affects millions of women across the globe. Amongst various communities, the Indian diaspora stands united in its efforts to raise awareness, educate, and empower women in the fight against breast cancer.
Pink Month: October (BCAM)
Breast Cancer Awareness Month (BCAM), also referred to in the United States as "National Breast Cancer Awareness Month (NBCAM)" , is an annual international health campaign organised by major breast cancer charities every October to increase awareness of the disease and raise funds for research into its cause, prevention, diagnosis, treatment, and cure.
A Global Concern:
Breast cancer knows no boundaries and affects women of all races, nationalities, and socio-economic backgrounds. Within the Indian diaspora, the prevalence of breast cancer and its impact on women's lives is a growing concern. According to recent studies, breast cancer is the most common cancer among Indian women, with an increasing incidence rate. The implications of this disease reach far beyond the physical aspects, affecting emotional well-being and families as a whole. Recognising the urgency of the situation, individuals and organisations within the Indian diaspora have stepped up their efforts to address this critical issue.

In 2020, there were 2.3 million women diagnosed with breast cancer and 685 000 deaths globally. As of the end of 2020, there were 7.8 million women alive who had been diagnosed with breast cancer for the past 5 years, making it the world's most prevalent cancer. About 13% (about 1 in 8) of U.S. women are going to develop invasive breast cancer in the course of their lives. In 2023, an estimated 297,790 new cases of invasive breast cancer are expected to be diagnosed in U.S. women, along with 55,720 new cases of DCIS. DCIS (ductal carcinoma in situ) is a non-invasive breast cancer that starts in the milk ducts.

As per the Globocan data for 2020, in India, breast cancer accounted for 13.5% (178361) of all cancer cases and 10.6% (90408) of all deaths, as per WHO records and data.


Raising Awareness:

You've probably seen—and maybe even worn—a pink ribbon during October to recognise National Breast Cancer Awareness Month to support those who have been diagnosed with, are battling, or are recovering from the disease.

Breast Cancer Awareness Month serves as a platform to educate women about the importance of early detection and regular screenings. Education plays a pivotal role in dispelling myths, overcoming cultural barriers, and encouraging women to prioritise their health. It is essential to stress that breast cancer can affect anyone, and early detection significantly improves the chances of successful treatment. Through public service announcements, workshops, and community events, the Indian diaspora is making concerted efforts to inform women about the signs and symptoms of breast cancer, self-examination techniques, and the availability of screening services.
Involvement of the Indian Diaspora:
Members of the Indian diaspora have actively engaged in initiatives that contribute to breast cancer awareness and support. Indian community organisations, healthcare professionals, and brave survivors have come together to amplify the message of hope, resilience, and solidarity. These efforts range from organising awareness camps to providing financial aid for mammograms, supporting research projects, and offering emotional support networks. By fostering a spirit of togetherness, the Indian diaspora is creating a safe space for women to share their experiences, seek guidance, and access resources crucial for a comprehensive approach to breast cancer awareness.
As a responsible citizen, wherever you live, whatever your nationality, all of us tried to raise awareness about breast cancer among our women—mother, sister, wife, daughter, or friend—and try to engage with them for breast cancer awareness and early detection through breast cancer screening. As per the WHO reports, the only way we can reduce the fatality of cancer is to early detect and treat it.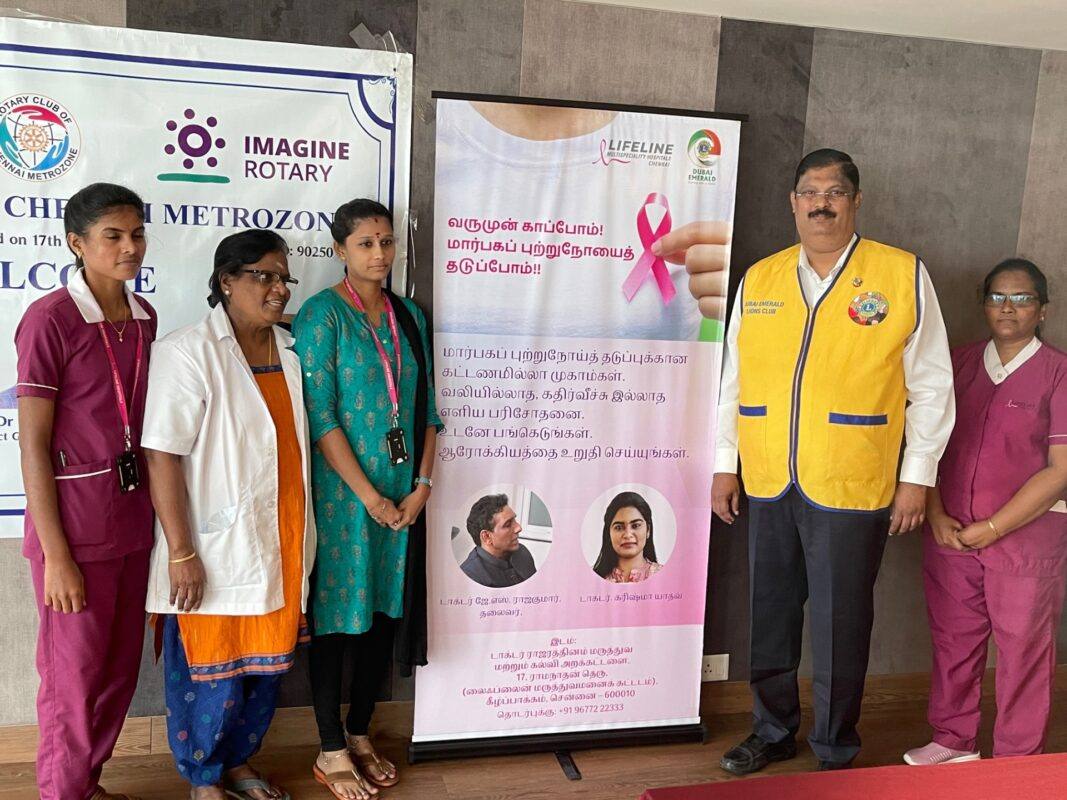 I have been engaging with breast cancer awareness and screening for the last many years with the support of many hospitals and many organisations around the world.

We did a few breast cancer awareness campaigns in the UAE with the help of Aster Hospital and NMC Specialty Hospitals and offered assistance through doctors and nurses to women on self-detection and screening.

On October 6, 2023, through the audio platform "Mentza," Dr. JS Rajkumar, Dr. Shambhavi Rajgopal, and TN Krishnakumar organised a talk on breast cancer awareness and breast cancer screening using AI and the latest technologies. Dr. JS Rajkumar spoke on the need for breast cancer screening and early detection, and Dr.Shambhavi Rajagopal was the moderator of the speech. I came up with the data related to breast cancer all around the world, and in particular in India.
With the support of Lifeline Multispeciality Hospital in Chennai and Dr. JS Rajkumar, we have done 1380 breast cancer screenings using the I Brest (AI-based breast cancer screening method) from October 1, 2022, until June 30, 2023. We detected 21 cases of breast cancer at stage 1 and helped in identifying the problem at the beginning stage and starting treatment and recovery.
The breast cancer screening, with the help of Lifeline Multispeciality Hospital and Dr. JS Rajkumar, is still continuing for the next year. The hospital staff will visit the poor rural areas and screen a minimum of 50 women every Sunday for the next year with the support of the Dubai Emerald Lions Club in Dubai.

On October 10, 2023, with the support of NMC Specialty Hospital, a breast cancer awareness programme was conducted, and 10 breast cancer survivors and warriors spoke to the ladies about how they fought breast cancer. Oncology Specialist Doctors spoke on the requirements for early detection by using breast cancer screening and the necessity of starting early treatments to stop the cancer from spreading.

On October 22, 2023, we will had one more session on breast cancer awareness with the support of Aster Hospital and an initial screening of breast cancer by the hospital staff.
The Indian community attaches great importance to cultural preservation and tradition. Recognising this, awareness programmes tailored to the unique needs of the community have emerged. These initiatives combine culturally sensitive messaging with critical medical information, making women feel understood and respected. By incorporating traditional practices and beliefs, these programmes bridge the gap between cultural heritage and modern healthcare. Moreover, community leaders, influential figures, and celebrities are leveraging their platforms to raise awareness, encouraging individuals to prioritise their health and break the silence surrounding breast cancer.
Breast Cancer Awareness Month serves as a reminder to prioritise women's health and the fight against breast cancer within the Indian diaspora. Through collaborative efforts, education, and support, the community is empowering women to navigate the challenges of this disease with resilience and determination. Progress is being made, but the journey continues. By advocating for regular screenings, fostering a supportive environment, and embracing comprehensive healthcare approaches, the Indian diaspora is making a profound impact on the lives of women affected by breast cancer. Let us unite, persist, and bring about a future where breast cancer is detected early, treated effectively, and ultimately defeated.
Let's together fight this most prevalent cancer in women, ensure our women are free from the No. 1 cancer affecting all age groups, and save the family. Let's ensure that this month of October, every woman in every part of the world is informed about breast cancer and the necessity of breast cancer screening to early detect and save lives.