Hundreds of books on India donated to Edison Public Library.
The books were handed over in a literary event that was followed by Holi celebrations and musical program.
The Edison Public Library officials said they are grateful to the Indian Consulate in New York and the Global Organization of People of Indian Origin -Edison NJ Chapter (GOPIO-Edison) for helping the expand their book collection on India by donating hundreds of books. Edison and it's suburbs have one of the largest population of Indian-origin residents in the USA.

The "India Collection Launch" event that was held on April 10, 2022, was attended by over 120 people. The Consulate provided 140 books while the community, including GOPIO, Zakir Husain Circle, Gujarati Literary Academy and Assam Sahitya Sabha donated 110 books. Some 60 Gujarati books were donated by Ram Gadhavi, GOPIO vice president, and chairman of the Gujarati Literary Academy.

The sponsor of the event was Sabinsa Corporation, a food supplement company located in East Windsor with operations in India.
The chief guest was Indian Consul General Randhir Kumar Jaiswal along with Consul for Community Affairs A.K. Vijayakrishnan. Many prominent Indian American community leaders, elected council members from Edison and nearby cities, and Indian-American residents from Edison and nearby towns attended the event.

A moment of silence was observed for the victims of Russia's war in Ukraine and for the passing away of GOPIO-Life Member and community leader Yash Paul Soi early this month.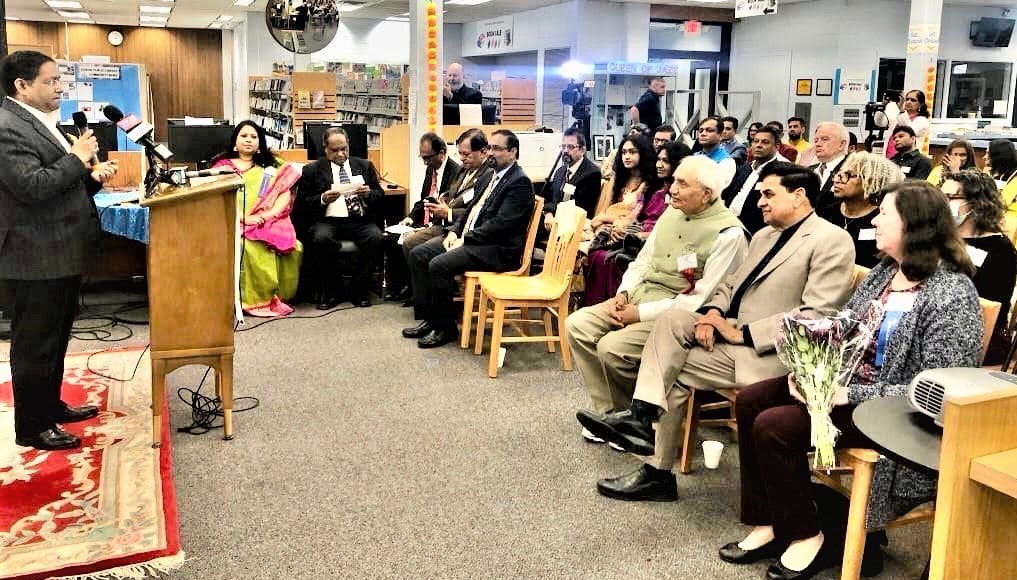 Consul General Jaiswal spoke about how making books on India available to all will give access of some rare Indian books to the Indian diaspora.
Patricia Massey, president of Edison public Library, welcomed everyone and thanked those who had organized the event for their "generous donation" of books. "It's very difficult to find books in different languages, so this is particularly appreciated," Massey said, urging everyone to get library cards.

The event ended with a Holi celebration – there was a musical program by singer Pallavi Belwariar and Yogesh.