The Famous HYBE Launching First K-pop Idol Of Indian Descent
Hallyu, sometimes referred to as the Korean Wave, is the term used to describe the worldwide appeal of Korean popular cultures, including K-dramas and K-pop music. Everything associated with Korean popular culture has gone global recently. In comparison to South Korea's population of 51.96 million, the number of Hallyu enthusiasts is estimated to exceed 156.6 million, according to a report by the Korean Foundation! The most significant source of soft power in South Korea today is the appeal of Korean popular culture.
Despite being available in India for the first ten years of the twenty-first century, K-drama, K-pop, and K-anime were not well-known until PSY's "GANGNAM STYLE" was launched and quickly gained popularity both in India and internationally. Even former Indian President Ramnath Kovind brought it up in his remarks, extending a warm greeting to Republic of Korea President Moon Jae-In. "Korean popular culture has also charmed us," stated Ramnath Kovind. Even though many of them have never been to Gangnam, our youth are enthralled by the songs of these legendary pop groups, from Gangnam Style to the Korean band BTS!" Particularly, BTS has a significant and devoted fan base known as the "Army" in India.
BTS, the boyband, is managed by a corporation named HYBE, which, along with BTS, has launched several new K-pop idols.
Recently, HYBE has issued a statement regarding the launch of a new girl band named KATSEYE, and they are slowly revealing the artists in that group.
The final lineup for HYBE's KATSEYE features 17-year-old Indian-American singer, dancer, and actor Lara Raj in second place.
The six-member girl group KATSEYE's ultimate lineup has been revealed by K-pop entrepreneur HYBE. On November 18, the pre-debut girl group's official profile was released. It included a varied roster that represented four distinct nations: the Philippines, the USA, South Korea, and Switzerland. Among the first twenty participants were two outstanding Indian vocalists, one of whom proceeded to the finals. Meet Lara Rajagopalan, the Indian-American musician who lives in Los Angeles and is a finalist for the KATSEYE.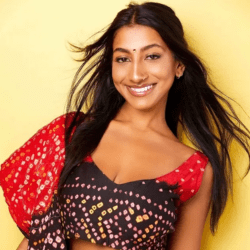 "I am an Indian girl group member from Los Angeles, aged 17," the new member announced at a news conference. Lara Raj is a talented actor, singer, and dancer who was born in New York. At four years old, she began taking acting, dance, and singing classes. Her most well-known role was in NBC's The Blacklist.
Michelle Obama included Lara in a video for the Global Girls Alliance. When the final lineup was chosen, she was positioned second. Lara speaks Tamil and English well, and her immaculate sense of style is sure to turn heads. November 3rd is the birthday of the aspiring K-pop idol, who is currently 17 years old.
Additionally, Lara Raj modelled for a 2017 Macy's commercial. She co-hosted the American Heart Association's "Go Red for Women" campaign. She posts cover songs and dance videos to her Instagram. For the unaware, more than 120,000 entries were received, and only 20 individuals were selected for the audition. We're still awaiting details regarding the group's premiere.