This Is The Amazing World Of Biking And Life Beyond
The traditional "vrooooom" sound of an IC engine, or a specific sound like the "potato-potato-potato" as Harley lovers call it, skips anyone's heartbeats for a few moments, irrespective of whether they love motorbikes or not. The cadence of big bikes like the Harley and Suzuki Boulevard always makes heads turn for most people.
For me, it's music to my ears. Motorbiking had been one of my passions for a long time, but with time and the routine chores of life, somewhere that passion was getting lost. When I shifted to Saudi Arabia for a new career, that passion once again revived when I started watching the bikers during the winter seasons. I was convincing myself that I needed to make this dream come true soon.
When I shifted to Bahrain back in 2018, I assured myself that time has come to get myself on a Harley Davidson. Within a year I applied for a motorcycle driving license and was fortunate enough to get the same in the first attempt without any hassle. Once the license was done, I was on the hunt for a reasonable Harley fitting into my estimated budget. At that time I had no clue of how many, what kind of passionate bikers I may get in Bahrain or in the region. Incidentally I got my first motorbike, a Harley Davidson Sportster 883 from an Indian rider who introduced me to his riding group by the name Pleasure Riders Bahrain. And then started my real entrance to the world of motorcycling.
Pleasure Riders Bahrain (PRB) was founded in year 2017 by three persons, Mr. Umesh Babu (The Captain), Mr. Arun Reghuvaran and Mr. Ajith Kumar S Pillai. This is the largest riders' group of expats in Bahrain. There are about 20 to 22 active motorcycle riders' groups in Bahrain. The first officially known riders' group is Bahrain Motorcycle Company (BMC) founded in 2004, soon followed by Harley Owners Group, HOG (Bahrain Chapter) in 2006, followed by Bahrain Riders Club in 2007.
When I joined PRB, I never had an idea that I could find so many Indian riders here in Bahrain. To my surprise not just Indians but we have people from all age groups up to some around 60-65 as well, all professions including doctors, ladies, husband & wife duo etc.
It amazes me how Indians who are typically known as family people and after a certain age wish to abstain themselves from risky adventures and sports, are passionately involved in riding. We have in PRB bikes from standard street bikes like Royal Enfield or Triumph Rocket , cruiser like Harley Fatboy, Road Glide, touring like Harley Ultra Classic and Goldwing, racing bikes like Ducati Diavel or Suzuki Hayabusa, Dual Sports like BMW R1200, Off-Road bikes like KTM or Aprilia, covering almost all types and range of motorcycles one can think of.
"Never ride off and leave anyone you rode out with, if they break down you pull over and wait, come hell or high-water bikers do not abandon a brother or sister" is a famous Bikers Code and I feel it every time while riding with PRB. We had many occasions when someone broke down and they were never left behind. I also had an incident quite late in the night when my clutch plate burnt out and I couldn't restart my bike and I had my brothers standing next to me till it was successfully carried back to the city garage and back home.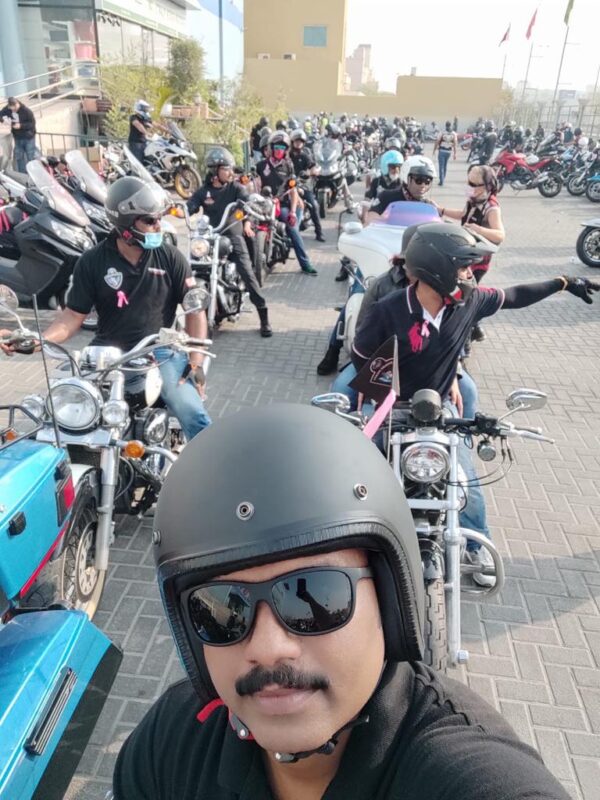 Adrenalin rush, heart pounds, refreshing is a biker's feelings when he/she rides. Since I started riding on a regular basis, I realized I am pushed to some disciplines. For instance, as we ride on early mornings every Friday during the weekend here, I started avoiding late night parties, drinks etc., on Thursday evenings to comfortably get up fresh early morning for my ride. The pull for the ride is much more than spending time on unhealthy toxication late nights.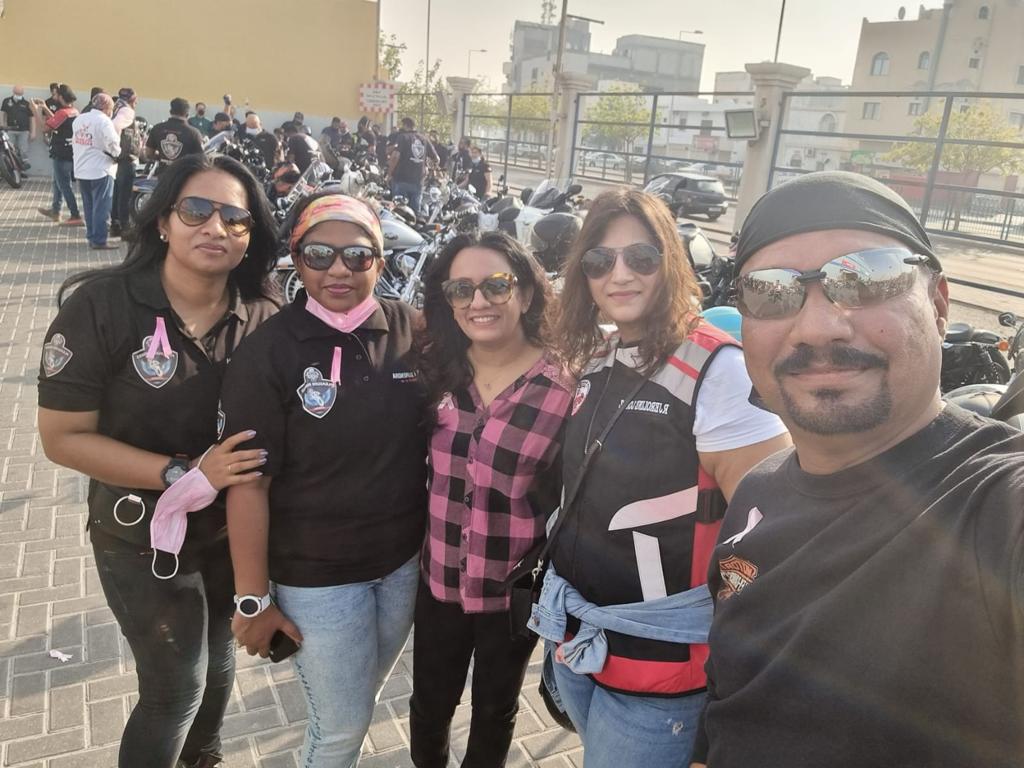 Apart from individual fun, our riders' groups in Bahrain are engaged into many social causes as well. They are conducting every year mega ride on Bahrain National Day, every year Pink Ride for breast cancer awareness, mega ride on Women's Day, ride in association with SMILE for child cancer, ride for men's prostate cancer awareness; PRB conducted in past blood donation camps, distribution of food to needy in different labour camps, food & provision kit distribution during COVID-19 pandemic, Iftar feast etc., are some to name. On 16th Dec 2021, His Excellency Piyush Srivastava Indian Ambassador to Bahrain flagged off a bike rally by PRB marking the 50th National Day of Kingdom of Bahrain.
Riders in Bahrain are also going on international riding trips in many countries. PRB have made a trip to Greece in 2021, two of PRBians Mr. Simon & Mr. Amit made a GCC tour recently this year 2022. Sadguru as we all know is doing a solo riding from UK to India for "Save the Soil" awareness campaign and PRB will be proudly hosting his ride in Bahrain and may accompany him till Saudi Arabia.
As they say, "Beauty with Brains" I say, "Biking with Benevolence".
Happy & safe riding to all my rider brothers & sisters.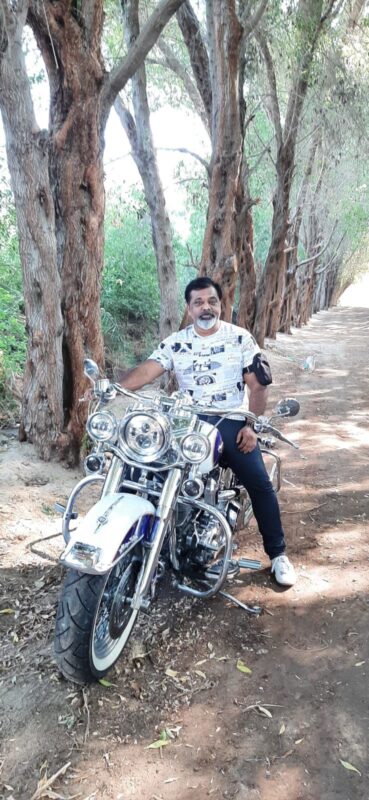 – DEBJIT DEY