To Be or Not to Be! Rishi Sunak, his chances of becoming the PM of United Kingdom.
A lot has been talked about an Indian-origin British man running for the office of Prime Minister of the United Kingdom.
According to the latest Opinium Research survey, UK Foreign Secretary Liz Trusshas gained a lead over former chancellor Rishi Sunak in the race to become the next Prime Minister.
"I have a bold vision for our country and economy. I'm ready to deliver as Prime Minister from day one. "Liz Truss.
As the outcome of the UK Prime Minister's election approaches, Rishi Sunak made his final efforts to salvage the Conservative Party leadership race, which most polls predict Liz Truss will win.
While the world debates Rishi Sunak's candidacy for Prime Minister of the United Kingdom, I investigated how many people of Indian origin have won elections in the United Kingdom. One of them, perhaps the first, is Dadabhai Naoroji, best known as one of the three founders of the Indian National Congress. Consider the possibility of whites electing a person born in Gujarat, India, as their representative in 1892.
He was elected President of the Indian National Congress in 1893 and held both positions for a short time while managing his company in the United Kingdom. During the early years of the Indian National Congress (1888), a Scottishman named George Yule was elected President of the political organisation. While continuing to do business in London, he was appointed Sheriff of Calcutta.
Rishi Sunak Vs Liz Truss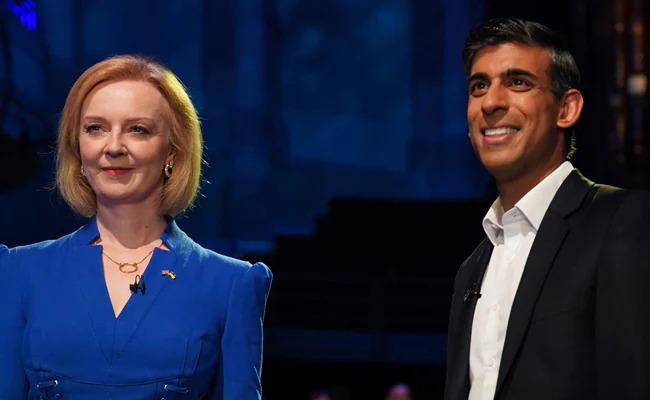 Politically, they are both strong Tory supporters and ardent supporters of the old 'Iron Lady' Margaret Thatcher, and they are dyed in wool blue on blue fighters. Liz Truss, the current Foreign Secretary, and Sunak, the former Chancellor of the Exchequer, are currently at odds.
Rishi Sunak, who claims to have chosen an honest path, said: "I have not chosen to say what people want to hear, but I have said things that I believe the country needs to hear."
Several polls indicate that Sunak will lose the Conservative Party leadership election to UK Foreign Secretary Liz Truss. The final results are expected in the first week of September.
The outcome of the vote to determine who will succeed Boris Johnson as Prime Minister of the United Kingdom is expected on September 5.
Sources said, "If we divide our 'don't knows' evenly between the two candidates, as we did last time, Truss rises to 64% and Sunak falls to 32%—maintaining her 32-point lead from the previous round." YouGov's most recent poll, which closed on August 2nd, the same day most recent surveys were released, gave her a 38-point lead. The most recent Opinium poll, conducted last week, gave Truss a 22-point lead.
According to the combined Opinium, YouGov, and Conservative Home polls, Truss is likely to win by a margin of 70-30 to 60-40—perhaps a little higher, perhaps a little lower.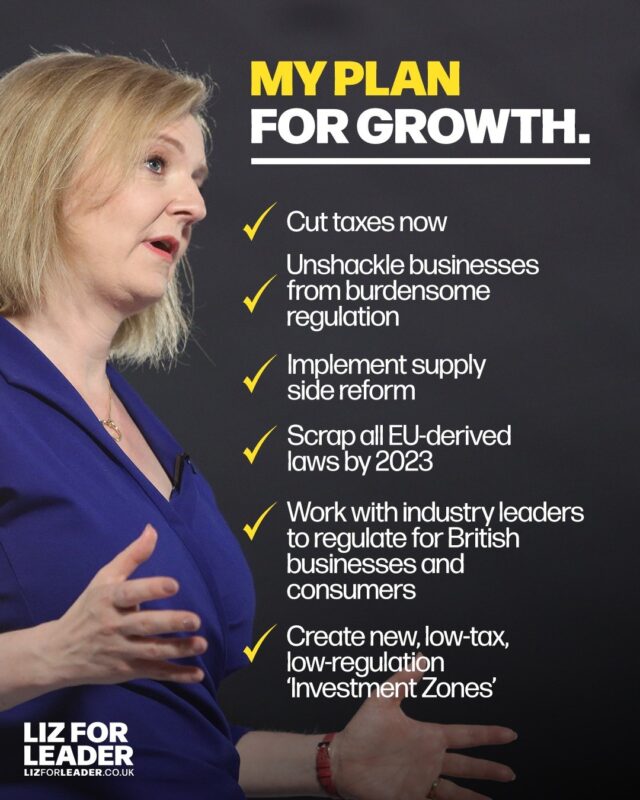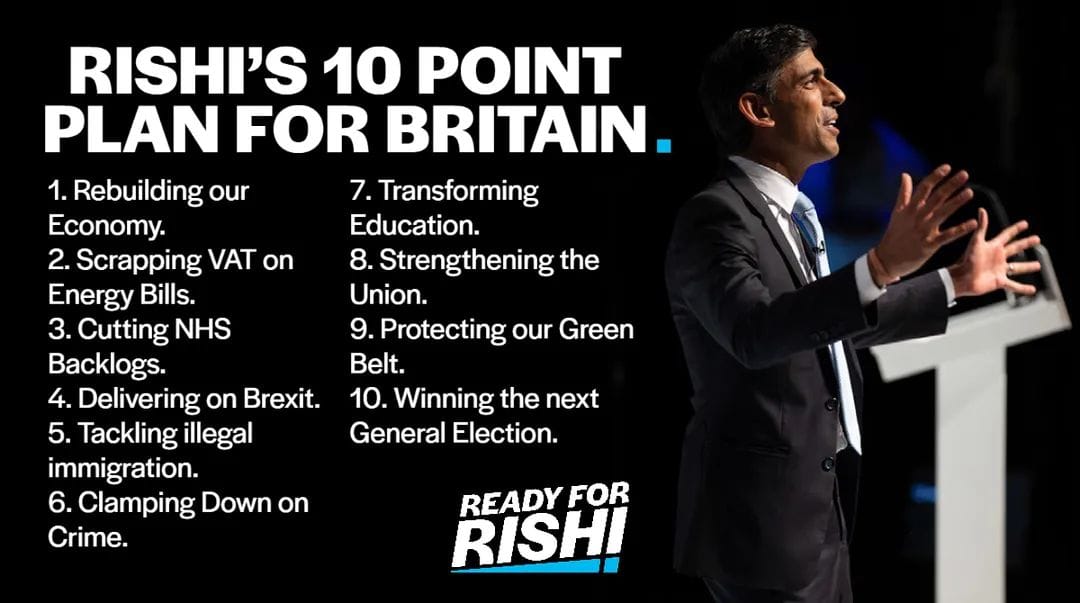 Sunak was elected to the House of Commons in 2015 as the Member of Parliament for Richmond (Yorks) in North Yorkshire, succeeding William Hague. Sunak voted in favour of Brexit in the 2016 EU referendum. In the 2018 reshuffle, he was appointed as Parliamentary Under-Secretary of State for Local Government in Theresa May's second government. He supported May's Brexit withdrawal agreement three times. Sunak supported Boris Johnson's campaign for Conservative leader after May resigned. Sunak was appointed Chief Secretary to the Treasury by Johnson after he was elected and appointed Prime Minister. Sunak took over as Chancellor of the Exchequer after Sajid Javid resigned in the February 2020 cabinet reshuffle.
As Chancellor, Sunak was prominent in the government's financial response to the COVID-19 pandemic and its economic impact, including the Coronavirus Job Retention and Eat Out to Help Out schemes. Amid the Partygate scandal, he became the first Chancellor of the Exchequer in British history to have been sanctioned for breaking the law while in office after being issued a fixed penalty notice for breaching COVID-19 regulations during lockdowns.
He resigned as chancellor on July 5, 2022, citing his economic policy differences with Johnson in his resignation letter. Sunak's resignation, along with the resignation of Javid as Health Secretary, led to Johnson's resignation amid a government crisis.
On July 8, 2022, he declared his candidacy to succeed Johnson as Conservative Party leader. On July 20, he finished first among Conservative MPs, and he is now competing against Liz Truss in a postal vote of party members, with the results to be announced on September 5, 2022.
Sunak announced his campaign in a social media video, writing that he would "restore trust, rebuild the economy, and reunite the country." He stated that his values are "patriotism, fairness, and hard work." Sunak pledged to "crack down on gender neutral language." Readyforrishi.com was first registered with GoDaddy on December 23, 2021, while ready4rishi.com was registered, on July 6, 2022, two days after Sunak resigned as chancellor. The former domain redirects to the latter. Conservative politicians who backed Johnson slammed Sunak for "leading the charge in bringing down the prime minister," with Johnson ally Jacob Rees-Mogg labelling him a "high tax chancellor."
On July 20, 2022, Sunak and Liz Truss were announced as the final two candidates in the contest to be put forward to the membership for the final leadership vote. The outcome will be announced on September 5, 2022. Sunak received 137 votes to Truss' 113 in the final round, giving him the most votes in each of the series of MP votes. During the campaign, he promised tax cuts only if inflation was under control; a one-year suspension of the 5% VAT rate on household energy; a temporary £10 fine for patients who fail to attend GP appointments; a cap on refugee numbers; and a tightening of the definition of asylum.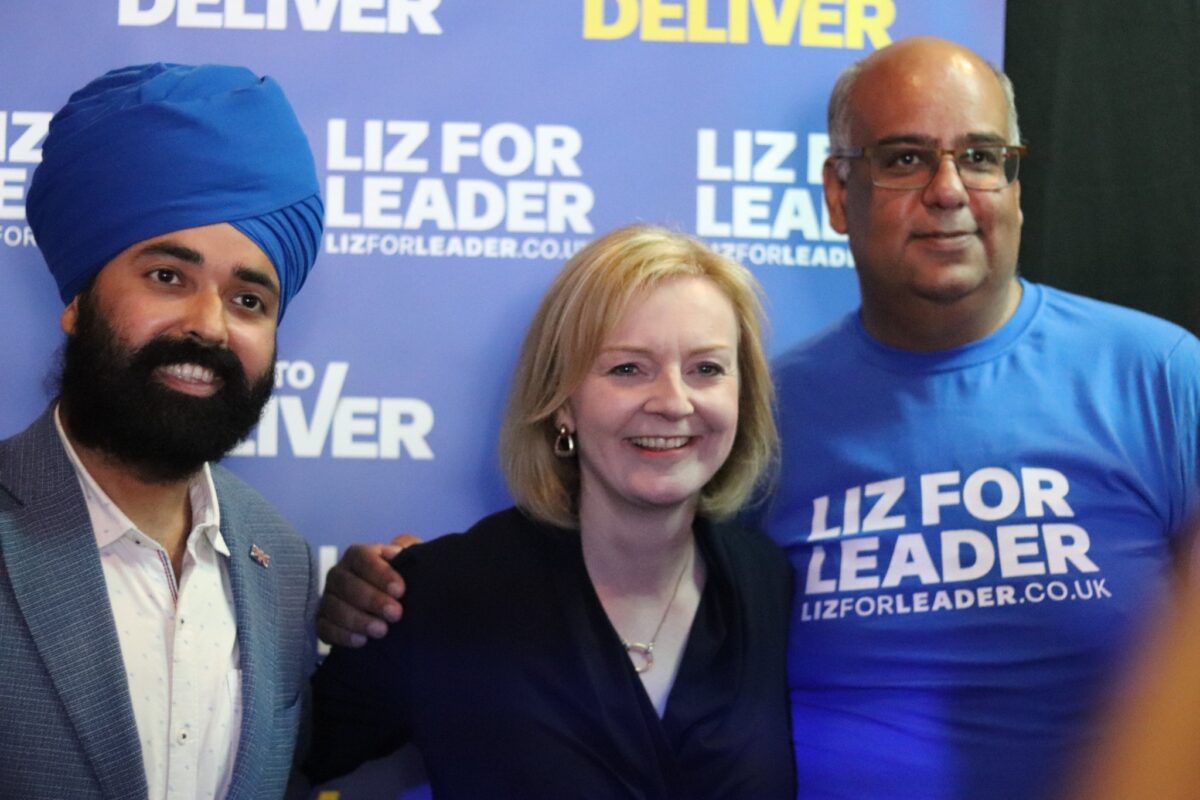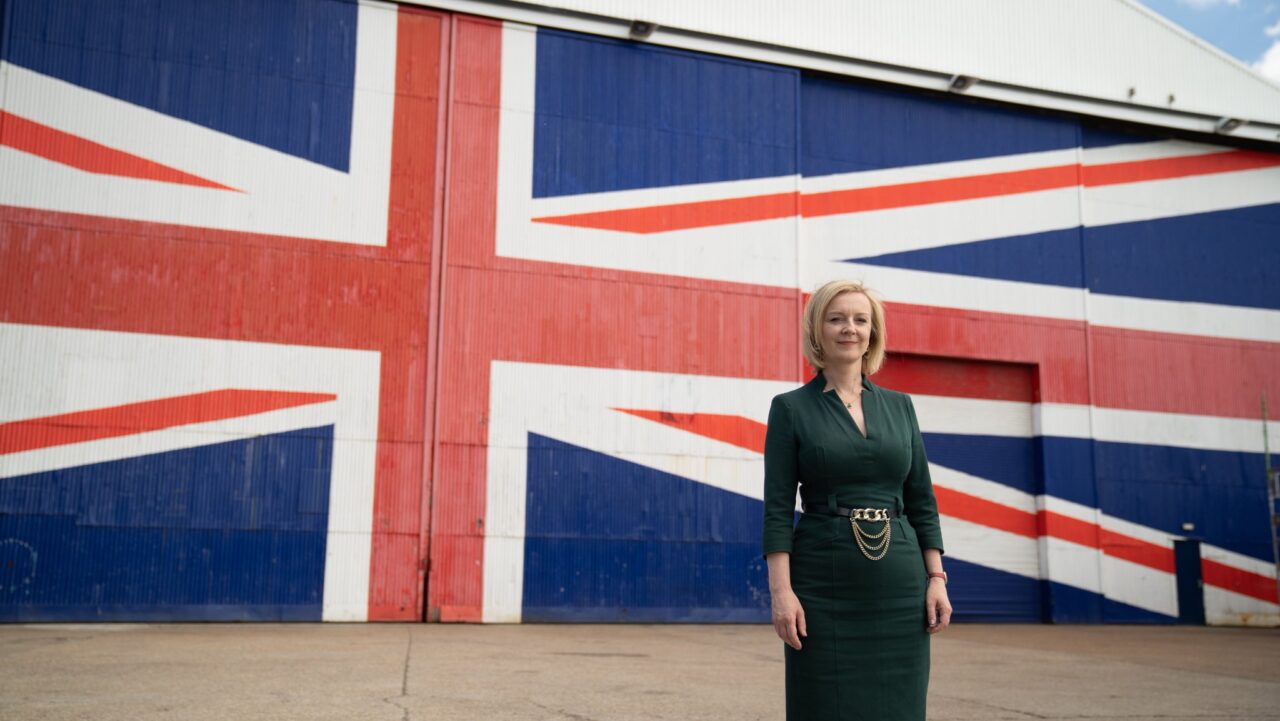 Sunak has been mentioned in the UK press as a possible health secretary under Truss. Rishi Sunak, a UK leadership contender, said he would not serve in a government led by Conservative rival Liz Truss if she becomes Prime Minister next month.
The former chancellor told BBC Radio 2 on Monday that "one thing I have reflected on quite a bit being in government and in cabinet the last few years — you really need to agree on the big things." "Because, as I discovered, it's difficult when you don't, and I wouldn't want to be in a situation like that again."
Sunak, whose shock resignation ultimately led to Boris Johnson's demise as prime minister, and Truss disagreed on economic policies.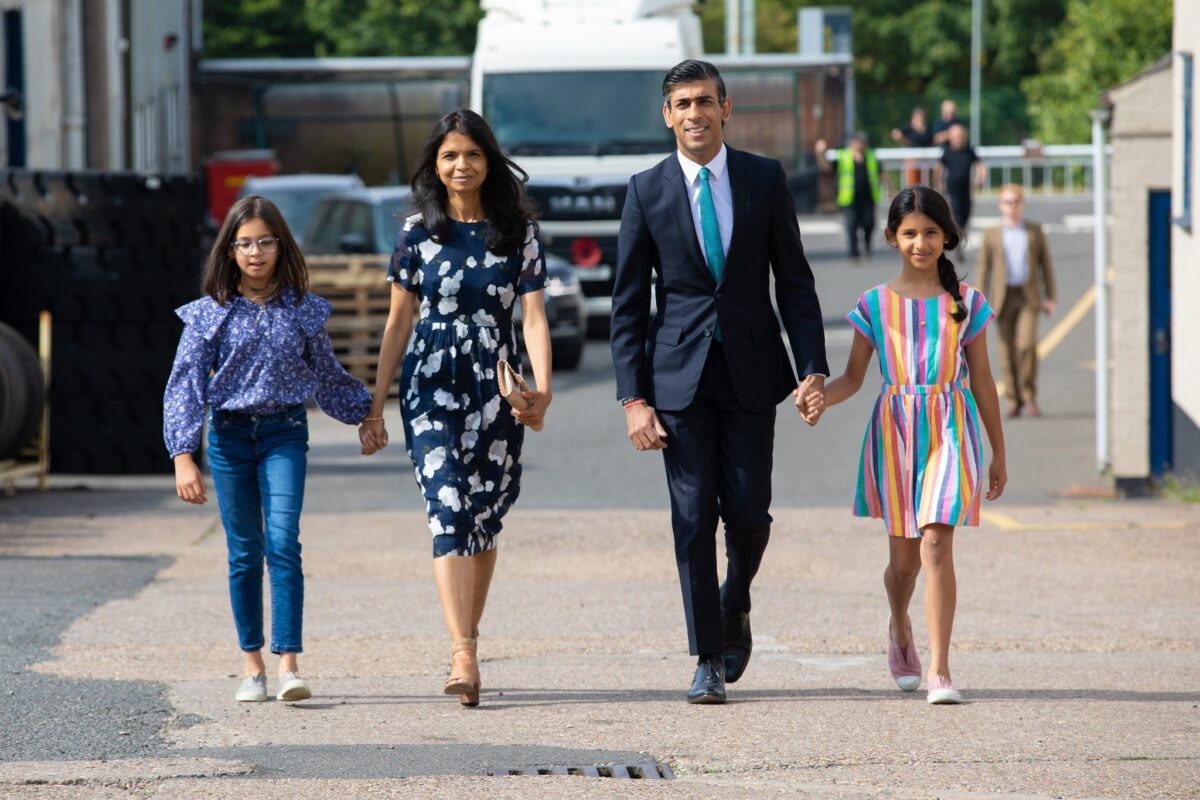 Rishi Sunak, the front runner in the race to become the UK's next Prime Minister and the Conservative Party leader, was joined by his wife Akshata Murthy and daughters Krishna and Anoushka during the campaign hustings. "Family means everything to me. So grateful to have the support of my family at yesterday's event in Grantham," he said, posting photos from the high-voltage event in Grantham, the birthplace of former Prime Minister Margaret Thatcher.
Public image
In the run-up to becoming Prime Minister of the United Kingdom, Indian-origin candidate Rishi Sunak has faced public outrage and criticism several times.
During the campaign, a clip emerged in July 2022, from the 2001 BBC documentary, Middle Classes: Their Rise and Sprawl, in which he remarked, "I have friends who are aristocrats, I have friends who are upper class, I have friends who are, you know, working class but… well not working class". "We all say silly things when we are younger," Sunak said while commenting on the said clip.
In August 2022, a video of Sunak speaking to an audience in Tunbridge Wells, Kent, surfaced in which he stated that he changed funding formulas that "shoved" money into "deprived urban areas," "to ensure that areas like this are getting the funding they deserve." Sunak responded that he wanted to "level up everywhere" rather than just help "very large urban cities."
Sunak emerged from relative obscurity as Chancellor of the Exchequer at the start of 2020. In the early stages of the COVID-19 pandemic, he was extremely popular by British political standards, with one analyst describing him as having "better ratings than any politician since the heydays of Tony Blair." Sunak remained popular among Conservative supporters and many other Britons throughout 2020, according to polls.
According to an Ipsos MORI poll conducted in September 2020, Sunak had the highest satisfaction score of any British Chancellor since Labour's Denis Healey in April 1978. During this time, he was widely regarded as the favourite to become the next Prime Minister and leader of the Conservative Party. As a result, Sunak developed a cult media following, with jokes and gossip about him being sexually attractive spreading on social media and in magazines.
Sunak's popularity declined steadily over time, but public attitudes remained broadly positive in 2021. Sunak's response as Chancellor of the Exchequer was perceived to be inadequate by early 2022, as the cost of living became a growing source of public concern, and he received some of his lowest approval ratings. As the Sunak family's financial affairs were scrutinised, the fall continued.
Baiju Thittala, an Indian-origin solicitor and politician (Cambridge City Councillor) said, "A wealthy man like Rishi Sunak, who belongs to the upper class elite, can no longer understand the living conditions or the life of the first generation migrant population of this country. Those nurses who work in the NHS or in healthcare or in hospitals and doctors and all those first generation immigrants; Mr. Sunak does not have a clue about what the living or working conditions of these people are. He is someone who leads a luxurious life. Nothing to do with him being an Indian Origin can be supported by another fellow Indian origin, no way! The working class, those who have migrated to this country to work, have undergone extremely difficult situations due to the economic crisis this country is facing now. He is someone who is not even ready to tax the wealthy citizens of this country. One reason is that it would affect him as well. We need people who understands the needs of the working class people and their lives to lead this country."
Citizens, Indian Diaspora interactions and reactions
August is the month of Rakhi festivities when Rishi Sunak, like a practising Hindu faithful, is seen wearing a reddish-yellow wrist band, in hot pursuit of supporters in his campaign to become the next Prime Minister of the United Kingdom. He is also seen performing 'Gau pooja' as a devout Hindu.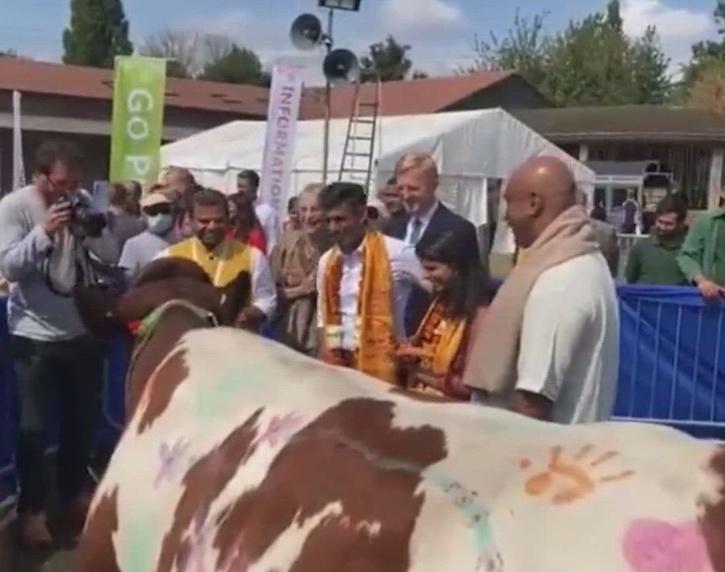 Joining the battle in support of Liz Truss, current Chancellor Nadhim Zahawi, who replaced Sunak, has accused Sunak of behaving like a "doomster" in contrast to the "booster" image of Liz Truss. Clearly the knives are out and the scene is getting uglier.
Sunak who carries the image of a hardline economist has softened his stand in recent days by saying that he would cut basic rate of income tax from 20 percent to 16 percent by the end of next parliament. But the voters want tax cuts now, not later. Supporters of Liz Truss have accused Sunak of belatedly trying to rebrand himself as a tax cutter. Voters still remember him as the man who raised National Insurance and corporation tax while at the Treasury.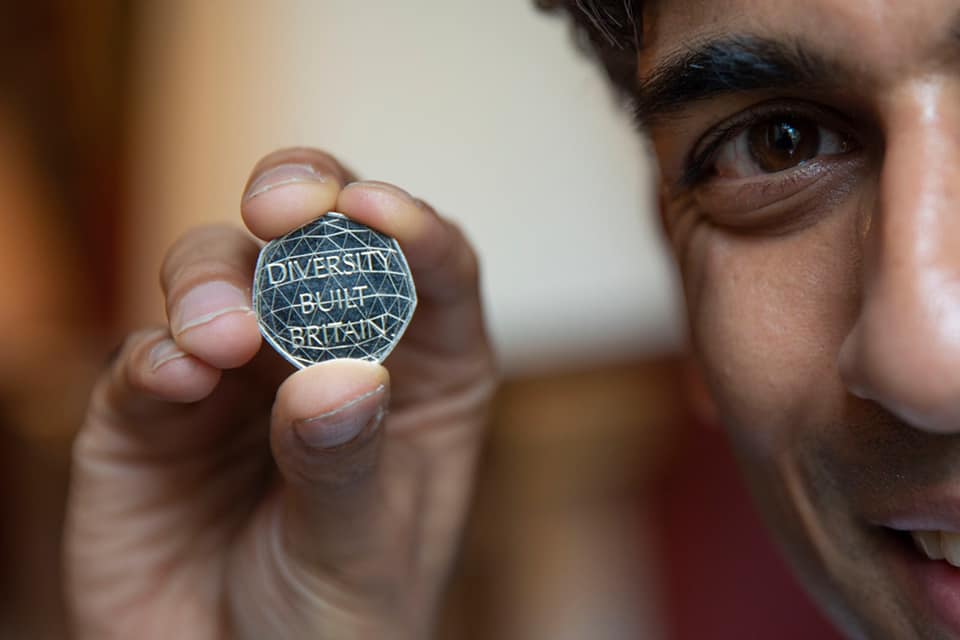 Last week Liz Truss appeared to have made a faux pas by saying she would bring pay scales in the country in line with the regional costs rather than giving everybody London rates, but she backtracked quickly saying she was only making a "general point". Her supporter, Penny Mordaunt, erstwhile rival who had thrown her hat in the ring in the leadership race, said it was a misinterpretation of what Liz Truss said.
Another Liz Truss backer and a former cabinet minister, Sir John Redwood, accused Sunak of flip-flopping. "Rishi now wants the state to spend and borrow more to help with the cost of living," adding "Mr. Flip Flop will discover the more you change your message the fewer people will believe anything you say. He told us if the state borrowed more we would get more inflation so he wouldn't do that."
Sources close to Liz Truss said she had not ruled out a further financial package for vulnerable families, though no announcement had been made yet. "Of course she would keep it under review," they said.
Shola Delip, an Indian-origin, Social Activist and Politician (Town Councillor, Northstowe) expressed her views saying, "When asked the public who will be the most trusted to bring the cost of living down 36% voted for Rishi Sunak while Liz Truss only got 26% votes.
With how closely the contest is being fought it is very hard to tell who will win the leadership battle. Rishi Sunak has my full vote as no other chancellor would have pulled the country so well during the most challenging time like the pandemic as he did. Looking at the furlough scheme that he structured and executed during the pandemic, he would be the man with sound economic knowledge to get us out of the current tough economic environment we are in."
Wading into choppy waters, former Labour Prime Minister Gordon Brown urged both candidates to agree an emergency budget with Boris Johnson this week or risk" condemning millions of vulnerable and blameless children and pensioners to a winter of dire poverty." Writing in the London Observer, Brown warned:" The reality is grim and undeniable: a financial time bomb will explode for families in October as a second round of fuel price rises in six months sends shock waves through every household and pushes millions over the edge."
More than half of the public thinks that the government can do more but is choosing not to do, according to opinion pollster Public First which found that 64 percent people were finding it "difficult or impossible" to pay energy bills. A former minister and Sunak supporter, Damian Hinds, conceded that the package drawn by Sunak when he was chancellor was "not enough in these extraordinarily difficult times." But Sunak is ready to do the needful if elected Prime Minister, said Hinds.
Sunak attacked Liz Truss for putting tax cuts before other measures to help families cope with higher bills. He insisted: "Inflation is the single most pressing economic challenge that we face. It makes people poorer, and it could lead to a scale of hardship for people in this country that we haven't seen in decades." Putting tax cuts before tackling inflation would be "grossly irresponsible," he said.
But as things stand in the prevailing public mood, a lot of people want tax cuts today, not jam tomorrow. Both sides, however, are ignoring the missing prize in the Ukraine war which is driving them towards an ever harder collision. A United Nations-brokered ceasefire can give peace a chance for economic recovery and avoid the looming recession for both Tory camps.
During his speech, the 42-year-old Conservative Party leader even broke into Hindi, saying, "Aap sab mere parivar ho (you all are my family)." He also addressed the mostly British-Indian crowd with a mix of Indian salutations such as "namaste, salaam, khem cho, and kidda."
Sunak's Indian heritage and ethnic minority background, according to the majority of the cheering crowd, had no bearing on the race to succeed Boris Johnson as Conservative Party leader and British Prime Minister.
"This is not a racist country." "The fact that Rishi has reached this level demonstrates that merit is valued," said Lord Dolar Popat, a veteran Tory peer.
"We understand how important the UK-India relationship is. We are the living bridge between our two countries," Rishi said in response to CFIN co-chair Reena Ranger's question about bilateral ties.
During the hustings, Sunak was showered with blessings by the elderly in the crowd and patted on the back by others.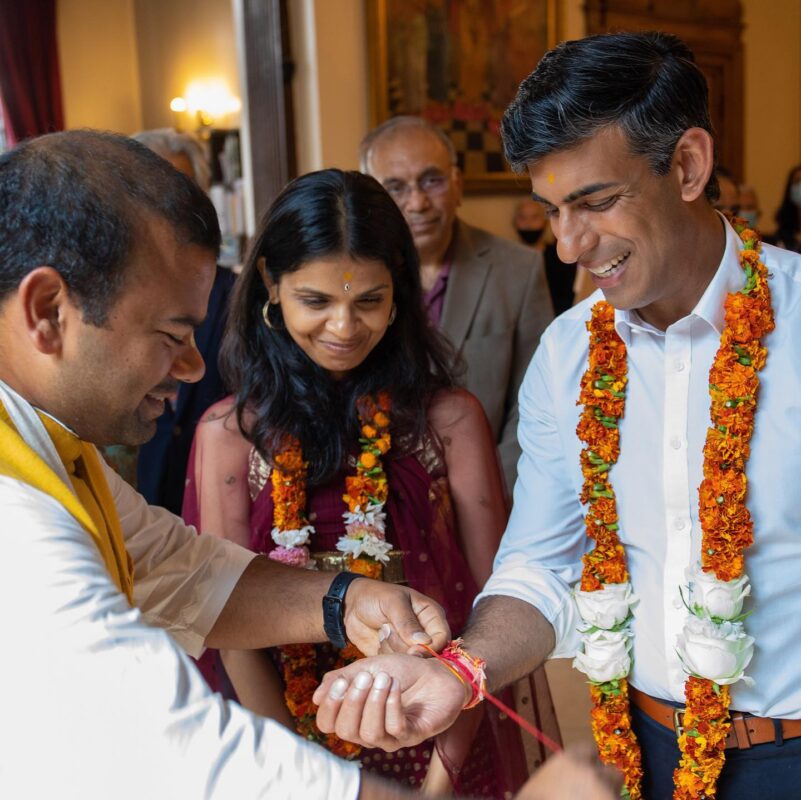 Shree Jagannatha Society UK Trustee Amita Mishra delivered a set of gold-plated deities all the way from India. "We are working on establishing a Jagannath Temple in London, and this gift is a special blessing all the way from India," Mishra said, who was accompanied by a pandit who performed a victory shloka from the 'Bhagavad Gita' as the deities were presented to Sunak on stage.
In stark contrast, a British Sikh Tory member in the audience waited hours for Sunak to sign a special bottle of Jack Daniels whisky, despite the fact that both he and the former Chancellor were teetotalers. "I don't drink but this is a special gift I received on my birthday and now with this signature it has become historic," he said.
The majority of those present admitted that they had already voted for Sunak online and had come to these latest hustings to hear him out one more time.
One sceptic British Indian investment banker said he was still undecided because he did not agree with Sunak's handling of the Bounce Back Loan scheme, which was implemented in the aftermath of the COVID-19 lockdowns and has been "abused" by many. Even he admitted that he might vote for Sunak in the end because he wasn't convinced by Truss's leadership rivalry.
Early life and education
Sunak was born in Southampton on May 12, 1980, to African Hindu parents of Indian descent, Yashvir and Usha Sunak. He is the eldest of three brothers and sisters. His father was born and raised in the Colony and Protectorate of Kenya (modern-day Kenya), and his mother in Tanganyika (which later became part of Tanzania). His grandparents were born in British India's Punjab province and immigrated to the UK with their children in the 1960s from East Africa. Usha was a pharmacist who ran a local pharmacy, and Yashvir was a general practitioner.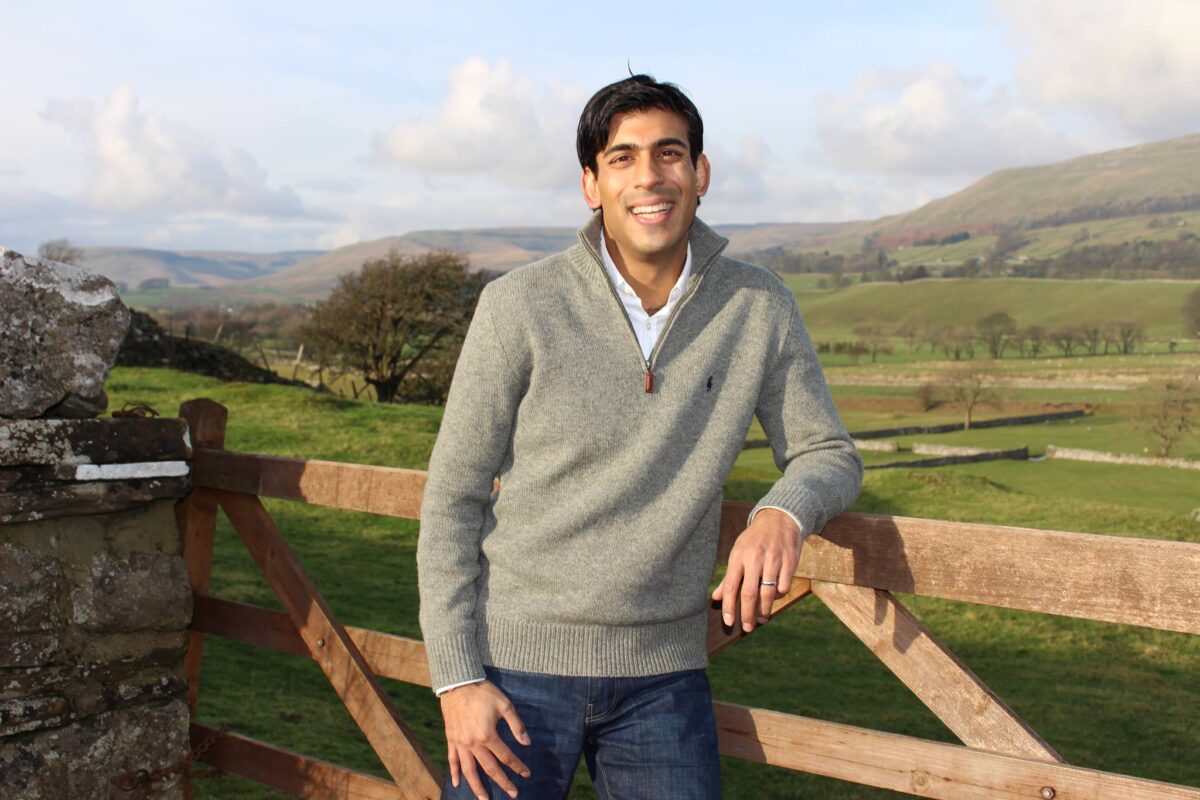 Sunak went to Stroud School in Romsey, Hampshire, and then to Winchester College, a boys' independent boarding school, where he was head boy and editor of the school paper. During the summer, he worked as a waiter at a curry house in Southampton. He received a first class degree in Philosophy, Politics, and Economics (PPE) from Lincoln College, Oxford, in 2001. He worked as an intern at Conservative Campaign Headquarters while still in college. He received his MBA from Stanford University, where he was a Fulbright scholar, in 2006.
Personal life
Sunak married Akshata Murty, the daughter of the Indian billionaire N. R. Narayana Murthy, the founder of Infosys, in August 2009. Murty owns a 0.91% stake in Infosys, which is valued at about $900m (£746m), as of April 2022, making her one of the wealthiest women in Britain. Infosys continued to operate in Russia following Russia's 2022 invasion of Ukraine, which led to criticism of Sunak and his family, but in April Infosys announced it was closing its Russian office. Murty also owns shares in two of Jamie Oliver's restaurant businesses, Wendy's in India, Koro Kids and Digme Fitness.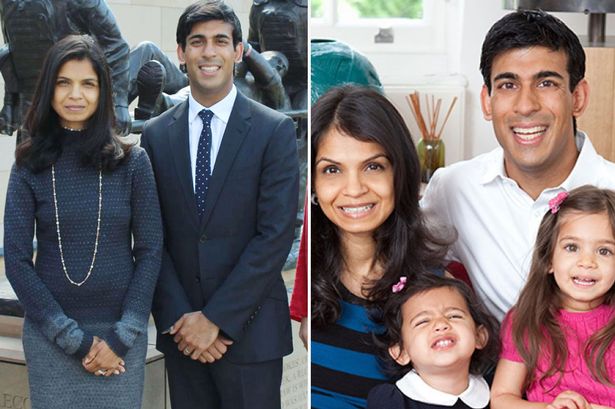 Sunak and Murty met while studying at Stanford University. They have two daughters, Krishna and Anoushka. Murty is a director of her father's investment firm, Catamaran Ventures. They live at Kirby Sigston Manor in the village of Kirby Sigston, near to Northallerton, North Yorkshire. They also own a mews house in Kensington in central London, a flat on the Old Brompton Road, London, and a penthouse apartment in Santa Monica, California.
Sunak is a Hindu, and took his oath as an MP at the House of Commons on the Bhagavad Gita. He is a teetotaller. He was previously a governor of the East London Science School. Sunak has a Labrador called Nova.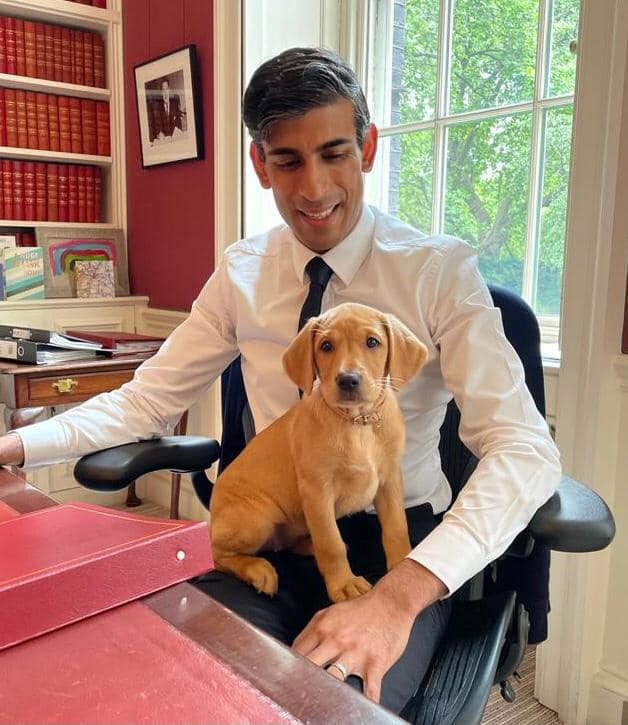 Sunak's brother Sanjay is a psychologist. His sister Raakhi is the Chief of Strategy and Planning at Education Cannot Wait, the United Nations' global fund for education. Sunak is close friends with The Spectator's political editor James Forsyth, whom he has known since their school days. Sunak was the best man at Forsyth's wedding to the journalist Allegra Stratton, and they are godparents to each other's children.
In April 2022, it was reported that Sunak and his wife had moved out of 11 Downing Street to a newly refurbished, luxury West London home.
In the Sunday Times Rich List 2022 ranking of the wealthiest people in the UK, Sunak and Murty were placed 222nd, with an estimated combined wealth of £730 million, making him the "first frontline politician to join the rich list".
Business career
Between 2001 and 2004, Sunak worked as an analyst for the investment bank Goldman Sachs. He then worked for the Children's Investment Fund Management, where he became a partner in September 2006. He left in November 2009 to join former colleagues at Theleme Partners, a new hedge fund firm that launched in October 2010 with $700 million under management. Patrick Degorce was his boss at both hedge funds.
Between 2013 and 2015, he was also a director of Catamaran Ventures, an investment firm owned by his father-in-law, Indian businessman N. R. Narayana Murthy.
Political career
Rishi Sunak is a British politician who was Chancellor of the Exchequer from 2020 to 2022, after serving as Chief Secretary to the Treasury from 2019 to 2020. He has been the Conservative Party's Member of Parliament (MP) for Richmond (Yorks) since 2015.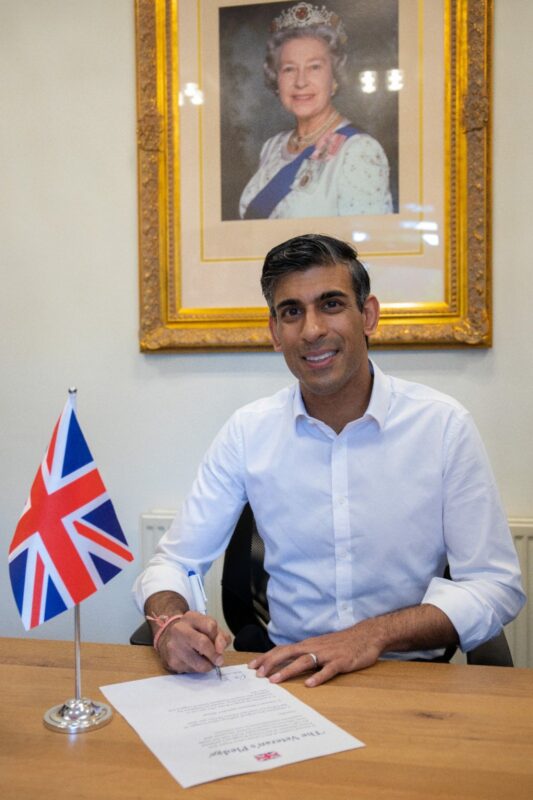 Member of Parliament
In October 2014, Sunak was elected as the Conservative candidate for Richmond (Yorks), defeating Wendy Morton. The seat had previously been held by William Hague, a former Conservative Party leader, Foreign Secretary, and First Secretary of State, who chose not to run in the following general election. The seat is one of the safest Conservative seats in the country, having been held by the party for over a century. Sunak was the head of the Black and Minority Ethnic (BME) Research Unit at the centre-right think tank Policy Exchange in the same year, where he co-wrote a report on BME communities in the UK. He was elected MP for the constituency with a majority of 19,550 (36.2%) in the 2015 general election.
He served on the Environment, Food, and Rural Affairs Select Committee from 2015 to 2017.
Sunak voted in favour of Brexit (the United Kingdom's exit from the European Union) in the June 2016 EU membership referendum. That year, he wrote a report for the Centre for Policy Studies (a Thatcherite think tank) in support of the establishment of free ports following Brexit, and the following year, he advocated for the creation of a retail bond market for small and medium-sized businesses.
Sunak was re-elected with an increased majority of 23,108 (40.5%) in the 2017 general election. Between January 2018 and July 2019, he was the parliamentary under-secretary of state for local government. Sunak supported then-Prime Minister Theresa May's Brexit withdrawal agreement on all three occasions. He opposed a second referendum on any withdrawal agreement.
Sunak backed Boris Johnson in the 2019 Conservative Party leadership election, co-writing an article in The Times with fellow MPs Robert Jenrick and Oliver Dowden to advocate for Johnson during the June campaign.
Chief Secretary to the Treasury
Sunak was appointed Chief Secretary to the Treasury by Prime Minister Boris Johnson on July 24, 2019, reporting to Chancellor Sajid Javid. The very next day, he became a member of the Privy Council.
Sunak was re-elected with an increased majority of 27,210 (47.2%) in the 2019 general election. During the election campaign, Sunak represented the Conservatives in both the BBC and ITV's seven-way election debates.
Chancellor of the Exchequer (2020–22)
Appointment
A number of press briefings in the weeks leading up to Sunak's appointment as Chancellor of the Exchequer suggested that a new economic ministry led by Sunak might be established to reduce the power and political influence of Chancellor Sajid Javid at the Treasury. Sunak was a Johnson supporter, favoured by Dominic Cummings. He was also regarded as the "rising star" minister who had ably represented the Prime Minister during the 2019 election debates.
The Guardian reported in February 2020 that Javid would remain as Chancellor and Sunak would remain as Chief Secretary to the Treasury in order for the Prime Minister's chief adviser, Cummings, to "keep an eye" on Javid.
Sunak was appointed chancellor on February 13, 2020, following the resignation of his predecessor, Sajid Javid, on the same day.
Following a meeting with Prime Minister Johnson, Javid resigned as Chancellor of the Exchequer. During the meeting, Johnson offered to keep his position on the condition that he fired all of his Treasury advisers and replaced them with individuals chosen by Cummings. Javid told the Press Association after resigning that "no self-respecting minister would accept those terms."
Sunak's appointment was interpreted by some political commentators as signalling the end of the Treasury's independence from Downing Street, with Robert Shrimsley, the Financial Times' chief political commentator, arguing that "good government often depends on senior ministers-and the Chancellor in particular-being able to fight bad ideas."
Challenges, Criticism and Controversies
Backstabbing
Sunak has been accused of stabbing Liz Truss in the back over the timing of his resignation from Prime Minister Boris Johnson's government last month in the alleged hope of becoming Prime Minister himself. He has refuted the charge, citing new policy differences rather than ambition. But the allegation of backstabbing or disloyalty persists.
Swimming pool controversy
Rishi Sunak is in hot water over his Rs 3.8 crore swimming pool, despite the fact that the UK is suffering from a drought.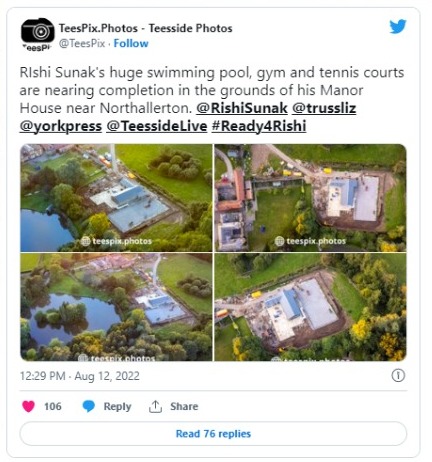 According to the Daily Mail, the construction of a swimming pool inside his luxury mansion sparked public outrage at a time when parts of England are dealing with an unforgiving drought and water shortage.
Rishi Sunak is said to be spending around 3.8 crore (400,000 pounds) to build a luxurious swimming pool inside his mansion.
This is not the end of the luxury construction currently underway inside the Indian-origin contender's luxury mansion. According to the report, Sunak is also constructing a gym and tennis courts at his £2 million Georgian manor house near Northallerton.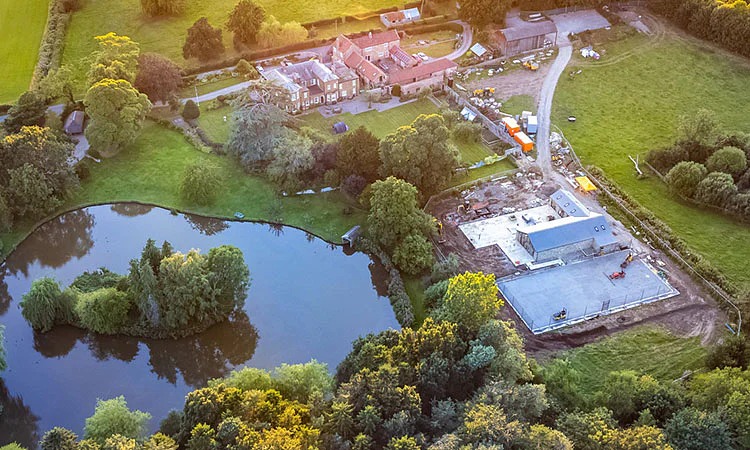 This has sparked outrage on social media, with many criticising Sunak for constructing a swimming pool while the country suffers from a water shortage. Adding fuel to the fire is the fact that the town's public swimming pools have been forced to close due to rising energy costs.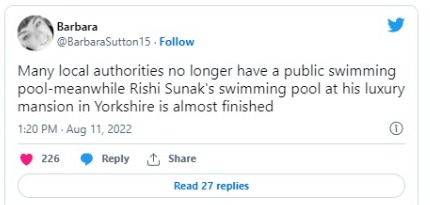 His wife facing the public ire
Earlier this month, his wife, who was accused of tax evasion and possessing a US permanent resident card, was caught on camera using "expensive tea cups". This was at a time when the country was experiencing a massive tax increase.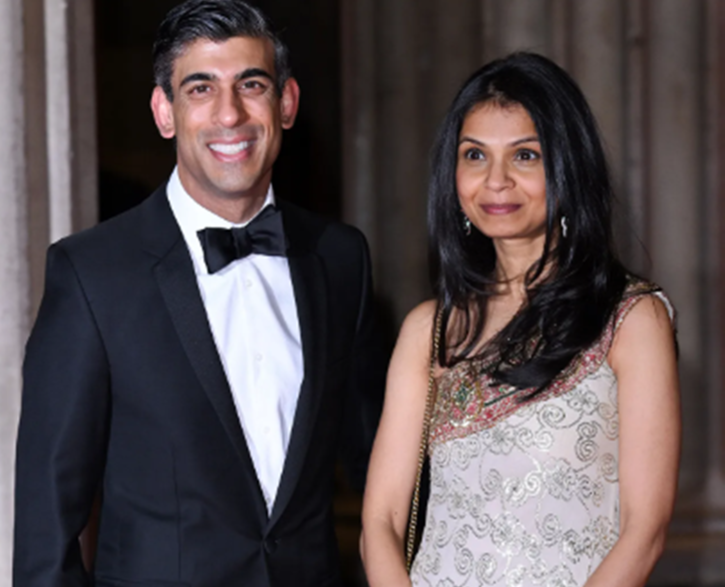 According to a widely circulated video, the footage was taken when she went outside her house to serve snacks and tea to journalists. These journalists were there for her husband's reaction to the dramatic mass resignations of ministers on July 6.
Though Murty's kind gesture initially drew praise from social media users, the situation changed when it was discovered that the teacups belonged to a brand called Emma Lacy and cost 38 pounds each (nearly Rs 3,600). Several netizens chastised Murty for using such expensive teacups. Some internet users claimed that the price of teacups could feed a family for two days.
Rishi Sunak names his favourite McDonald's meal, which was discontinued 2.5 years ago.
Rishi said he enjoys a breakfast wrap at McDonald's with his daughters, but astute McDonald's fans pointed out, it hasn't been available for a long time. Sunak has repeatedly fought any suggestion that his enormous wealth means he is out of touch with the British public.
He insisted, "I think in this country we judge people by their character and their actions rather than what's in their bank account."
Wearing loafers with a gaping hole in the sole
He was photographed earlier this month wearing loafers with a gaping hole in the sole, prompting speculation that he was dressing down to make himself more relatable.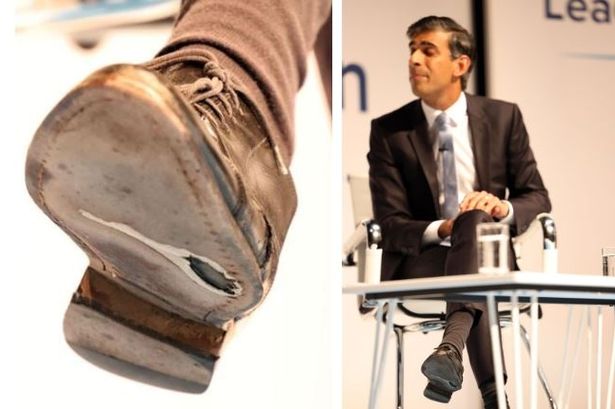 Prof. Paul Baines of the University of Leicester, a political marketing expert, stated, "Displaying wealth is unseemly in the current environment."
"It's definitely unfashionable to wear expensive clothes while everyone is suffering, and I think he's recognised that." Baines expressed.
Rishi Sunak, who has previously been accused of being out of touch, was photographed wearing shoes with holes in them. This is fuelling speculation that he is deliberately dressing down in his bid to become Prime Minister.
This is in stark contrast to last month, when he wore Prada loafers, estimated to cost around £470. He wore them while visiting a construction site.
Mr. Sunak has repeatedly reacted to criticism of his expensive attire, most notably from Culture Secretary Nadine Dorries, who praised rival Liz Truss for wearing £4.50 earrings.
COVID-19 pandemic
Sunak's first budget was presented on March 11, 2020. This included an announcement of an additional £30 billion in spending. Out of that, £12 billion was designated for mitigating the economic effects of the COVID-19 pandemic. As a result of the financial consequences of the pandemic, Chancellor Sunak's measures were criticised, as some workers were unable to qualify for the Treasury's income support measures. After hundreds of MPs contacted the Chancellor, the Liberal Democrats' acting leader, Ed Davey, said that people were being unfairly "hung out to dry," with "dream jobs turning into nightmares."
According to the Institute for Employment Studies, 100,000 people might be ineligible for government assistance. This was because they began a new job too late to be included in the job retention scheme, while the British Hospitality Association informed the Treasury Select Committee that between 350,000 and 500,000 workers in its sector were ineligible.
Sunak was a member of a Cabinet ministerial committee that made decisions on the pandemic, which also included Johnson, Matt Hancock, and Michael Gove. Sunak received a fixed penalty notice for attending a party alongside Johnson, but he did not deliver a statement or resign.
Job retention scheme
Sunak announced £330 billion in emergency support for businesses on March 17, as well as a furlough scheme for employees. This was the first time a British government implemented such an employee retention programme.
On March 20, 2020, the scheme was announced as providing grants to employers to pay 80% of a staff wage and employment costs each month, up to a total of £2,500 per person per month. The monthly operating costs are estimated to be £14 billion.
Eat Out to Help Out
In July, he announced a £30 billion spending plan that included a stamp duty holiday, a reduction in VAT for the hospitality sector, the Eat Out to Help Out scheme, and a job retention bonus for employers. Eat Out to Help Out was launched with the goal of supporting and creating jobs in the hospitality industry. Food and soft drinks at participating cafes, pubs, and restaurants were 50% off, up to £10 per person.
The offer was valid from Monday to Wednesday, from August 3 to August 31. In total, the scheme provided £849 million in meal subsidies. Some consider the scheme a success in terms of boosting the hospitality industry, while others disagree. In terms of the COVID-19 pandemic, a study at the University of Warwick concluded that the scheme contributed to an 8% to 17% increase in COVID-19 infections.
Sunak was said to have opposed a second lockdown with the threat of resigning on September 26th, citing the dire economic consequences and the responsibility he would bear as a result.
Fixed penalty notice
On April 12, 2022, Sunak was issued a fixed penalty notice after the Metropolitan Police believed he violated COVID lockdown restrictions by attending a birthday party. A number of others, including Johnson, received fixed penalty notices.
Sunak became the first Chancellor in British history to be suspected of breaking the law while in office.
Register of ministers' interests
Sunak was reported by The Guardian in November 2020 to have failed to declare a significant amount of his wife and family's financial interests on the register of ministers' interests, including a combined £1.7 billion shareholding in the Indian company Infosys. Sunak is required by the ministerial code to declare any interests that are "relevant" to his responsibilities and "might be thought to give rise to a conflict" with his public duties.
Sunak had not broken any rules, according to the independent adviser on ministers' interests who investigated.
Proposed green levy
Sunak privately lobbied as Chancellor to impose a green levy, which would have resulted in higher petrol and diesel prices, to help fund the plan to reduce greenhouse gas emissions to net zero by 2050. The Treasury's proposed Fossil Fuels Emissions Trading Scheme sought to levy pollution from road transportation, shipping, building heating, and diesel trains, which together account for more than 40% of UK carbon emissions. Boris Johnson ultimately rejected the proposal, telling officials that he did not want to raise consumer costs
Cost of living crisis
Sunak issued his spring statement on March 23, 2022. He claimed that the Russian invasion of Ukraine had hampered the recovery from the COVID-19 pandemic. He reduced fuel duty, removed VAT on energy-saving equipment (such as solar panels and insulation), and reduced national insurance payments for small businesses. He also promised to align the primary threshold with the basic personal income allowance by July, despite continuing with a planned national insurance increase in April. He also promised an income tax cut in 2024. According to the Office for Budget Responsibility, the tax burden would reach its highest level since the 1940s.
Sunak also provided some funding to assist vulnerable people in dealing with rising living costs. "Sunak was out of touch with ordinary people's struggles due to the cost of living crisis," said Labour leader Keir Starmer.
Non-domiciled status of his wife; US green card
Sunak's wife, Akshata Murty, has non-domiciled status, which means she is exempt from paying tax on income earned abroad while residing in the United Kingdom. She pays approximately £30,000 to obtain the status, which allows her to avoid paying approximately £20 million in UK taxes. Following media scrutiny, Murty announced on April 8 that she would pay UK taxes on her global income, adding in a statement that she did not want the issue to "distract my husband." On April 10, it was announced that a Whitehall investigation had been launched to determine who had leaked the details of her tax status.
The Guardian wrote, "Keir Starmer has accused Rishi Sunak of taxation 'hypocrisy' on the grounds that he is putting up taxes for ordinary Britons while his family has been reducing its own tax liabilities."
Sunak also continued to hold the U.S. permanent resident card he obtained in the 2000s until 2021, including for the 18 months after he became Chancellor, which required filing U.S. tax returns. According to an investigation into both his wife's tax status and his residency status, Sunak had not violated ministerial rules.
Resignation
2022 United Kingdom government crisis and Chris Pincher scandal
Sunak resigned as chancellor on July 5, 2022, shortly after Sajid Javid resigned as health secretary, amid a controversy surrounding sexual harassment allegations against Chris Pincher MP.
In his resignation letter, Sunak said: "The public rightly expects government to be conducted properly, competently, and seriously. I recognise this may be my last ministerial job, but I believe these standards are worth fighting for, and that is why I am resigning… In preparation for our proposed joint speech on the economy next week, it has become clear to me that our approaches are fundamentally too different."
Johnson resigned as Conservative Party leader on July 7th, following further resignations.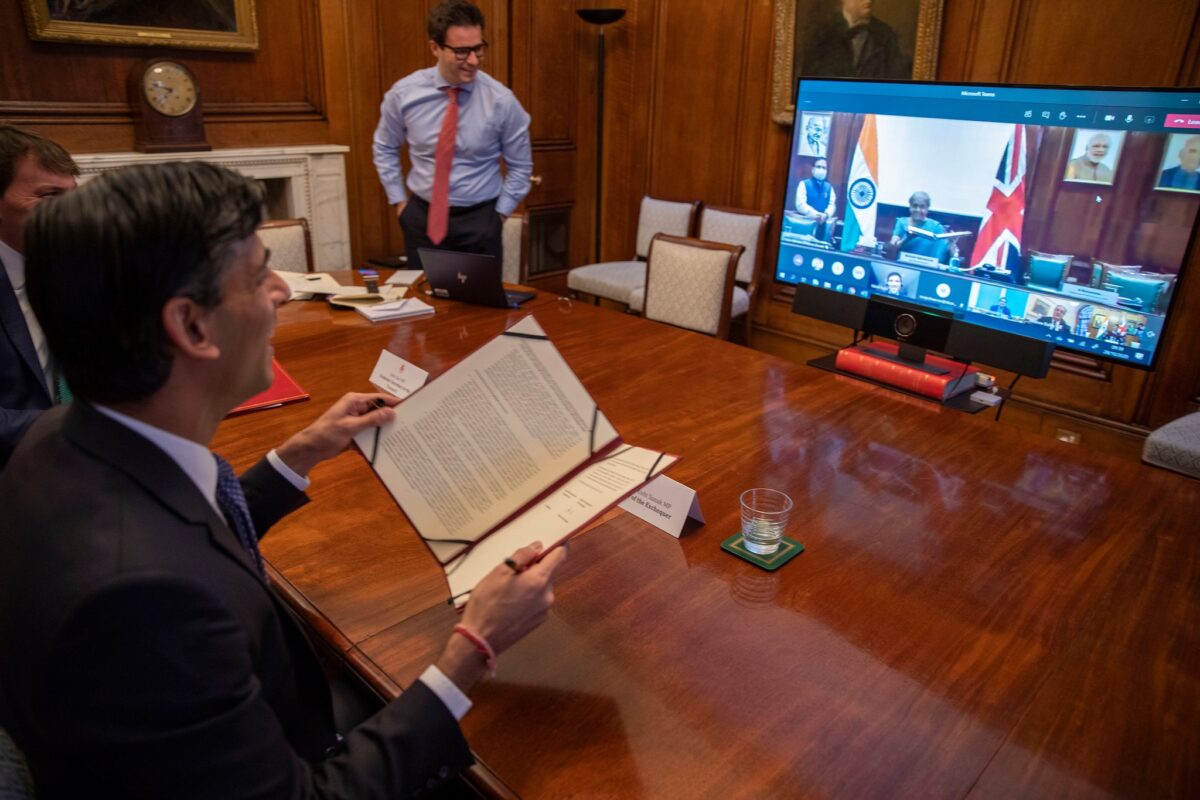 To sum it up, it seems that people in India are more excited than those in the UK, especially the Indian-origin ones. For Indians, it is about a great opportunity for them, or may be one of them, to be the Prime Minister of the United Kingdom, of which India was once a colony. On the other hand, the people living in the UK are viewing it with a lot of caution as they are the ones who are going to be affected by the policies laid out by Sunak in case he becomes Prime Minister. Indians living in the UK largely consist of working class people, and Rishi Sunak and his policies are not considered working class-friendly but mostly favour the elite.
Mostly, it's just a euphoria celebrated across the borders. It is almost evident that Rishi may not win, as Truss has garnered the much required lead. In all probabilities, this was the closest an Indian could come to becoming Prime Minister of the United Kingdom.