FROM THE KITCHENS OF INDIA – Roasted Sesame Laddoos
If it is January, then Shankranti is round the corner. It is that time of the year when Shankranti is celebrated all over India…. and no Shankranti is complete without the Til laddoos.

Til / Sesame laddoo is a healthy, delicious sweet considered to be rich in iron, calcium and magnesium. It is a must-eat dessert during the festival of Shankranti when there is a transmigration of the Sun from one zodiac to another. It is a wonderful winter dessert because Sesame seeds are considered to provide warmth to our bodies.

Shankranti is known differently in different parts of India. It is:
Pongal (Tamilnadu)
Uttarayan (Gujarat)
Lohri (Punjab)
Poush Sankranti (Bengal)
Magh Bihu (Assam), to name a few.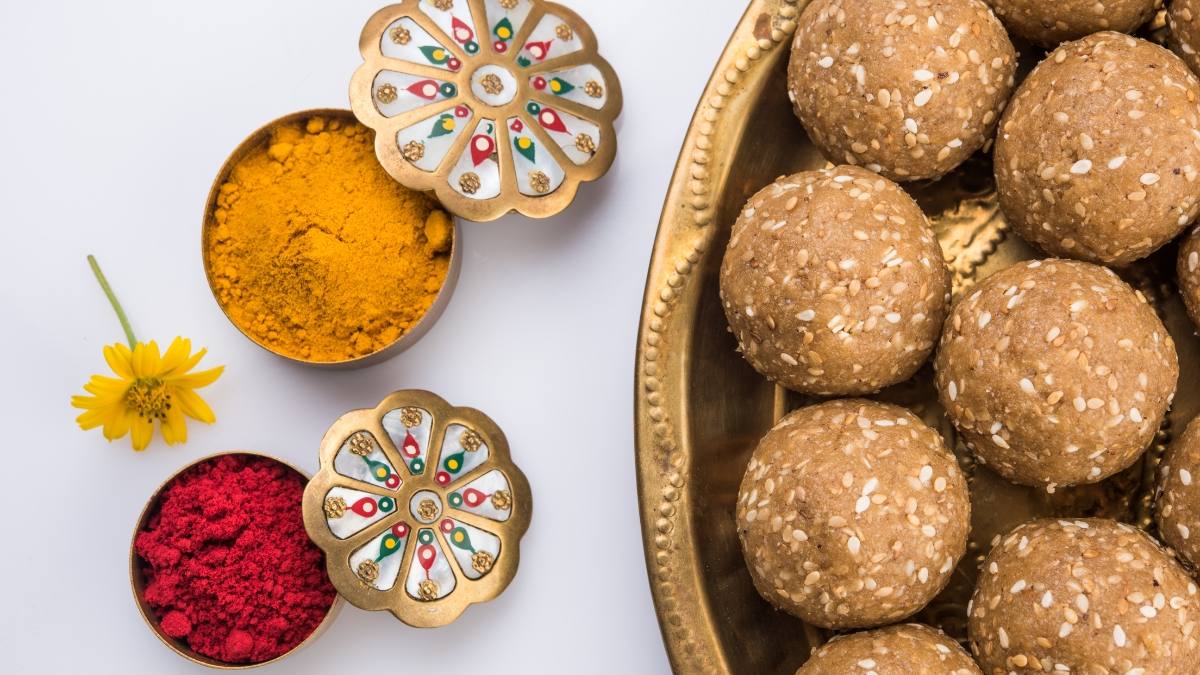 As a child, I was always fascinated by the way my mother would convert the modest sesame seeds into delicious laddoos. During the month of January, when it would be a fairly pleasant weather in Chennai, compared to the rest of the year, I would look forward to feasting on these laddoos on returning home from school. I now make this dessert every Shankranti by simply following my mother's recipe.

These laddoos are made in different ways, with many Indian households having their own recipes. My mother's recipe is as follows:

Ingredients :
White Sesame seeds 1 cup
Jaggery powder 1 cup
Ghee/clarified butter 1 tbsp
Hot khoya 1 tbsp
Cardamom powder 1 tspn

Method:
1) Roast the white sesame seeds on medium flame till they release their aroma. Grind to a not-so-fine texture. Transfer the powder to a bowl.

2) To the warm sesame powder, add 1 cup of melted jaggery, 1 tbsp of melted ghee/clarified butter, 1 tbsp of hot khoya and 1 tsp of cardamom powder.

3) Mix all ingredients well. Grease the palms with ghee. Take a small portion of the mixture and give it the shape of a laddoo. Repeat the processs with the rest of the mixture.

4) Let the laddoos cool completely. They can be preserved for upto three weeks when stored in an airtight container.

Happy Shankranti