Spotlight Himachal Drone Conclave: CM Addresses In A Virtual Mode
Rs 200 crore worth of MoUs are signed; CM Shri Sukhvinder Singh Sukhu delivers the valedictory address at the Himachal Drone Conclave 2023.
Palampur, HP, July 5th, 2023: The Hon'ble Chief Minister of Himachal Pradesh, Shri Sukhvinder Singh Sukhu, delivered the valedictory address virtually at the Himachal Drone Conclave 2023 on July 5. The conclave, organised by the Department of Digital Technologies and Governance, Government of Himachal Pradesh, in association with the Federation of Indian Chambers of Commerce and Industry (FICCI), witnessed the signing of a Memorandum of Understanding (MoU) worth Rs 200 crore.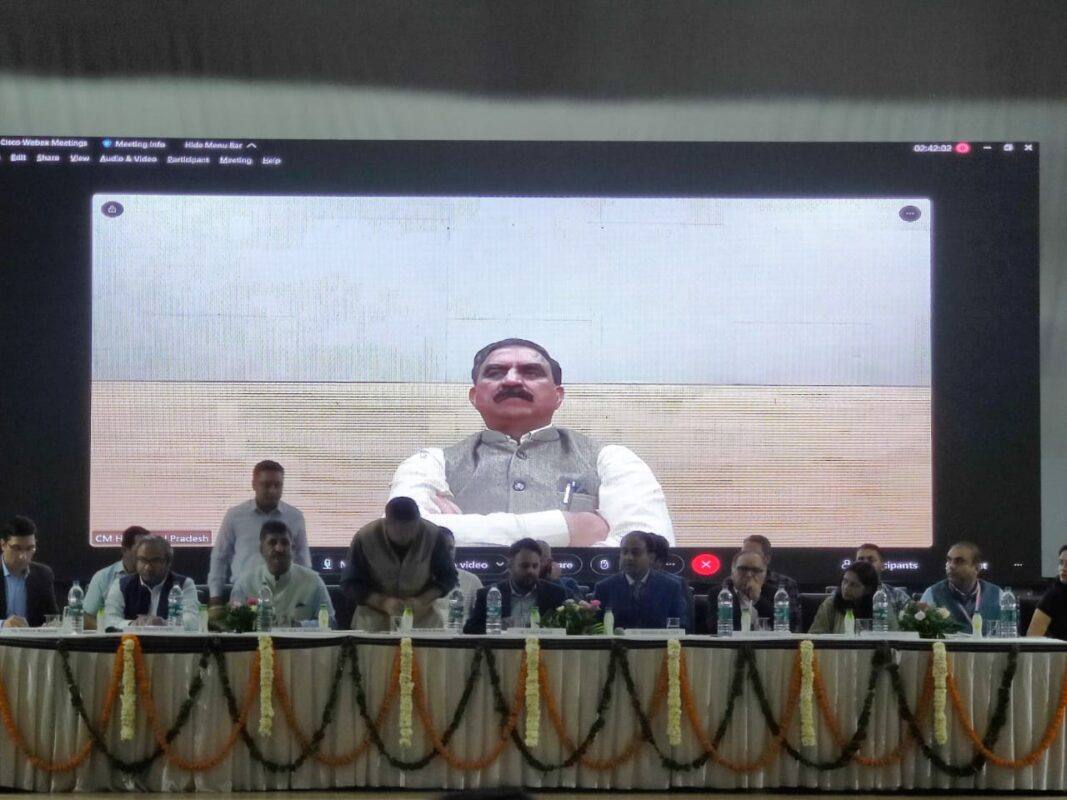 Due to unfavourable weather conditions, CM Shri Sukhvinder Singh Sukhu was unable to physically attend the event in Palampur. However, leveraging technology, he joined the conclave via video conferencing. During his address, he commended the industry present in Palampur for their proactive approach in signing the MoUs and expressed his vision of developing the region as a new IT hub. The Chief Minister assured manufacturers of essential resources to support this initiative. He emphasised the aerial capabilities of drones, highlighting their potential for innovation, informed decision-making, and their contributions to sectors such as agriculture, disaster management, and environmental conservation.
Shri Ashish Butail, Chief Parliamentary Secretary of the Government of Himachal Pradesh, expressed his enthusiasm for government reforms and the initiation of drone programmes within the municipality. He emphasised the need to fully leverage the potential of drones to drive positive change and stressed the importance of streamlined regulations and policies to ensure their safe and responsible use in various sectors, including agriculture, disaster management, and surveillance. Additionally, he highlighted the significance of fostering partnerships with technology companies and research institutions to promote innovation and maximise the benefits of drone technology for the state's development.
Shri Gokul Butail, Principal Advisor for IT and Innovation, urged departments to extensively utilise drones for various purposes and emphasised that drones should not be treated as mere symbolic objects. He also highlighted the future prospects of drone technology, particularly in the areas of drone pilots, service, and maintenance, which could lead to increased employment opportunities.
Dr. Abhishek Jain, IAS, Secretary of Digital Technologies and Governance, Government of Himachal Pradesh, emphasised the immense potential that drones hold for revolutionising the agriculture sector. Dr. Jain highlighted how drone technology can play a crucial role by offering real-time data and monitoring capabilities in the face of unpredictable weather conditions prevalent in mountainous regions. Drones, with their ability to facilitate precision farming, have the potential to revolutionise agricultural practises in the region. Additionally, they can contribute to soil health scanning, enabling farmers to make informed decisions regarding crop management and fertilisation. Furthermore, the implementation of drones can significantly reduce chemical waste during field spraying, promoting sustainable and eco-friendly farming practises. Dr. Jain concluded his address by announcing that the next conclave in this series would focus on "AI for Improving Governance in Himachal Pradesh."
Prof. HK Chaudhary, Vice-Chancellor of CSK HP Agricultural University, stressed the massive potential of drones in the agriculture sector. He acknowledged the unpredictable weather conditions in the mountains and emphasised how drone technology can provide real-time data and monitoring to bring about significant changes. Drones can facilitate precision farming, soil health scanning, and reducing chemical waste during field spraying.
The state government also presented an investment policy and encouraged industries to set up facilities in the state, further promoting economic growth and technological advancements.
The grand event saw the participation of all government departments in Himachal Pradesh and esteemed educational institutions such as IIT Ropar, IIT Mandi, and NIT Hamirpur.