The Arabian Night- Grand ILA Ghabga dinner, Bahrain
GRAND ILA GHABGA DINNER- THE ARABIAN NIGHT held on 21st APRIL 2022 AT THE LAGOONA BEACH RESORT.
It was a beautiful Ramadan night to remember on the ILA Ghabga that finally happened after a gap of 2 years!
H.E.Shri Piyush Srivastav, Indian ambassador to Bahrain was the Chief Guest along with ILA Patron Mrs. Monika Srivastav. They both expressed their delight to meet the families of members. A beautiful handmade craft runner was presented as a memento to the Chief guests.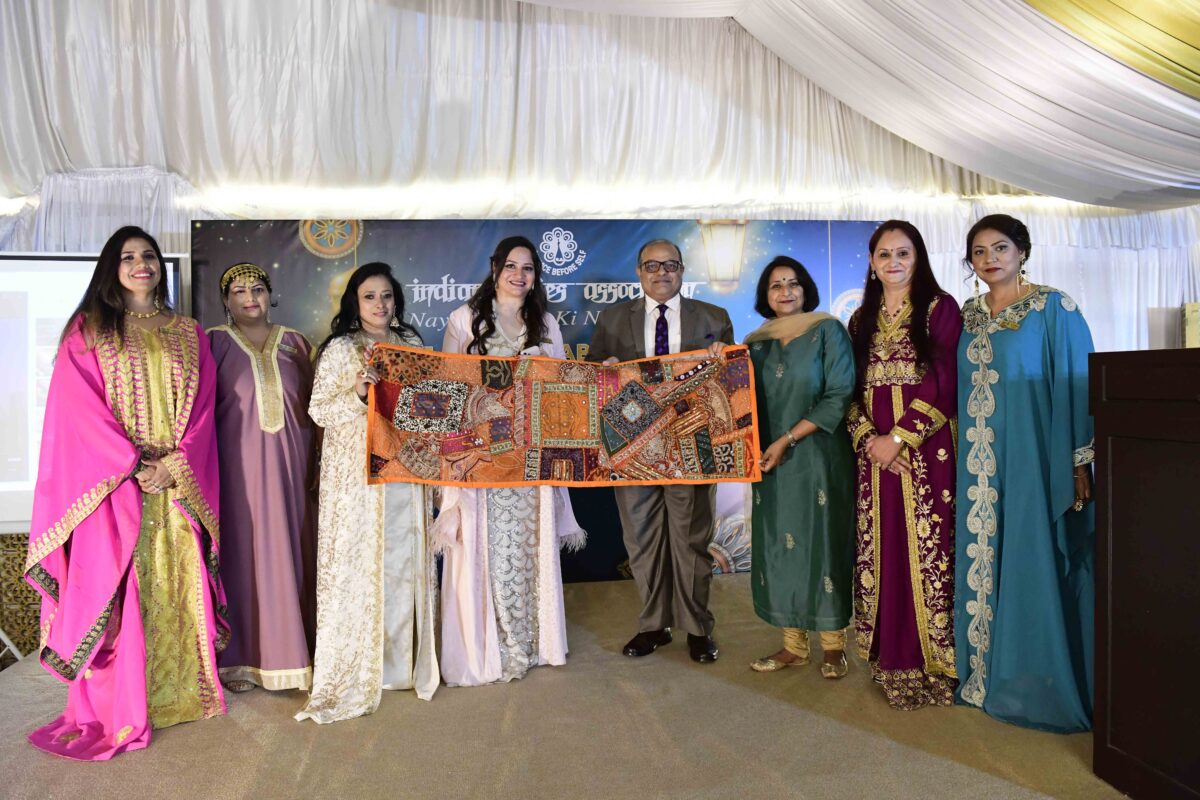 The night was lit with a welcome dance parade by Bahraini traditional songs and parade through the gathering and later performances depicting the traditional Ramadan songs of Bahrain showcasing rituals of crushing wheat and sunflower seeds by women in preparation for Ramadan. On behalf of ILA, one of the sponsors of the event Mr. Mansoor Mohammed from the Saara group presented a token of appreciation to the widowed and divorced Bahraini women performers. 
The winners of various contests held are as follows;
Arabic Challenge was won by Ms. Kanchan Bhatt, judged by Dr. Hala Fahmi Jamal, and was gifted a beautiful Bahraini Gold plated Jewelry set
Best dressed – Traditional was won by Dr. Hala Fahmi Jamal judged by RJ Juhi from Radio Mirchi
Best dressed – Fusion was one by  ILA new member Mrs. Vina Bodani judged by RJ Juhi from Radio Mirchi
Quiz Visual Round was won by a group of kids from Table no 6-Vridhi Mathur, Kaustubh Mathur, Ira Khanna, Akunth Khanna, Shruti Mishra, Harsh Mishra, Urvi Garg, Naisha Garg, Srijan Pandey, Thadbhav Pandey, Chaarvi Jain, Saksham Jain, Simran Dhanjjal
Quiz Audio Round was won by a group from table no. 10- Suchita Mandhana, Prabha Gang, Shalu Mehta, Barkha Munot, Manisha Jamal, Sheetal Shah (All members) and  Varsha Bhagwat (non-member) 
Membership Draw- Mrs. Reena Sreedhar won a  dinner Voucher worth 15 BD
Raffle Draw- Mrs. Shilpi Garg and Mrs.Sheetal Khan
Sheetal Shah was given a token of appreciation for her graceful dance performance.