"Special smile with Sneha" Free seminar for everyone on island with special kids.
Indian Ladies Association (ILA) is primarily a charitable body with over six and a half decades of hands-on community service in the Kingdom of Bahrain and" Sneha" is the most prestigious project of ILA. "Sneha" is a free recreation center for children with special needs of all nationalities. It is recognized by the Ministry of Labour and Social Development and annually audited accounts are submitted to them for approval. ILA members volunteer at the center to teach basic life skills in order to make them self-reliant and be able to cope with their daily routines. Sneha caters to the learning needs of children who have ADHD, down syndrome, Developmental delay issues and also trains them in self-help, independent living, functional numeric and language skills, social behavior, and art and music. Sneha children are also involved in assisted projects like making Sneha cards, Diya painting, greeting cards, etc. They also strive to provide emotional and physical assistance to the families of SNEHA children. Two trained teachers and 3 helpers are employed to run Sneha Recreation Centre with the support of dedicated Sneha volunteer members.
"Many Bahraini children have also benefited from Sneha center over the past years, since its inception. They have started online classes for the students from Sep 2020 which itself was a huge challenge but with dedication and love, the volunteers could make it happen. Sneha was the only Special needs facility running online even during the last two years of the pandemic. Sneha is run by raising funds through annual fundraisers, various mini cultural events, and the support of benevolent sponsors throughout the year. However, with no events happening to raise funds and almost no donations due to the drop in the economy, ILA members have been financially struggling to pay the fixed expenses for the past two years, due to the pandemic they are unable to raise funds for Sneha. However, fixed expenses like salaries to the teachers, rent, EWA bills, and maintenance of premises and other medical facilities, and therapies are a major expense for ILA, without sufficient funds/donations coming their way for the last 2 years."
"Seeing the immense benefit to the children, ILA have decided to start the offline classes from September. However, with the offline classes coming in effect there would be a jump in the operational cost of the Centre with additions like, transportation costs, Helpers, cleaners and attendants' salary, Books, puzzles and uniforms cost. With fresh funds, ILA can resume the offline classes and monthly trips for Sneha kids in September 2022. Due to lack of funds, ILA is not able to give full exposure and experience to creativity and stimulation, which they deserve like other kids" said Mrs. Shipra Dhir Passi, Hon. President of the Indian Ladies Association.
ILA is planning an international seminar for the parents of special needs kids on the island on 3rd June Friday, 4-7 pm, at Jumeirah Ballroom, Crowne Plaza Hotel, with highly qualified and experienced doctors and international speakers coming to Bahrain. This would be an opportunity for the parents to get information about the latest advancements in treatments and therapies for different types of special kids. After the interactive talk would be an opportunity for all parents to take one-to-one queries as per their case, for those who register in advance.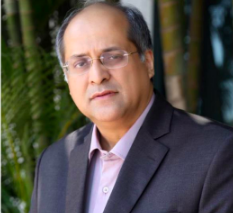 The Keynote Speaker is Dr. Alok Sharma is the Director of NeuroGen Brain & Spine Institute, Professor & Head of Department of Neurosurgery, LTMG Hospital & LTM Medical College and Consultant Neurosurgeon at Fortis hospital, Mumbai. He completed MS and M.Ch. from Seth G.S. Medical College and KEM Hospital, Mumbai and subsequently trained at the Karolinska Hospital, Stockholm, Sweden & University of Colorado Health Sciences Center, Denver, USA.
The event is planned on a weekend keeping in mind the availability of parents and special educators as it's the first time all special needs facilities shall be coming under one umbrella in Bahrain together for an international seminar of this kind.
ILA's Sneha Recreation Centre is completely dependent on funds supported by generous donors for running the centre for kids with special needs of all nationalities absolutely free.